Big 4 NZ banks more profitable than counterparts from major developed countries on a pre-tax basis, again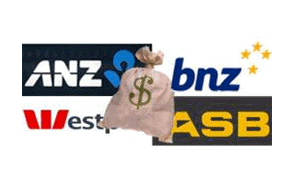 By Gareth Vaughan
New Zealand's big four banks remain more profitable than banks from 11 other OECD countries, based on number crunching by interest.co.nz and an international bank profitability comparison done by the Bank for International Settlements (BIS).
It's the third consecutive year interest.co.nz has added the big four New Zealand banks to the table compiled by BIS in its annual report, and the third straight year New Zealand's ANZ, ASB, BNZ and Westpac have come out ahead of major banks in other developed countries in terms of pre-tax profit as a percentage of total assets.
 For the last two years BIS has included banks from Brazil, China, India and Russia, the so-called "BRIC" economies where the state plays a major role in bank ownership, in its table. With them included, adding New Zealand to the BIS list has our big four third equal - with Brazil's big three banks - out of banks from 16 countries at 1.62%. That's well up from 1.29% last year, and 1.39% in 2012.
Ahead of New Zealand is only Russia's big three banks at 2.04%, and China's big four at 1.86%. The Australian parents of New Zealand's big four came in at 1.28%, placing them sixth behind India's big three banks at 1.41%. For the Aussie banks that's up from 1.18% last year and 1.19% in 2012.
BIS, the central banks' bank, also measures net interest margins, loan loss provisions and operating costs.
Throwing New Zealand's big four into the mix once again, they're seventh in terms of net interest margins at 2.27%, up from 2.25% last year but down from 2.37% in 2012. Australia comes in eighth at 1.79%. That's down from 1.82% last year and 1.83% the year before.
In loan loss provisions, New Zealand comes in fourth at 0.09%, down from 0.14% last year and 0.15% in 2012. Australia's fifth equal with Canada at 0.17%, down from 0.21% last year and 0.19% in 2012.
And in terms of operating costs, this is the only category where the New Zealand big four trail their Aussie parents. New Zealand ranks sixth at 1.21%. That shows a steadiness over the three years given last year's result was 1.20% and 2012's 1.21%. However the Aussie parents placed fourth at 1.11%, which is down on 1.19% in 2013 and 1.17% in 2012's survey.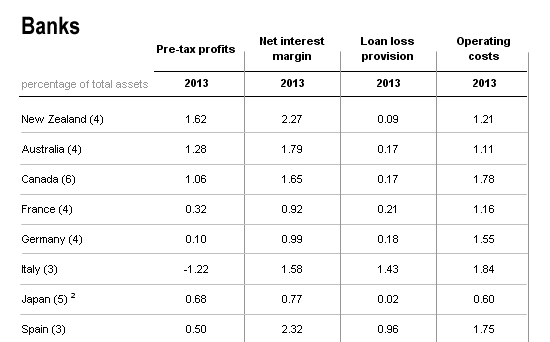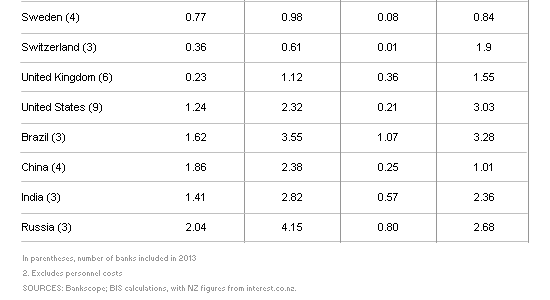 This article was first published in our email for paying subscribers on Monday morning. See here for more details and to subscribe.