ANZ's latest Business Outlook Survey shows shows sharp drop in intentions to construct in both residential and commercial sectors; ANZ Chief Economist says next official interest rate move is more likely to be a cut than a hike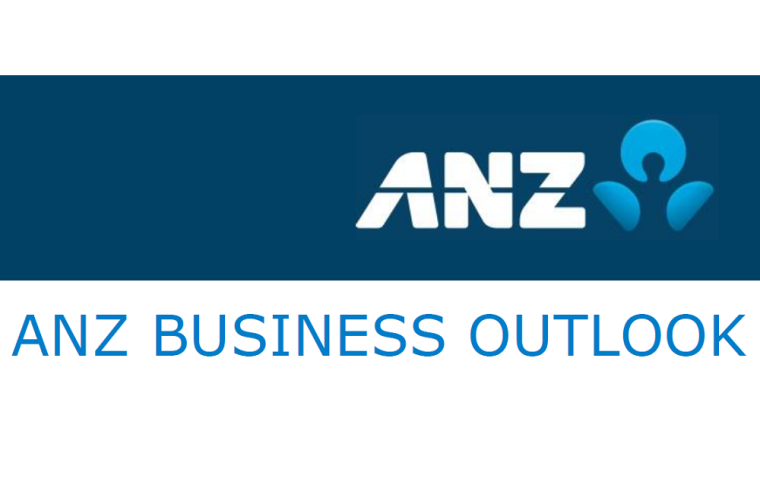 A sharp drop in intended residential and commercial construction activity is one of the notable features in the latest ANZ Business Outlook Survey.
And businesses generally are sufficiently down in the dumps for ANZ Chief Economist Sharon Zollner to stress that she sees the next official interest rate move as more likely to be down than up.
According to the survey residential construction intentions dropped 19 points to a net +5%, while commercial intentions fell 20 points to -24%. Canterbury is the particularly weak on both fronts, while Wellington is the strongest main centre but is trending down.
Elsewhere in the survey, confidence is no longer plummeting, but not showing any particular signs of rising again either.
Another down-in-the-dumps business survey will not be good news for a Government that has been trying to get alongside business and raise confidence levels. 
The falls in levels of intended construction activity may ring some alarm bells as the Government seeks to ramp up residential activity through its Kiwibuild programme.
In commenting on the falls in construction intentions, the ANZ economists say while it has become less clear that residential construction intentions lead residential consents, the downward trend certainly doesn't suggest consent growth is about to take off.
They point out that commercial construction is "lumpy" in any case and no indicator is going to match it closely, "but the ongoing fall in surveyed construction intentions suggests downside risk". 
"By region, it's a similar story for both commercial and residential construction: Canterbury is the most pessimistic (though commercial has bounced somewhat). Construction intentions in Wellington are the strongest but are trending downward, while Auckland intentions seem to have found a floor. (Note the charts are 3-month averages)."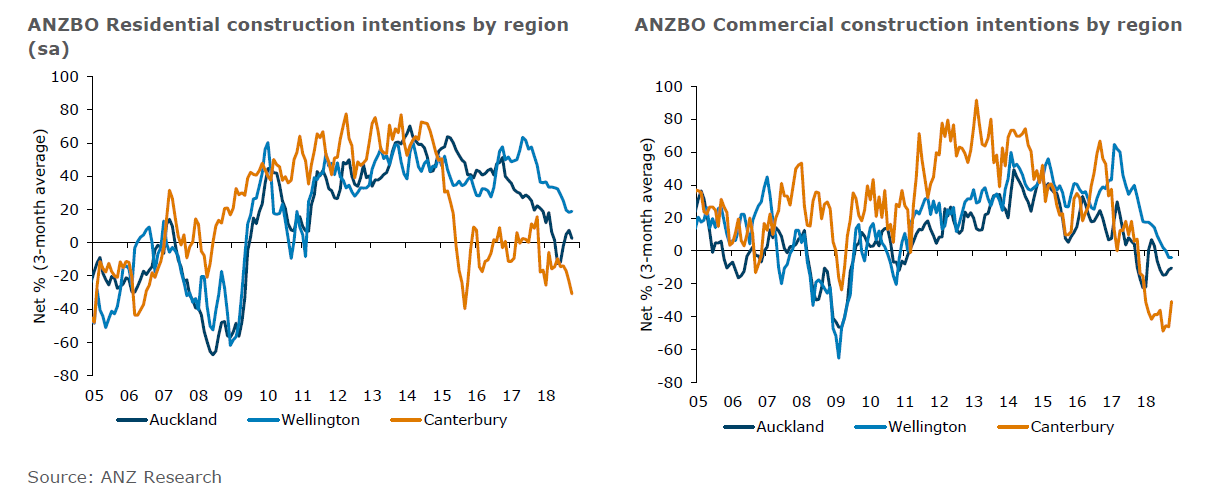 Elsewhere, the survey shows that both headline business confidence and firms' views of their own activity were steady in October at low levels.
Headline business confidence lifted 1 point to a net 37% of respondents reporting they expect general business conditions to deteriorate in the year ahead.
Firms' perceptions of their own activity prospects eased 1 point to a net 7% expecting an improvement, a weak level.
"It's clear that business sentiment is not a tailwind for the economy at present, but we remain optimistic that the boost being provided by a strong labour market, still-high commodity prices, a fiscal boost and now a significantly lower NZD will keep things ticking along," Zollner said.
Turning to the detail:
·A net 3% of firms are expecting to reduce investment - but that is an improvement from the more than -9% net figure in the last survey.
·Employment intentions remain subdued, up 1 point to a net 0% of firms expecting to lift employment.
·Profit expectations fell 2 points to -15%. Profit expectations in the agriculture sector have dropped sharply in the past two months despite the weaker NZD; this is now the weakest sector at -54% (down 23 points). The services sector remains the least pessimistic about profit, at a net -4%.
·A net 31% of businesses expect it to be tougher to get credit, up 2.
·Firms' pricing intentions lifted 2 points to +32%, the highest level since early-2014. This likely reflects rising costs such as wages, transport, and imported goods. Inflation expectations lifted 0.1%pts to 2.2%.
·Construction intentions dropped sharply. Residential construction intentions dropped 19 points to +5%, while commercial intentions fell 20 points to -24%. Canterbury is the particularly weak on both fronts, while Wellington is the strongest main centre but is trending down.
"The Reserve Bank argued in the August Monetary Policy Statement that the economy needs to run above-trend in order to get CPI inflation sustainably back to target. We therefore continue to believe that while the impacts of higher wage growth, higher oil prices, and the weaker currency certainly mean there's no hurry, it remains the case that an eventual OCR cut is more likely than a hike," Zollner said.