USD strengthens following Yellen's statement; US rate hikes still on track; NZD/USD higher as RBNZ tempered expectations of aggressive rate cuts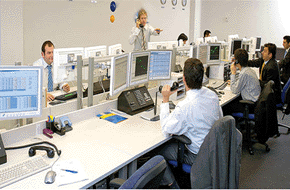 The USD has strengthened over the past 24-hours. The EUR and AUD have been amongst the underperformers.
Overnight, equity markets on either side of the Atlantic continued their rebound, following in the steps of gains in Chinese equity indices.
The USD drifted higher ahead of the US FOMC meeting in the early hours of this morning.
The Fed appears to remain well on track to hike before the end of the year. It is clearly inching towards its first hike but avoided pointing directly at the September meeting.
Volatility in the USD initially ensued, but overall the Fed appears to have provided enough to underpin USD sentiment. The USD index sits higher, at 97.00 currently.
The EUR/USD was on the back-foot from early in the evening. From 1.1080 early last evening, it dribbled lower, suffering a bout of volatility around the US Fed announcement.
The market appears to see the Fed's statement as re-confirming the diverging paths ahead for US Fed and ECB monetary policy. The EUR/USD has slipped to 1.0980.
The AUD/USD once again finds itself below 0.7300 this morning, having succumbed to the broadly stronger USD overnight. This was despite further rebound in global commodity prices overnight.
The CRB broad global commodity index is up a further 0.5% and the iron ore price has extended gains.
Today, the RBA's Governor, Stevens is scheduled to speak in Sydney.
The NZD/USD was spurred higher yesterday morning, by comments from RBNZ's Wheeler that pushed back on expectations for an aggressive rate cutting cycle.
The NZD/USD made a stretch toward the 0.6740 level. However, as the afternoon unfolded the NZD/USD gave back its gains. After a brief spike higher after the US FOMC announcement it has now slipped back to pre-meeting levels, trading at 0.6680 at present.
This evening, the focus for markets will likely be the release of US Q2 GDP. Consensus looks for a 2.5%q/q ann. reading following a very soft Q1 (-0.2%).
---
Get our daily currency email by signing up here:
---
Kymberly Martin is on the BNZ Research team. All its research is available here.