Death and Taxes: Denise McNabb takes a look at John George Russell, the man who made the IRD's job a living nightmare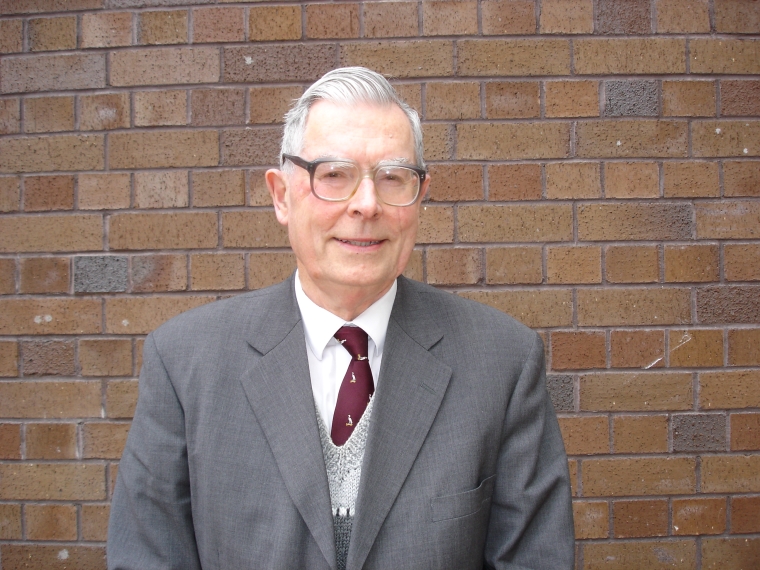 By Denise McNabb*
When John George Russell died on May 21 at the age of 83, he clocked out leaving New Zealand's biggest unpaid personal tax debt of $500 million, swollen daily by compound use of money interest and late penalty fees that saw him bankrupted in 2015.
He refuted the debt, right to the end.
And his death is unlikely to bring closure for the IRD any time soon. Cases it brought against companies using Russell's infamous tax template are still rumbling through the courts.
The Kawakawa Bay accountant, nearly always referred to by his full name because it was stamped so many times on court documents as either defendant or plaintiff, tested the IRD to its litigious limits over three decades, starting in the late eighties when Russell created the template he firmly believed was a legitimate means of mitigating tax bills for clients.
It centred on him utilising companies with tax losses that were nothing more than shells, then pairing them with profitable companies and using the profits earned to offset the losses in the loss company until they were extinguished.
The template made tracing beneficial ownership of a company nigh on impossible. Companies were shareholders in companies and there were a variety of other structures Russell pulled out of his hat. He sorely tested the rules around continuity of shareholding.
Apart from alleging tax avoidance the IRD had him firmly in its sights for another reason. Copycats would test their already stretched resources that dealt with Russell alone.
Over the years the IRD's "Russell Team" established five tracks (A-E) to pursue the tax. Track E was to tax Russell personally.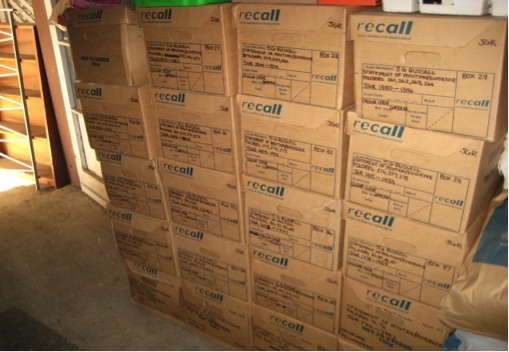 Some of the 289 folders of documents before the Taxation Review Authority in the Track E litigation.
Russell claimed between 1985 and 2006 he had earned $298,980. The IRD reckoned it was $15.76 million. The tax bill ballooned from that estimate.
In his younger years Russell skidded out of the limelight for a period after earning a place in the annals of New Zealand's corporate history when merchant bank, Securitibank, with him on the helm, collapsed spectacularly in 1976. All creditors were eventually repaid their $31 million owed, plus interest. David Richwhite, Michael Fay and Rod Petricevic all spent time working at Securitibank.
Adverse publicity over the collapse drove Russell to run his own business, Commercial Management, but it would soon catch him in the IRD's headlights in what he would claim was a vendetta
In his modest homes, first in Pakuranga, where he named his Downsview Nominees after the street where he lived, then Kawakawa Bay, he filled rooms with floor to ceiling shelves and piled on boxes of client files. In the early days he hired 58 staff almost around the clock, basically working in little more than cubby spaces in rooms, much to the chagrin of neighbours who were forced to put up with the noise of cars coming and going at all hours. Russell's wife, Melva, would cook meals for the staff so they would not go hungry on the job.
It was a pyrrhic victory for the IRD on November 19, 2015 when it succeeded in bankrupting Russell, then 81, frail and in failing health after rejecting his offer of $1000 a week in repayments until his death. 
Thesis
In 2013 Alistair Hodson, a researcher at the University of Canterbury's Department of Accounting and Information Systems completed a 403-page thesis on Russell.
Through his numerous interviews with the elderly accountant they became friends and he brought Russell from Auckland to Christchurch twice to talk to students who were studying tax.
"We had taught the Russell template-related cases for many years and it always intrigued me as to what motivated Mr Russell to keep battling Inland Revenue and I wondered what he was really like," he said.
"I warmed to Mr Russell's wit and humour almost immediately".
"For students the opportunity to meet perhaps New Zealand's most well-known tax avoider was well received even if they didn't agree with his tax stance.
"I had asked them to email me their various questions prior to the seminar. One wrote with humour in 2011; 'Looking forward to meeting the man that owes me and every other New Zealander $37 dollars each'."
Hodson said it would be unfair to say that Russell has been unaffected by the toll of the last 30 years.
"Clearly one would have to be motivated to keep going with this type of litigation. Many people would have simply given up."
Russell and the IRD
Alistair Hodson's research began as a review of the black letter law contribution of Russell and his tax template creation to New Zealand jurisprudence.
The following comes from his interviews with John Russell for his thesis, recollections, and notes in presentations he has made about the man. They are a frank but often amusing insight into how Russell went to some mind-numbing lengths to thwart the IRD and didn't always come out of it well:
… At the height of the IRD's information seeking missions Russell received an average 3,500 information requests a year.
He considered being prosecuted for 'failure to furnish' information to be part of the IRD's vendetta against him. In 2005 Russell escaped prosecution on 106 charges because of a delegations technicality. As Russell put it, "it was only luck…I was able to prove the person who issued them was not authorised…it was sheer luck."'  Russell had picked up on the delegations issue when he was cross-examining this person.
Requests were so frequent his wife Melva kept a record book of how many turned up each day. The record was set on October 1, 1996 when 101 notices arrived in courier bags.
In one report (the Oomen report) obtained by Russell, Inland Revenue estimated he successfully tied up in excess of 18,000 employee hours each year, every year in the early 1990s.
In the same report the writer also stated, "money did not seem to be a major concern of his [Russell's], unless he has pulled off the most extraordinary deception for the last decade and a half."
The report continued: "No one I have spoken to can see him ceasing his activities and leaving the country to live a life of luxury in some tax haven."
The report also referred to an occasion where Russell made 20 detailed Official Information Act (OIA) requests in respect of a tax issue involving just $20.
If any OIA requests went unanswered Russell would apply for a court adjournment citing the non‐response to his letters.
Obfuscation
Over a one-month period alone an IRD employee received 29 letters from Russell seeking information. One request dated 29 January 1992 contained 31 specific requests pursuant to the OIA. A typical letter would make 15 to 16 requests for information.
The IRD employee stated that it took him five hours to answer a single Russell letter containing seven requests for information.
Another technique Russell used was to send letters and requests to entirely different sections of Inland Revenue so that one section would not know that another section had received a request.
Often the section would not know about a request received by another section until Russell raised their letters in court.
A variation on this theme was for Russell to start dealing with one Inland Revenue section, then start corresponding with another section without telling either that he was dealing with the other. If any contrary decisions from different Inland Revenue district offices were received on the same issue, he would use it as ammunition to attack the other decision.
Sometimes Russell would pay a small amount of outstanding tax to the IRD and then argue if the matter came before the court that an incorrect amount was being sought.
Russell would also request reviews of any IRD decision. At one stage he sought to subpoena up to 10 IRD staff and accused the Commissioner of Inland Revenue of fraud for issuing backdated assessments. Russell had also been accused by the IRD of backdating documents.
Another tactic was harassment. Russell would demand to know the names of those dealing with a file, as well as proof of their authority. If he felt unhappy with the outcome of a case he would threaten the officer concerned with the prospect of a formal complaint about their performance, or sometimes threaten to sue them.
The report stated that this tactic was often effective at the IRD's district office level by instilling fear, with a resulting inaction on the part of the person to whom the request was addressed.
When action against him was launched, Russell would lodge a formal complaint with the regional controller over a "lack of response" by the departmental officer concerned.
The 'Russell Team'
Russell was one of only a few people the IRD dedicated a team of investigators and legal counsel to. It was known as the 'Russell Team'.
The 1994 Booth Report followed on from the earlier Oomen Report. It covered the activity of the Russell Team. Russell became aware of the "Russell Team" when one day he received a call from a Ponsonby businessman who found a file of minutes from one of the IRD's Russell team meetings lying in a car park near his car. The man said: "I must say, it made interesting reading. I thought anybody that can cause Inland Revenue so much trouble must be a good fellow so I am ringing you up and offering you this file." Later, the file was found to be legally privileged.
The Booth Report considered Russell's activities the 'biggest tax avoidance scam in New Zealand.'
At the time of the Booth Report an IRD staffer had answered 350 letters seeking information on personnel ranging from the Commissioner's practice to copies of internal documents, reasons for everything, as well as the basic facts that most others would limit their request to. There was a close similarity in all the requests, but enough variation to prevent the IRD from answering 'refer to reply of another request'.
A picture of an oar on the front of the Booth Report had the letters O.A.R. on it. Russell questioned the significance of this oar, suggesting they stood for Operation Against Russell.  This was neither confirmed nor denied by the IRD.
Booth optimistically suggested that if Inland Revenue took firm action the Russell scheme would be dealt a mortal blow, and that "we shall win the approbation of many other taxpayers and we shall present our masters with a handsome dollar return." That was in 1994.
House raid
Although Russell received numerous requests for information from the IRD it never raided his house.
But one time, when on a business trip, his receptionist rang to say two men sitting in a car, looked like they were staking out his place. Russell rushed home to find a huge truck with an army of people carrying files out of his house. His business affairs were under investigation by the Justice Department who were there with a court order; along with several policemen who Russell surmised were there because they had been expecting a big fight.
Subsequently Inland Revenue obtained the files and it was in those files it uncovered the Russell template.
Template explained
The usual application of the Russell template was the formation of shareholders in a trading or manufacturing company selling their shares in that company to Russell entities at an inflated price, and the Russell entity paying for those shares using the profits earned by the company, less fees to Russell entities. Effectively, the profits of the trading or manufacturing company pass to loss-owning Russell entities and, minus the Russell fees, are paid back to the shareholders as capital. The vendor shareholder(s) continue to manage the business and usually have an option to buy it back after a time for a nominal sum when, sometimes, the whole process recommences.
Russell defended the template, suggesting that not many people participated in it due to not wanting to relinquish ownership of their businesses. A person also had to be self-employed to utilise it.
Russell considered his tax arrangement as quite simple and validates it this way: "It's a tax loss company that has got losses buying an income stream...and therefore the arrangement didn't generate the tax advantage...the company had tax losses that had generated the tax advantage...now there is nothing wrong with that and no one has ever suggested that there was...so it can't be tax avoidance because all the company did was buy an income stream to use up its tax losses."
Some judges gave Russell a sympathetic ear. He said Judge Tony Willy gave him quite a tongue lashing about "this vendetta business".
But after hearing evidence in the 1999 case, Dandelion Investments Ltd where Russell (as the tax agent) alleged the taxpayer was prejudiced because of the antagonistic attitude shown towards him by the IRD, including withholding information, essential to the proper preparation by the tax agent of a case, and managing a trial by ensuring the wrong witnesses were called by the IRD Commissioner, the judge said he was satisfied that in relation to these complaints the taxpayer was not treated even‐handedly.
He told them both that the feuding had to stop and the IRD must treat Russell's clients as impartially as they treated those of any other tax practitioner. He also found the allegations of lack of impartiality, and unnecessary obstruction of the objector taxpayer by the Commissioner to be proved.
In another case Judge Paul Barber remarked: "I felt that the attitude of the respondent's department to Mr Russell lacks maturity and needs polishing. I have often felt that officers of the IRD are quite unhelpful to Mr Russell ‐ sometimes hostile to him and sometimes flippant. Such attitudes do not assist resolution of tax disputes whether between the department and Mr Russell or his many clients.
"I appreciate that Mr Russell's interpretation of revenue laws, particularly, in terms of tax avoidance, and his general strategies and the extent of his tax advisory business, are thorns in the side of the department and relate to enormous unpaid taxes overall; but treating him as an enemy of the State does not expedite resolution."
Final words
Russell has the ability to view the law in a unique way. As one tax barrister, James Coleman put it:  "Mr Russell presents 'novel legal arguments based on a poor set of facts."
Russell on the tax bill he faced said "So you have to be realistic about the prospects, but you know I'm certainly determined to battle it out because I believe that they have got no case and if it is going to end up that I have a bill for $138 million that they have got up to now - well, you know - I will have to start saving up obviously," Russell said. That was 2011 before the bill ballooned.
When asked what he thought his main legal contribution had been he replied with a grin "monetary". Russell considered "survival" his greatest achievement.
---
*Denise McNabb is a New Zealand freelance journalist. She can be reached here.