Bernard Hickey challenges ministers and councillors to adopt the Productivity Commission's recipe for closing the credibility gap between Auckland's future land supply for housing and demand for housing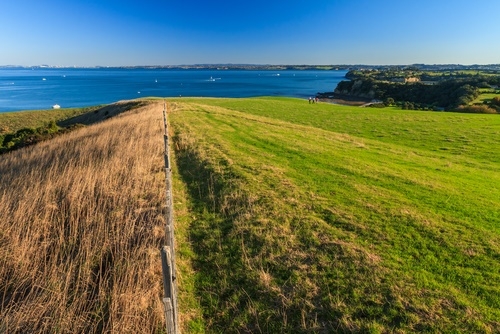 By Bernard Hickey
The Productivity Commission report into land use for housing used a surprising word this week to describe what was needed to solve Auckland's housing crisis -- credibility.
It essentially said Governments needed to make property investors believe that they would do whatever it took to stop the mad land price inflation that has made Auckland one of the least affordable cities in the world.
Commission Chairman Murray Sherwin introduced the report as a clear set of recommendations for change, but was blunt in saying it would be only as good as the political will behind it.
"The Commission has identified a number of areas where the responsiveness of urban planning could be improved, but the most important step that needs to be taken is a credible commitment to bring land price inflation under control," Mr Sherwin said.
It's not often an official body of policy experts call out their political masters as not believable or credible in the eyes of the public, but that's what the Productivity Commission did this week.
Mr Sherwin was dead right in pointing to the credibility gap driving investor perceptions. No one believes the Government or Auckland Council when they say they are doing plenty to solve Auckland's housing supply crisis.
Investors are showing that every day when they buy houses that cost them money to hold in the short term. That's because they are confident that neither the Council or the Government have the political will or ability to free up the land and build the infrastructure needed to help supply meet demand.
This credibility gap was illustrated earlier in the week with two surveys and the latest sales figures for lifestyle blocks around Auckland.
ANZ's annual survey of property investors found landlords in Auckland expect house prices to rise by an average of 8.2% per year over the next five years. That would push up Auckland's median house price another 48% to NZ$1.14 million by 2020, and that's on top of the 83% rise since the beginning of 2009.
These Auckland investors were the most likely to buy again in the next six months, while 84% said the Reserve Bank's LVR changes had not influenced their plans or appetites to borrow and buy more rental properties.
The Property Institute of New Zealand's new quarterly Housing Market Survey of residential valuers, property managers, real estate agents and mortgage brokers found 100% expected further price increases in Auckland over the next six months.
The Real Estate Institute then reported that lifestyle block sales were up 40.5% in the three months to September from a year ago with land bankers driving double digit price growth on the fringes around Auckland. REINZ pointed in particular to the northern fringes of Auckland, "where pockets of lifestyle land are being re-zoned residential and purchasers with long term perspectives are land-banking."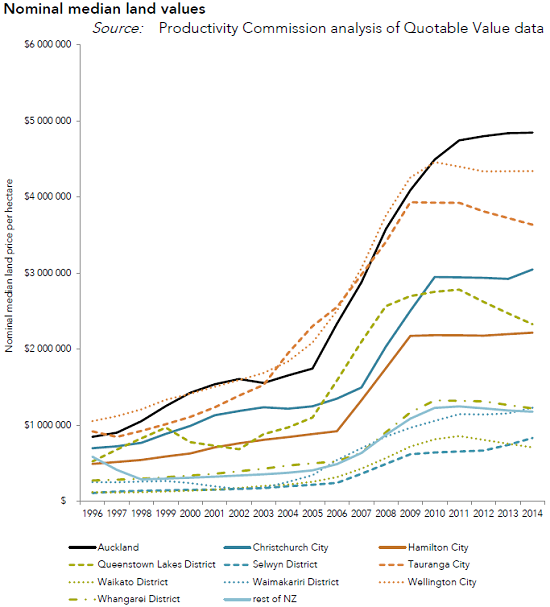 Investors are confident enough that councillors and ministers will never have the political will to open up enough land to build out or relax the densification rules to build up enough to meet the housing demands of an extra one million people expected to be living in Auckland by 2040.
The Productivity Commission made a series of recommendations that could make a difference if these politicians grow a pair to take on the vested interests and NIMBYs who are thrilled with the ever-rising land prices of the last 20 years.
They include:
encouraging councils to charge targeted rates so those who benefit from new infrastructure for housing and rezoning of land share those windfall gains with councils that pay for that infrastructure;
allowing councils to toll roads, impose congestion charges and bring in user pays to reduce the painful infrastructure costs that come with growth;
not imposing very strict debt limits on councils that would stop them borrowing to fund long-term infrastructure;
encouraging the New Zealand Transport Agency to invest in public transport that would encourage new housing developments;
encouraging development of Urban Development Authorities with the power to compulsorily acquire land for big new housing developments;
creating a Central Government 'price trigger' mechanism that would ensure swathes of new greenfields land would opened up if councils allowed the price difference between urban land and rural land on the fringes to grow too large.
making the Government pay rates on its land in council areas and opening up much more Crown land for housing development.
"A credible commitment to increasing supply to meet demand will encourage landowners holding land in expectation of capital gain to use or release it for development," the Commission pointed out.
Murray Sherwin's description in his foreword of the political drivers for this standoff is the best I've seen and has Auckland written all over it.
"Ratepayers often do not want the higher rates bill and debt levels that accompany more infrastructure expenditure," Sherwin said.
"Homeowners may oppose more development in their neighbourhoods, because of concerns about the impacts on the value and amenity of their homes. Landowners whose properties earn capital gains because of restricted supply may not welcome larger releases of residential land," he said.
"These "insiders" have strong reasons to engage in local political processes to defend their interests, to the detriment of "outsiders"."
Right there is the tragedy of Auckland, and of New Zealand in general. A generation of renting outsiders face decades of being locked in a poverty trap that is only as sustainable as the rent subsidies that are being paid by taxpayers at large. The Government now subsidises 60% of New Zealand's rentals and has to pay over NZ$2 billion a year to landlords because the poorest renters can't earn enough to pay the rents. It is creating a new landed gentry able to help their own kids into homes, but who are surrounded by the working and non-working poor and young who will never own their own homes.
Meanwhile, NIMBYs and land-bankers are more than happy to play their political and legal games to keep the capital gains flowing by blocking new housing developments.
All it would take to bridge this credibility gap is for our politicians to take on these vested interests in the service of the wider public at large over the long term by adopting these recommendations.
But do they have the cojones to do it? 
------
A version of this article first appeared in the Herald on Sunday. It is here with permission.