We release a new profile for the listed company Ryman Healthcare (RYM) and update last week's key movements on the NZX50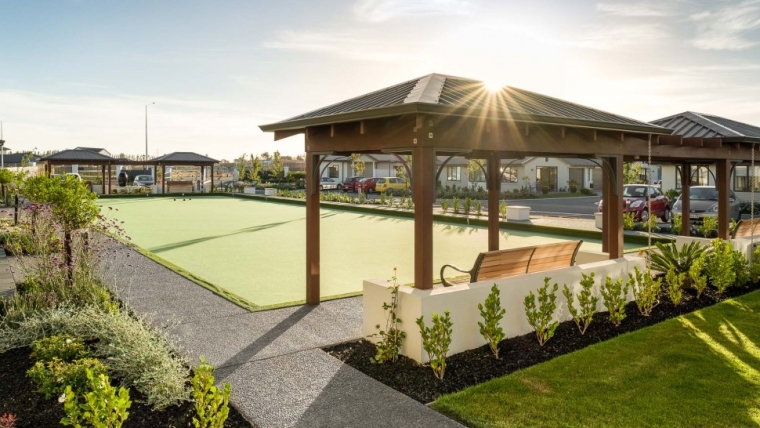 Last week saw only a very modest gain in the NZX50 Capital Index, and the overall capitalisation of those stocks rose with it in the same modest manner.
But there were some quite interesting moves within that narrow band.
Firstly, Mainfreight (MFT) continued its rise with a good +1.5% weekly gain to $54.70 per share. That was enough to take it up to the eighth largest traded stock on the New Zealand exchange with a capitalisation of $5.5 bln overtaking Contact Energy (CEN). It is the second consecutive week Mainfreight has jumped a position on this benchmark list. Recall it had a capitalisation of $4.6 bln in mid-August, so it has added $900 mln for shareholders (or +20%) in those nine weeks. There will be some wide smiles in the boardroom at Railway Lane in Otahuhu, Auckland.
But to jump yet another position, it will need to add $20 per share (+35% extra) to rise above Mercury Energy (MCY), and that isn't happening any time soon despite the current boom trading conditions for Mainfreight.
Mainfreight might look good, but Fisher & Paykel Healthcare (FPH) is the real star this week, adding +1.9% or +$380 mln in a week. Still, that doesn't quite bring it back to its record high late August market valuation.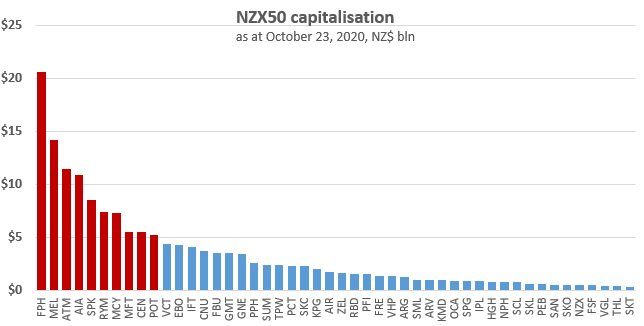 The new profile we added this week is Christchurch-headquartered Ryman Healthcare (RYM), the largest of the retirement homes property sector aimed at the down-sizing well-healed.
They have a very large balance sheet mainly due to the underlying propertes - less healthcare, more real estate, is their profile. And it is the real estate "rent" that powers Ryman (and the whole retirement living sector).
Ryman now have 36 "villages' with another 19 in development in what is a fast growth strategy. Among those, they currently, they have one Australian village in Melbourne, but nine in development in Victoria.
Fast growth has come at the expense of profits, which have declined for two years in a row.
And they are debt-heavy. Still, that is not stopping them paying rising dividends on a per-share basis. They believe their "underlying profit" story.
They deserve credit for the way they have managed their way through the COVID-19 risks.
And their share price has risen +16% (from $12.72 to $14.74) in the past twelve months. (In between it was volatile, +/-44% with a high of $17.18 and a low of $6.64.) Still that is not as big a rise as listed rival Summerset Group (SUM) which rose an impressive +60% over the same time (from $6.56 to $10.50). (SUM's volatility was +/-48% with a low of $3.71 and a high the current $10.50.) Their residents may well look at these gains with envy considering their own non-existent bank deposit returns. And that is just the capital gains. But the dividend yields don't look too flash at +1.6% for RYM and +0.87% for SUM and on that basis bank TDs may deliver a better income. The commercial elder care industry is all about the real estate capital valuation gains.
But the 'healthcare' side of their business relies heavily on attracting qualified migrant workers especially from developing countries like the Philippines, and it isn't clear yet what impact closed borders will have of this industry being able to maintain its care promises.
You can find the Ryman Healthcare profile here. It is important to do proper investment analysis before you invest in any listed company shares. This is best done with a qualified adviser. Our profiles are not a substitute for such research, and are only intended as an initial and superficial reference. Our profiles are observations, not analysis.