Do you need a traditional phone line tied to your broadband connection?
For most, the answer is probably no.
When broadband is delivered just by itself, it is called naked broadband.
And increasing numbers of people are using it – all for the normal stuff, but also to take their voice calls.
Demand for naked broadband has increased by 22% in New Zealand since 2016, according to data from broadband comparison website Glimp.co.nz.
Excluding the normal phone line makes broadband more affordable.
In January 2016 58% of visitors to Glimp were looking at naked broadband plans. In June of this year the number had risen to 71%.
Internet users in Queenstown are at the forefront of this trend. Search data shows that 85 per cent of queries from Queenstown residents in the last year were for naked broadband plans.
Next up was Wellington where 72% of searches were hunting out naked broadband deals. They were followed by Invercargill (71%) and Palmerston North (70%).
One key reason for this popularity is that more plans are offering consumers unlimited data.
"With the vast majority of broadband plans also being unlimited, it seems people are making the most free apps such as Whatsapp and Viber to call friends and family, eliminating the need for a landline," says Michael Speight if Glimp.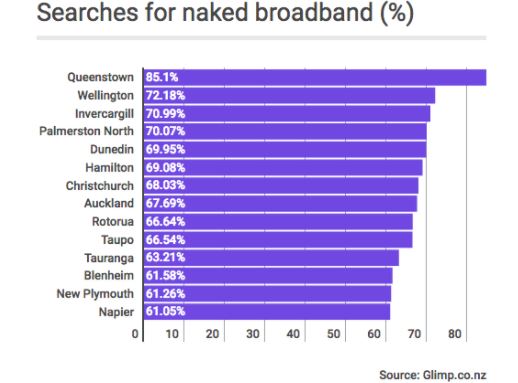 ---
► You can check the features, price and terms of most broadband offers using this handy tool.
---