The anxieties over our overseas debt obligations have faded significantly over the past generation. David Chaston updates the data and explores why we are less worried now
Our overseas debt has now reached $408.5 billion.
On a per capital basis, that is $83,900 for each person in New Zealand.
That debt is made up of both private sector debt, plus Government debt. In addition we have other international liabilities (like carbon credits) and they are included in this total as well.
But the real question is, is that debt growing? And how fast?
And as a proportion of our growing economy, is that getting larger? Are we more indebted on a real basis?
The answer to those questions are less alarming.
Firstly, the data for this is found in our National Accounts, as published by Statistics NZ quarterly. That release tends to be used to record economic growth, but it includes far more comprehensive data than that. It is a full national balance sheet setting out all our assets and liabilities. From the detail around liabilities, you can find the "international position" on liabilities, which is commonly referred to as 'overseas debt'.
A first principle to recognise is that we have long gone past the period where we had to borrow-to-pay-the-groceries. Now debt is incurred almost solely to invest in assets. And every lender requires the borrower to have skin in the game, a level of equity to support the borrowing. So asset levels are a core benchmark. Borrowing by either Government or corporates (including banks) isn't for straight consumption; no lender would agree to such an arrangement anymore. They want to know that the asset being funded has a future income stream that will comfortably allow for repayment.
So the GDP benchmark is the appropriate one when looking at this issue on a national basis.
Focusing solely on the international position, here is the track of borrowing we are on: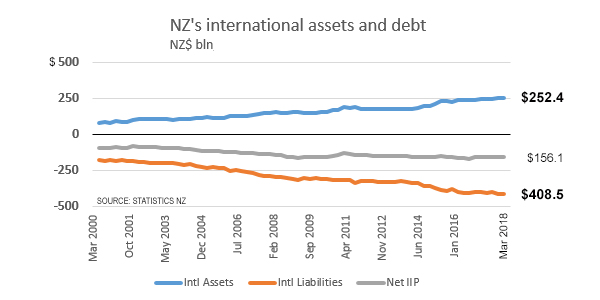 On a net basis - our Net International Investment Position, Net IIP - we have a liability now of $156.1 bln to the rest of the world. This net position has been pretty stable over the past 10 years. It grew from $92 bln to $155 bln in the nine year period to the end of 2008, and has staying at that absolute level since.
But over those two blocks of time, nominal GDP grew +65% and +51% respectively (the second block includes the GFC recession).
The lid on net debt is held on by strong growth in our overseas assets, almost all by the private sector.
Putting this in the perspective of the underlying economy, here is the same data: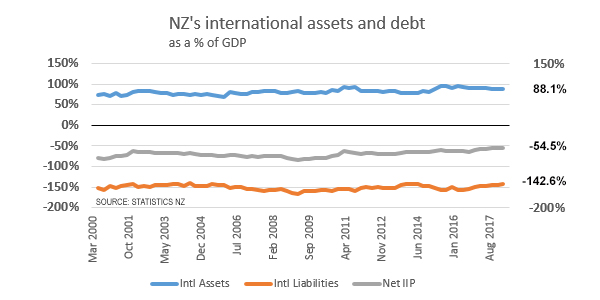 In this perspective, overseas liabilities are now at 143% of GDP and that is its second lowest since the data in this form became available (from 2000). And that is a recovery from its worst level in March 2009 when it was 166%.
On a per capita basis, the recovery is not as strong. It reached its peak at $88,016 in September 2016 and has fallen since then to the current level of $83,862. At the same time, our international assets on a per capita basis were at their peak at December 2017 at $52,017.
Community anxiety about our overseas debt levels has faded over the generations. Prior to 1984 when New Zealand was a closed and centrally controlled economy, anxiety levels were generally high and everyone worried about our overseas debt. Governments set public policy to try and reduce the stress. But since the opening up of our economy, while the debt levels have risen in absolute terms, the shock-absorbing mechanisms of the exchange rate, and the market-driven signals about what debt is sustainable, have both worked to push the issue back down to its rightful place in our economic perspectives and conversations.
The World Gold Council says three key macro trends will influence gold's behaviour, and combined with attractive entry levels, will increase gold's relevance for investors
Content sourced from the World Gold Council*
The first half of 2018 proved quite eventful for financial markets. Stocks experienced a few pullbacks during the first quarter as geopolitical tensions rose, but have been generally trading upward since the start of Q2.
This was especially true in the US and Asia where tech stocks captured most of the growth (Chart 1). So far, investors seemed to have shrugged off the escalating trade war rhetoric between the US and many of its trading partners or, at least, discounted the effect it may have on long-term economic growth.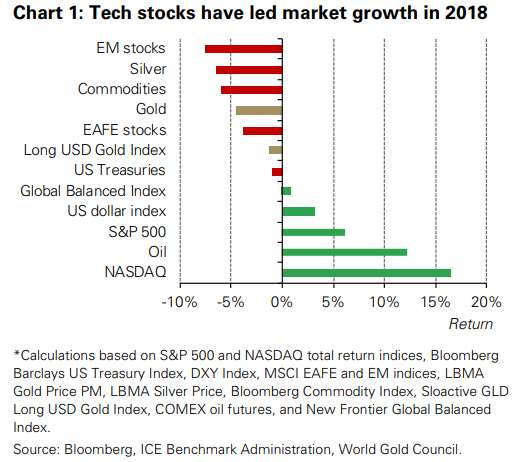 Gold has thus far moved in the opposite direction. Its price rose by more than 4% in the first few months of the year, only to finish in June down by the same amount. This downward trend has continued during July as gold dropped almost an additional percentage point. But while gold's volatility spiked in February and April, it has been moving in a relatively low range since. Gold's performance has been driven by a combination of factors. Three stand out:
• A strengthening US dollar
• Higher investor threshold for headline risk
• Soft physical gold demand.
At the same time, gold's price momentum and investor positioning in derivatives markets has accelerated its descent. We believe, however, that there may be reasons to be more optimistic during the second half of the year.
Gold's dual nature amidst mixed economic signals
Gold's long-term returns are positively linked to economic growth but its short-term performance is more sensitive to risk and uncertainty (Focus 1). And gold's dual nature could benefit from key macroeconomic trends developing in the second half of the year. We see investors positioned for:
• positive but uneven global economic growth
• trade wars and their impact on currency
• rising inflation and an inverted yield curve.
In addition, gold's recent pullback is supportive of consumer demand, as low prices tend to spur buying; at the same, it may provide attractive entry levels for investors.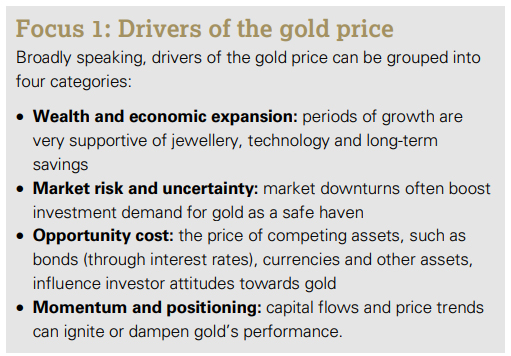 Economic growth is accelerating albeit unevenly
Global growth has generally been increasing over the past couple of years. But this growth has not been consistent across regions. As we look forward, however, we see support for gold from key regions.
As China has transitioned from an investment-driven to a consumption-driven economic model, its growth rate has slowed slightly. However, as it becomes less dependent from foreign investment and solidifies its leading role in Asia, China's economic expansion will likely be more robust. This confidence, combined with the size of the Chinese local market, is likely to prove positive for gold.
In India, the second half of the year is usually positive for gold as the harvest and wedding seasons during the autumn provide seasonal support for the market. In addition, the economic policies rolled out by the government to draw the informal, cash-based economy into the formal sector are starting to translate into stronger economic growth: India's Q1 GDP growth rate was close to 7.7% – making it one of the fastest growing economies in the world.
The US economy has also been expanding, making consistent gains since mid-2016 – even if at a more modest pace than either India or China. With this expansion comes an increased demand for gold jewellery and we expect this pace to continue.
By contrast, the European market may remain soft, as there are signs that political turmoil and increased uncertainty regarding Brexit may slow the acceleration the eurozone experienced last year. 3 China's jewellery market – quietly improving, June 2018.
The US dollar's rise may not last forever
The dollar has strengthened over the past few months, making its most significant appreciation since the last quarter of 2016. It would be easy to apportion this trend to higher US interest rates, but rates have been increasing consistently since the end of 2016 – a period during which the US dollar generally depreciated. Instead, the dollar strength is due to a combination of two factors:
• continued easy monetary policy in other parts of the world
• a perception that the US may be better placed to benefit from trade wars, at least in the short term.
Interest rate differentials matter, and the strength of the US economy has allowed the Federal Reserve to continue its path to policy normalization at a fairly consistent pace: raising its Fed funds rate mostly every other meeting since December 2016.
In addition, in the face of ongoing rhetoric over trade agreements, the market seems to have taken the view that the US will likely benefit from renegotiations.
Even if this turns out to be the case, many economists believe that an increase in tariffs will eventually have a negative impact on economic growth. And while this could decelerate gold consumer demand somewhat, its effect may be lessened by a weakening in the US dollar.4 Historically, a weak dollar tends to provide a stronger boost to gold's performance than the drag created by a strong dollar (Table 1).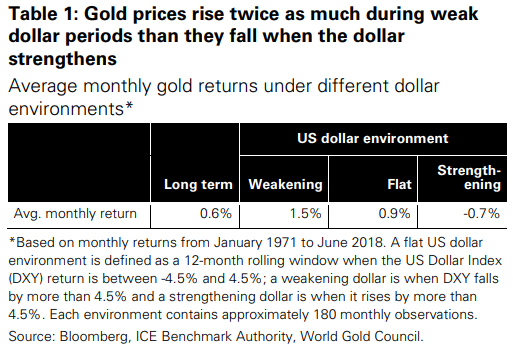 Rising inflation and an inverted yield curve
Inflation has been slowly but surely increasing over the past years and is now close to 2% in Europe and China, 2.9% in the US, and 5% in India, to name a few examples.
Looking forward, the expansion of protectionist economic policies has significantly increased the risk that inflation will accelerate further. And companies facing higher tariffs will likely pass the bill to consumers. Historically, investors have used gold as an inflation hedge, with the result that its price has increased substantially when inflation rises above 3% (Chart 2).
The combination of high inflation and a deceleration of economic growth can create a complicated scenario for central banks. This is especially true for the Fed, as its mandate includes price stability, full employment and moderate long-term interest rates.
In the face of continuing stock price rises, US bond markets seem to be placing greater probability on higher inflation and lower growth. On the one hand, TIPS and TIPS breakevens (a proxy for inflation) have continued to rise, but the nominal yield curve has flattened significantly and is close to becoming inverted. An inverted yield curve has been shown to be a precursor to recessions in the US. And while it's impossible to time the market, investors have generally benefitted from holding gold during periods of economic deceleration.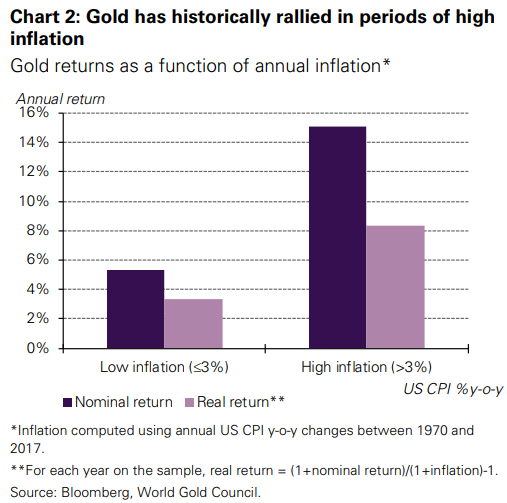 Momentum may be turning for gold
We believe that the confluence of key trends, as highlighted for the second half of 2018, could be supportive of gold demand.
In addition, gold's recent pullback will likely support consumer demand as lower prices have historically increased jewellery buying. For investors, gold's current price range may offer an attractive entry level, especially since net longs5 linked to COMEX gold futures are at their lowest level since mid-2017. And money manager net longs, a subset of the broader metric, are close to zero – a level not seen since 2015 when gold hit a multi-year low. Historically, such a scenario has coincided with a rebound in the price of gold, as even a small catalyst for investment demand may caught speculative investors with a large exposure to short positions.
Finally, while the summer period tends to be a quiet period for gold buying and trading – as seen by softer seasonal demand, lower trading volumes and sideways price movement – the gold price has tended to increase in September as consumers prepare for a traditional buying period and investors rebalance their portfolios before the end of the year (Chart 3).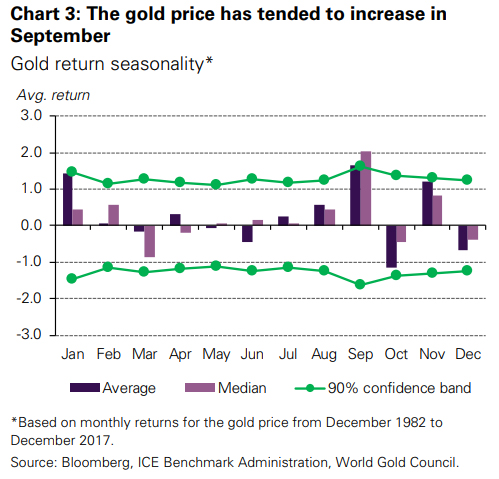 ---
This article is a re-post from here. The original article also has detailed Notes..
---

Our free weekly precious metals email brings you weekly news of interest to precious metals investors, plus a comprehensive list of gold and silver buy and sell prices.
To subscribe to our weekly precious metals email, enter your email address here. It's free.
---
Comparative pricing
You can find our independent comparative pricing for bullion, coins, and used 'scrap' in both US dollars and New Zealand dollars which are updated on a daily basis here »
Gaspard Koenig advocates the right to personal ownership of the digital information we generate
By Gaspard Koenig*
During the High Medieval Period, from the eleventh to the thirteenth century, serfs in France had no property rights. Instead, those with land had to hand over most of what they produced to the local seigneur (lord) who could confiscate their land upon their death ("mainmorte"). In return, they did receive services, such as protection from conflict and access to a mill or village oven. They had little choice: opting out of the deal and, say, building their own mill would have been strictly forbidden. This dynamic arrangement – which continued until the French Revolution, when peasants gained full property rights – looks a lot like consumers' relationships with Internet firms today.
In this age of digital feudalism, we have little choice but to agree, with one click, to an impenetrably long and convoluted set of terms and conditions, which subjects us to constant monitoring by the platforms we use. The platforms collect our personal data and sell them to many more actors, including advertising companies that can then serve us targeted ads.
For Internet firms, this is a highly lucrative practice: the value of users' personal data is expected to reach 8% of European GDP by 2020. In exchange, the firms offer "free services," such as social media, to the digital serfs who produce the data.
This is not a "sharing economy," but an optimised extractive economy – based on the near-infinite availability of raw material (our personal data) – that enriches a few companies at the expense of consumers. And, like the economy of the High Medieval Period, it is ripe to be revolutionised through property rights.
Property rights have protected and empowered individuals for millennia, evolving as technology does. For example, the printing revolution brought intellectual property rights (thank you, Beaumarchais), and the Industrial Revolution popularized the patent system. What the digital revolution must bring is the right to personal data ownership, including the classic elements of property rights: usus (I use my data as I wish), abusus (I destroy my data as I wish, without any fancy "right to be forgotten"), and fructus (I sell my data for profit if I wish).
Personal data ownership would spur the emergence of a personal-data market, with some of the world's 3.5 billion Internet users claiming remuneration for sharing their data, according to the value they produce. Other users, prioritizing privacy over profit, would pay a fair market price to benefit from a service anonymously. This is what the US tech executive Sheryl Sandberg was hinting at recently, when she suggested that a full-blown opt-out from data collection on Facebook would be a "paid product."
The change would be profound, and the practical challenges could be overcome with existing technological solutions. For example, to support data management, users could each have a "smart account" that stores the information and the contractual conditions for its use. As for pricing, intermediaries would likely emerge to negotiate directly with the big platforms on behalf of millions of users, leading over time to the creation of a proper marketplace.
Effective legal implementation of the right to personal data ownership will certainly take work. Yet personal data ownership remains a more rational and realistic solution than other approaches that have been put forward, such as the right to "informational self-determination" established by Germany's constitutional court in 1983.
The potential benefits of giving individuals more control over their digital lives extend beyond economic fairness. Such a system could also crack open the much-maligned "filter bubbles" that have arisen as a result of social-media algorithms, which show users content that reinforces their existing biases and beliefs. In this sense, personal data ownership could help to ease the dangerous political polarization that now afflicts many countries.
Today, not a single legal system recognizes personal data ownership. But the idea is gaining ground all over the world.
Brittany Kaiser – an executive-turned-whistleblower at Cambridge Analytica, the political data firm that allegedly misused users' data from Facebook and other platforms to influence political campaigns – now advocates that users treat their data as property, just like their houses. Owning a house doesn't make you a greedy real-estate speculator; it allows you to participate fully in what the philosopher John Rawls called a "property-owning democracy." The same goes for data.
In France, the think tank I created, GenerationLibre, issued a 150-page report on personal data ownership, which prompted a fierce public debate. At the European level, the General Data Protection Regulation, which has just come into force, prepares the ground for property rights by guaranteeing the portability of personal data.
In the United States, the author and researcher E. Glen Weyl, together with legendary virtual reality pioneer Jaron Lanier and others, recently argued that data should be treated (and remunerated) as labor. (I would prefer to treat data as capital, as they originate from our self-owned personality, but this is essentially just semantics.) And, on a practical level, a growing number of startups are developing data-monetization services.
In his bestselling book Homo Deus, the historian Yuval Noah Harari anticipates the advent of "dataism," whereby personal free will is sacrificed at the altar of the algorithm. But humans do not have to be at the mercy of data flows. By establishing personal data ownership, the very notion of individuality could be fortified, bolstering the liberal values that have made our civilization succeed.
---
Gaspard Koenig, a philosopher, is founder and president of GenerationLibre. This content is © Project Syndicate, 2018, and is here with permission.
First Mortgage Trust - and its manager - enjoy another stellar year, predicting a 'continuation of consistent returns' for investors
Should you invest in an asset class at a bad time in the market cycle just to achieve diversification? Jenée Tibshraeny asks Martin Hawes
By Jenée Tibshraeny
Small time investors, I recently had a discussion at a dinner party that might interest you.
My 30-year-old friend (who we will call Hamish) proudly shared the fact he had started earning enough that he could afford to invest decent portions of his monthly income.
His plan was to keep minimal cash in the bank and invest large portions of his income in three Smartshares exchange traded funds - NZ Top 50, US 500 and Emerging Market.
Because Hamish doesn't have any children and isn't planning to buy a house in the foreseeable future, he was comfortable leaving his money locked up in the share market long term.
He believed he was spreading his risk because he was investing in funds that track the market, rather than individual companies. What's more, the markets he is tracking are in different parts of the world.
Hamish was aware he had taken a high risk approach, but felt he was diversified enough.
This was when I (figuratively) threw a 'investing 101' textbook at him and pointed out his asset allocation was concentrated, so in the event of a global recession, the value of basically his entire portfolio would fall.
If during this time he lost his job, the small amount of cash he had would only cover his living costs for a couple of months, so he would probably have to cash in some of his devalued shares.
But then Hamish raised a good question - how should he diversify?
With interest rates low, he'd only get a measly few percent putting his money in term deposits.
As for the bond market - the minority of people who actually understand how this works, would say that buying bonds when interest rates are low and more likely to rise than fall, isn't the best idea.
The question then is, should Hamish diversify even if it means investing in an asset at a bad time in the market cycle?
It was at this point I decided to bow out of the conversation and later "phone a friend" - Martin Hawes, authorised financial adviser and Summer Investment Committee chair.
Martin says Hamish is well diversified within an asset class, but needs to diversify across asset classes.
In other words, invest a small portion in bonds and keep some cash.
Martin points out that in the event of a major sharemarket collapse, good quality bonds (government and municipal bonds) are likely to increase in value.
Because an economic downturn is likely to see interest rates fall, bond yields will look relatively more attractive. The demand for bonds will therefore go up, as will their values.
But what about if interest rates rise - the more probable situation currently facing the global economy?
Bond yields will look relatively less attractive, so their demand and thus their values will fall.
(For more on the relationship between bonds and interest rates, see this page. And  here is a cautionary tale about buying long-term bonds with resettable, or floating, interest rates).
So is Hamish best leaving bonds out of the equation for now, allocating a larger portion of his portfolio towards cash instead?
Martin thinks not.
If he was Hamish, he'd allocate a small amount of his portfolio - say 10% - towards bonds.
He points out the value of bonds is that you can earn a taxable capital gain.
Martin believes there is still room for interest rates to fall, so in this scenario you could earn a capital gain you couldn't earn from a term deposit.
You could get say 3.5% when your term deposit winds up, but then you have to find another term deposit, by which time interest rates might be 2.5%.
However the bond fund you bought into at say $1, is now worth $1.05.
While bonds are seen as relatively lower risk assets, Martin points out the bond market is bigger than the sharemarket globally and more fortunes and have been made and probably lost in the bond market.
How does one buy bonds?
Martin says it's easier for smaller time investors to invest in a bond fund rather than try to use a broker to buy bonds direct from the issuer.  
If their fees aren't too different, Martin would opt for an actively managed fund over a passively managed or index tracking one.
To get an idea of what New Zealand bonds are on offer, see this page interest.co.nz has put together. Also see this glossary of terms if you need a hand deciphering the language in any product disclosure statements you read when doing your research.
As for the cash part of the equation - I was worried Hamish's bank balance was looking too low relative to the amount he'd invested in shares.
Martin says the rule of thumb is one should keep at least the equivalent of between three and six months of your net income in cash.
He suggests using a risk calculator as a starting point, like this one on the Sorted website to get an idea of what your risk profile is and how you should allocate the assets in your investment portfolio accordingly.
Remember, your risk profile may look different to Hamish's, so a 10% bond allocation as suggested by Martin, may not be best for you.
David Hargreaves says the problem of KiwiSaver funds being effectively under-invested needs fixing quickly
By David Hargreaves
The debate that has been prompted by the actions of a group of financial advisers this week around KiwiSaver default schemes is really one we should NOT be having over 10 years after KiwiSaver launched.
Quite simply, somebody should have fixed this a long time before now. In the meantime, around $4.6 billion of valuable nest egg money is languishing in low interest bearing deposits gathering cobwebs - with the only people gaining tangible benefit being the banks. 
The fact that University of Auckland academics have now put their weight behind the issue and that now New Zealand's biggest bank (and a default KiwiSaver scheme provider) ANZ has come out too in support of change suggests that there will now indeed be an overdue change. Let's see. Let's see what happens. But as I say again, we shouldn't be needing to discuss this now.
It's not quite a week since I wrote a column bemoaning the lack of knowledge in this country - still - of two related investment factors, namely risk-reward and diversification.
The debate around KiwiSaver default schemes - or more specifically, the requirement that new default savers be placed in 'conservative' funds - just serves to highlight once again that for some people the risk/reward and diversification concepts are foreign language. Why else might a 20-year old allow the money that's deducted from their income at source and intended for their retirement to languish on really low returns?
What's missing, certainly from the information I've seen is the age groupings of the 450,000 or so people who are invested in conservative funds. That's obviously a salient point because, yes, if you are going to retire in a few years then you don't want to see your savings smacked by a global financial markets Armageddon. Conservative for you is a good idea. 
As a matter of interest below is the breakdown by age of all active KiwiSaver members, with the information drawn from the official Kiwisaver web site.   
Number of active/provisional KiwiSaver members, by age

Age Band
Number as of June 2018
0 - 17
319,619
18 - 24
380,013
25 - 34
629,779
35 - 44
497,292
45 - 54
492,436
55+
548,150
No Information
5,843
Total
2,873,132
It's of great interest to me that over 1.3 million members - so just under half of the total - are under the age of 35. So, if you assume that they won't retire till 65 (and let's face it the retirement age is very much more likely to go up than down) then the oldest people among that 1.3 million still have 30 years left to work.
The point about saying that is they can afford to take a fair degree of risk with at least a portion of their money - for a while anyway - in order to make good returns.
Heck, you could have even thrown some KiwiSaver money into cryptocurrencies last year (which would have been fine if members didn't give themselves heart palpitations by looking at the violent up and down moves on a daily basis). The fact is anybody who climbed into cryptocurrencies last year stood to do very well - providing they got out.
That's an extreme and perhaps slightly flippant example but it is an example nevertheless of the fact that in terms of risk - well, you can afford to take a fair bit if your timeframe is very long.
But again, I fear that so many people are missing this basic concept. They go with the idea that it is somehow prudent to get a 3.5% return for years because you won't LOSE money. No. But by the time the fees and inflation have nibbled, you won't make a hell of a lot either.
If people want to be in a conservative fund then that should be an active choice they make. And it's true, as well as the looming retirement example mentioned above, you can also look at young couples who may be looking to divert KiwiSaver funds into a house. Yes, I do have some problems with the putting of the future on the house in that way - but people are doing it and they will do it and in their case it stands to reason that they want to make sure they can't lose any savings in the short run.
We need though to sort this out.
There must be a good portion of those 450,000 people currently earning peanuts on their hard-earned cash that simply should not be there. They are wrongly invested. They are being undersold. This is the future of this country we are talking about here. We want our people to be as well-off and comfortable as they can be in retirement.
I'm afraid you have to suspect that, particularly the banks who are KiwiSaver providers, have been happy enough to just quietly let this situation carry on. As beneficiary of both management fees and of funds invested into their banks they are undoubtedly in an uncomfortably conflicted position. 
Now that the discussion is out in the open presumably they will be more than amenable to changes.
What changes then would be desirable?
I would actually go further than the financial advisers' suggestions in some respects. 
I think people should be forced, legally to switch out of a default fund within six months of being signed up. I would also suggest that unless they are specifically intending to put money toward a house in the foreseeable future that no people under the age of 40 be put into conservative funds.
Look, some people have obviously gone into KiwiSaver in a very passive way. They've not bothered to understand it. They get signed up. Their money goes away somewhere and then they see a slowly climbing balance (it's climbing slowly because they are in a conservative fund).
It goes back to the whole thing I was talking about last week of getting New Zealanders much more savvy in terms of - not just money or savings management - but actual investment nous. And I think we might have to be a bit cruel to be kind here and say, alright, if you are signed up for KiwiSaver YOU have to make active decisions about where your money goes.
In that sense KiwiSaver could offer up a better example, a better tutorial if you will, than any school or after-school theoretical lesson might. 
Yes, that's right, people from a young age could 'cut their teeth' on investment by making their KiwiSaver contributions really work, and doing that by taking an active role in the way their money is invested. Now, the KiwiSaver providers might in truth not be thrilled by that but, it seems this has all been rather easy money for them. Perhaps they need to sing a little more enthusiastically for their suppers here.
Either way, let's see this matter pursued with urgency. It should have been fixed before now. Okay, then. Let's fix it now.
Some 10 years after the finance company sector meltdown New Zealanders are still displaying an alarming naivety in the world of investment, David Hargreaves says
By David Hargreaves
During and after the finance company sector meltdown between 2006 and 2010 the term 'financial literacy' (or more to the point, a lack of it in New Zealand) was bandied around quite a bit.
I think the problem we had, however, was slightly more specific than that. I think the majority of people understand money and how to use it fine. And indeed how to save it.
Again and again what came through to me as I was reporting on the carnage - and it's worth refreshing memories on this with interest.co.nz's excellent deep freeze list - was that there was a basic lack of understanding, not of money or saving per se, but firstly of risk and reward, and secondly of diversification.
There were two constant themes coming from those who had lost money: First, they were chasing a yield offering them maybe half a percent more on a finance company investment than they could get in a bank. Second, they thought they were 'diversified' because they had their nest egg spread across five finance companies.
What's wrong with those pictures?
To tackle the first one - there seemed little or no understanding of the difference between a bank and a finance company and what happened to your money (IE where it went) after you dropped it on the counter. There's a world of things a bank might do with your money, whether it be lending it to someone as part of a mortgage, or investing it offshore. Most of the finance companies on the other hand were lending it straight to property developers. All of it. Ask yourself, which sounds more risky? The reality is the 'risk' of finance company investment was nowhere near adequately priced in the New Zealand market. 
The finance companies SHOULD have been offering anything like say five full percentage points more to investors given the much higher risk they were taking with their money. But no. Because the public really didn't understand the risk they were taking with finance companies then so those companies were able to entice investors with interest rates only a little better than the banks but with massively more risk. The finance companies got away with murder because we let them because we didn't really understand them and what they did with our money.
So, and on to the second point - spreading money across different finance companies was not any sort of diversification, because it was all going into the same asset class - property. So, never mind that you've got deposits with five finance companies, if the property sector hits the skids all five of those finance companies will get into trouble. Which is exactly what happened.
Okay, so, there's the history lesson - and apologies to the many of you who are well versed in it. But it is worth reiterating this because these problems, these huge gaps in our knowledge and understanding of how investment works, still seem to be there. Very much so. I refer to the Financial Markets Authority's latest annual survey into the public's attitude to financial markets.
Surveys, as I've said before, are worth treating with a pinch of salt. However, to the extent that you can get people to actually demonstrate choices or test their knowledge or lack of it on issues then obviously they can be very useful. And the bit that got me in this survey was, yes, about diversification and risk/reward. I include text taken directly from the survey here because I think it's worth highlighting: 
Diversification and the risk/return trade off:

Diversification:

Half of New Zealanders aged 18 years and over said they have heard of and understand 'diversification' and virtually all of these people correctly identified 'Investing all your money across different investment choices such as shares, property and cash' as diversification. However only 17% also identified all other options as 'not diversification' indicating that perhaps people are not as knowledgeable as they think on this topic.

Not surprisingly, investors, and those aware of FMA, are more likely to say they understand diversification.

Risk/return trade off:

A lower proportion of New Zealanders understand risk/return trade off than understand diversification (42%).  Again it's the investors, and those aware of FMA, who are more likely to say they understand risk/return trade off.

When it comes to investment types, New Zealanders overall are more knowledgeable and able to give an opinion about risk level associated with the following: Term deposits, Residential property, KiwiSaver funds.

On the other hand, New Zealanders are less knowledgeable overall about the higher risk investments: Hybrid bonds, Derivatives, Property syndicates, Private equity funds, Shares in a company through equity crowdfunding.

It's concerning that women feel significantly less knowledgeable than men about all investment types and the risk associated with them, except for: Term deposits, Residential property, KiwiSaver conservative and balanced funds.
To explain: In the bit about diversification, the survey participants were invited to identify what a diversified investment approach was - which they could do. But then, given a series of examples, not unlike my five finance company example further up, they were largely unable to correctly identify that as NOT diversified. So, the concept is still not clearly understood.
Likewise, risk and reward - such a key component of the finance company investment catastrophe - is still not well understood.
Now, I know great efforts are being made on the subject of financial literacy, with this now being offered in schools etc. That's great and maybe the rewards of that will be seen in future years. Maybe it is still too soon to be seeing the benefits of these efforts.
However, I do have another thought. Maybe the focus is wrong. It's one thing to understand money and the concept of 'saving' - but how well understood is the idea of 'investment'. And is that the real problem?
People are encouraged to 'save' for their retirements. To 'save' for their futures. But that to me implies a passive thing. You save by dropping money in a bucket and watching it slowly pile up. 
Shouldn't we be talking in more forceful terms about how our people 'invest' for their futures. It might sound like semantics, but to use the term 'invest' involves the thought of active participation.
I don't think we are taught in this country to be 'investors' - not like people are in parts of Asia say, where from my experience the first-hand knowledge of 'investment' and really managing your own money is so much more advanced.
Okay, we might like to think of ourselves as property 'investors' - and that's still the main course of action for most New Zealanders when it comes to generating a nest egg. But that's still fairly passive as well. You put an offer on a house, you buy it and you either live in it and watch it grow in value or you rent it out and watch it grow in value. Passive.
Until people have a better handle on how to actively manage their money - and let's not call it 'financial literacy' anymore, because I think that's a misnomer - then we run the risk of a finance sector disaster part II. And no it might not be finance companies or anything like that next time. It might be something else entirely. 
The point is, until we predominantly understand things as basic as risk and reward and being diversified in where we put our money then we are running the boom and bust risk. We are running the risk of repeating the same mistakes that were made with the finance companies.
We don't need to be a 'saving' nation. We need to be an 'investing' nation. Engaged. Switched on. Understanding how to actively manage our own money. 
Big problems ahead if we can't do that.
Share market investors more upbeat on NZ's financial markets than property investors despite jitters in both markets; KiwiSaver investor confidence subpar
People who have invested in the share market are more confident in New Zealand's financial markets than those who have invested in the residential property market, according to a Financial Markets Authority (FMA) survey.
While 75% of property investors surveyed in May were confident in the market, 82% of people who had invested in managed funds and 77% of those who had invested in shares themselves were confident.
A year ago, property investors were as confident as those who had invested in managed funds, and even more confident than those who had invested in shares.
Confidence among property investors took a notable dip year-on-year, while confidence among equity market investors remained stable.
This is despite there being jitters in both the property and equity markets.
Market dynamics
The new Coalition Government is introducing a raft of new measures to cool the housing market. It's upping supply through KiwiBuild, banning foreign buyers, extending the bright line test from two to five years, preventing investors from using rental property losses to get tax breaks and considering introducing other taxes like a capital gains tax.
The median Auckland house price has fallen off its peak reached in March 2017, according to Real Estate Institute of New Zealand figures.
Meanwhile, house prices across the country have been on the up, with the latest figures showing the median house price hitting a new high in May.
Sales volumes across the board are down.
Meanwhile global equity markets are volatile. Fears around the US/China trade war and the Federal Reserve raising interest rates faster than expected have largely contributed towards the VIX index spiking to its highest level since 2011.
While the Shanghai Composite has plummeted, the likes of the NZX 50 and S&P 500 have continued to perform well.
Asked whether the survey results show that New Zealanders are more sensitive to events that affect the property market than those that affect equity markets, FMA CEO Rob Everett pointed to the different philosophies different types of investors use.
"The [global market] backdrop looks dark, but actually on the ground here, it doesn't feel like that's manifested itself. I suspect that's kept confidence levels in markets a little higher…
"Property's difficult right. It's quite a different investment approach. It's much more physical, it's much more tangible, it feels more real to people, which is I think part of the reason people like to put their money into something they can look at.
"The problem with property is that it's not diversified. It's very concentrated. It's actually far more difficult to get some of your money out than it is in other types of investments.
"It's actually a very different investment philosophy.
"There are still a lot of people in New Zealand putting money into term deposits and residential property, who probably just haven't actively considered putting it into a market investment."
KiwiSaver
Adding KiwiSaver investors to the mix, the FMA's survey shows KiwiSaver investors are much less confident in New Zealand financial markets than any other type of investor.
For example, while 82% of managed fund investors have confidence in the market, only 65% of KiwiSaver investors have confidence.
Everett put this divide down to people investing in managed funds and shares being more involved in the investment decision than those who invest in KiwiSaver. Actively deciding to invest, rather than becoming an investor by default, they are likely to be more confident.
In fact, across the board, the FMA said: "Confidence is considerably higher among those who are more knowledgeable about investments and the risk associated with them...
"The more experienced investors who do not only have a KiwiSaver scheme are the most confident about New Zealand's financial markets and its regulation.
"These investors are more likely to be male, aged 40 years and over, and earning higher personal and household income.
"On the other hand females and the younger age groups under 30 years are the least likely to have an investment and significantly less likely to follow the financial markets, and are therefore the least knowledgeable and confident.
"They are more likely to be noninvestors, or have only a KiwiSaver investment, and are more likely to say they don't know enough to have an opinion on some of the topics asked."
Henry Chueh's top nine tips for those keen to invest in cryptocurrencies
By Henry Chueh*
The cryptocurrency market is like the Wild West. As an investor, you can lose money quickly if you're ill-prepared or don't understand what you're doing.
Here are nine pieces of advice to consider if you're thinking about entering the market:
1. Never invest more than you're willing to lose
This is arguably the most important rule of thumb. While your natural tenancy may be to chase high returns, investing more than you can afford to lose is irresponsible.
It can cause your life to start revolving around the performance of your portfolio, which isn't healthy.
Tip: Ask yourself, "Am I comfortable losing X amount won't affect my life?"
2. Understand blockchain fundamentals
Putting in the time to understand blockchain technology will always be an advantage when it comes to selecting which cryptocurrencies to invest in. It will mean you'll stay patient during the volatile times because you believe in the technology and the vision of the coin.
Tip: Watch YouTube videos on what blockchain is. Learn some fundamental blockchain terminology; the different types of consensus algorithms, benefits of blockchain and use cases in different industries. Here's an article about blockchain and cryptocurrencies for beginners.
3. Research coins and tokens
What problems are they trying to solve?
Is blockchain really necessary to solve these problems?
Who's behind the project? Are they competent?
Does their whitepaper make sense?
Is a there a community behind the project?
Asking these questions will help you weigh up the value of the coin.
Tip: Write a checklist of what attributes you think a cryptocurrency should have and set standard thresholds. This should give you an indication of whether a particular coin is worth investing in or not.
4. Never have FOMO
Never succumb to the "fear of missing out" mentality. During November and December last year, a number of people invested in cryptocurrencies because of their massive returns. The majority of these investors are now losing money.
Do not blindly listen to people, whether they are friends, YouTubers or famous tweeters. Chances are they have their own agenda which does not align with your interests. So, always do your own research.
Tip: Follow Tip #3
5. Security, security and… security!
*Ledger Nano S: One of the cold wallets to store cryptocurrencies
Before investing in a coin, know what kinds of digital wallets they are compatible with. Well-known cryptocurrencies are generally compatible with cold wallets such as a Ledger Nano S or Trezor.
Cold wallets are one of the most secure places to store private keys. This article explains the different types of digital wallets.  
Wallets will generally come with a seeded passphrase. Whoever has access to this will have access to the wallet. Keep the passphrase safe. 
Always make sure 2FA (Two Factor Authentication) is enabled when trading on cryptocurrency exchanges. Avoid storing cryptocurrencies on exchanges as these have been hacked on too many occasions.
Tip: Buy a cold wallet, keep your passphrases safe and enable 2FA.
6. Never attempt to day trade
Never try to time the market (buy low, sell high) because the market is unpredictable.
Follow rule #2 and #3. Buy a cryptocurrency and hold. Holding reduces emotional investing and is more convenient when it comes to calculating how much tax you have to pay. Yes, cryptocurrency investors need to pay tax. Read more about this here.
Tip: Buy and hold!
7. There are always opportunities in the future and remember to realise some of your gains
Unlike the stock market, the cryptocurrency market is open 24/7/365. There is always an opportunity in the future. Do not make any hasty or decisions you might end up regretting.
Good traders will always remember to realise some profits when gains are made. Remember, this is not a race, but a marathon. Managing the risk of your portfolio is key.
Tip: Be patient.
8. Beware of pump and dumps, scams and ICOs
There will be cryptocurrencies promising guaranteed returns. This is not possible.
There will be pump and dump groups; groups encouraging investors to buy cryptocurrencies in order to inflate the price artificially, only to sell their own shares when the price is high. Avoid these schemes.
I would avoid ICOs (initial coin offerings) as well. Many ICOs, with flimsy white paper, aim to be the next "big" coin. The white paper will contain a lot of jargon and when money is collected from investors, the team behind it will disappear.
Otherwise, early investors will likely get bonuses in excess of 50% and will dump the coins when they reach market. Remember, most ICOs will inevitably fail.
Tip: Be vigilant. If it sounds too good to be true, it probably is.
9. Include detailed instructions on accessing your cryptocurrencies in your will
Last month, the 54-year-old crypto billionaire, Matthew Mellon, died suddenly with over $500 million worth of Ripple. His family is now having trouble accessing the private keys to his wallet.
Tip: Make sure your loved ones can access your coins in the event of you passing away.
---
*Henry Chueh is a cryptocurrency analyst who advises firms on ICOs. He has seven years' experience working in the financial services industry. 
ANZ launches digital assistant that visitors to its website can speak to if they have basic banking questions
People who have basic banking questions will from today to be able to put these to a "digital assistant" on ANZ's website.
ANZ is enabling people with cameras and microphones on their computers, mobile phones or tablets to speak to "Jamie", which has been programmed to answer questions on the 30 most frequently searched topics on the Help section of ANZ's website.
Instead of ringing a call centre, visiting a branch, or searching ANZ's website, people can ask Jamie questions, much like they would using Siri on an Apple device, or Google Assistant on an Android one.
ANZ NZ's head of digital and transformation, Liz Maguire, explains Jamie can answer, 'How do I…?' questions, not 'Should I…?' questions.
For example, 'How do I… open a banking account, send money overseas, get a credit card, retrieve a lost customer number?' and so on.
Because Jamie doesn't provide financial advice, she can't answer questions that require specific customer information.
ANZ acknowledges it is still trialling Jamie; the plan being to broaden the suite of topics she can provide assistance on in the future.
ANZ will keep all the transcripts of conversations Jamie has, so it can get a sense of the sorts of questions Jamie can't answer, and enhance the way she's programmed accordingly.
Maguire assures that while people need to turn on both their camera and microphone to talk to Jamie, the transcripts ANZ collects won't be identifiable by customer.
Jamie has a digital human face and persona. Over time, ANZ might enable people to choose what they want Jamie to look like and what language she speaks.   
The New Zealand artificial intelligence company, Soul Machine, has taken care of the tech behind Jamie. It has used a system that models the human brain to try to give Jamie human-like personality.
It has even gone so far as to programming Jamie to answer non-banking related questions like, 'What movies do you like? What do you like doing? Do you like rugby? And Are you smart?'
The aim is to ensure interactions with Jamie are conversational.
Maguire also hopes Jamie appeals to those who aren't as comfortable using ANZ's other digital channels.
ANZ is the first bank in New Zealand to make a digital assistant available to the public.
Jamie can be accessed from https://help.anz.co.nz.