Smartshares cuts cost of investing in ETFs in drive to streamline investment process; Move comes as new kids on the block offering Smartshares ETFs gain traction 
The cost of investing in some funds that track the sharemarket is falling, as competition among investment platforms targeting DIY retail investors heats up. 
The NZX's Smartshares has reduced its establishment fee for those who invest in any of its 23 Exchange Traded Funds (ETFs) direct.
While investors previously had to pay $30 for each fund they bought units in, they now only have to make a one-off payment of $30 regardless of the number of ETFs they invest in.
So if you wanted to invest in the NZ Top 50 fund, the Emerging Markets fund and the Aus Resources fund, you previously had to pay $90 to do so. You would now only have to pay $30.
Smartshares' move follows the establishment of two New Zealand-based investment platforms this year - Invest Now and Sharesies.
The fees
Investors can buy units in a selection of seven Smartshares ETFs through Invest Now without paying an establishment fee. Meanwhile through Sharesies, they can buy units in a selection of nine Smartshares ETFs for a flat fee of $30 a year.
Investors will always have to pay Smartshares a fund charge (0.33%-0.75%) regardless of the platform they invest through.
Neither Invest Now nor Sharesies charge brokerage fees if investors sell units in their funds.
However those who invest direct through Smartshares need to use a broker to sell units, which will always incur a fee.
Competition looks to be warming up in this space too, with ASB Securities (one of the main online brokers in New Zealand) recently halving its fees for New Zealand transactions under $1000, to $15.  
Both Invest Now and Sharesies make their money by charging fund managers for hosting their funds. Sharesies only has two other funds available in addition to the Smartshares ones, while Invest Now has 73.
People have invested $7 million through Sharesies since its beta version launched in June. Invest Now, which launched in March and is in the process of buying Rabo Direct's managed funds business, has over $100 million under management.
Smartshares has $2.1 billion under management, with $1.4 billion of this coming from its SuperLife funds.
The experience
Asked about the extent to which increased competition has spurred Smartshares to cut its establishment fee, Smartshares product manager Dean Anderson says: "Each of the platforms are offering their own functionality…
"Everyone in the industry is going to be keeping an eye on technology - not only to improve operations, but to deliver what customers expect."
He says the main reason behind the cut is for the fee structure to fit in with Smartshares' new online portal for investors, launched a week ago.
The idea is that investors will now be able to add new ETFs to their portfolios with a click of a button, rather than filling out a new application form.
Anderson says the aim is to streamline the process both internally and for customers. He says this is something the growing number of EFT investors had been asking for. 
With the bulk of Smartshares ETF investors making regular contributions to their investments through a "savings plan", Anderson's focus is on this segment of customers.
Accordingly, the new portal also makes it easier for investors to administer their regular investment plans without contacting Smartshares, as well as make lump sum contributions.
Invest Now also has an auto invest function. Sharesies says this is something it is still working on.
Its key focus has been building a platform that walks first time investors through the investment process.
It has a fun and user-friendly interface and presents information in a unique way - by charting how investors' portfolios are spread across different risk levels for example.
For Invest Now, its focus is now on looking at ways to help investors better weigh up their options in the "funds supermarket", without going down the path of providing personalised financial advice.
Govt to further probe petrol prices and beef up Commerce Commission powers by enabling the consumer watchdog to undertake broad market studies
Minister of Energy and Resources Megan Woods has asked the Ministry of Business, Innovation and Employment to further investigate fuel prices, suggesting there has been a transfer of wealth from consumers to fuel producers to the tune of hundreds of millions of dollars since 2008.
And Minister of Commerce and Consumer Affairs Kris Faafoi has asked bureaucrats to fast-track work enabling the Commerce Commission to undertake market studies, which would compel companies to provide information to the Commerce Commission enabling it to better understand how markets are functioning. Faafoi says the Commerce Commission needs to be able to self-initiate these studies where markets are not doing a good job for New Zealand consumers.
"Having thorough information and shining a light on a market enables us then as Government to decide if we need to take any action," says Faafoi.
Here's a press release from Woods and Faafoi.
Govt pushing for fair deal for consumers

The Government is acting on key consumer concerns, with Minister Megan Woods asking the Ministry of Business, Innovation and Employment (MBIE) to further investigate fuel prices and Minister Faafoi moving to progress broad market studies powers for the Commerce Commission.

The decision by Minister of Energy and Resources Megan Woods follows an update by MBIE the on the Fuel Market Financial Performance Study released earlier in the year.

"The report highlights concerns about the price Kiwis are paying at the pump. This was based on the rising levels of importer margins since 2008 and a rising spread of retail prices between Wellington and the South Island and the rest of the North Island.

"The update notes that over the last nine years, New Zealand has gone from having some of the lowest pre-tax fuel prices in the OECD to the highest. MBIE notes that the rise in margins since 2008 represents a transfer of wealth from consumers to producers to the tune of hundreds of millions of dollars" says Megan Woods.

Minister of Commerce and Consumer Affairs Kris Faafoi has asked officials to fast-track work to enable the Commerce Commission to undertake market studies – this power compels companies to provide information to the Commerce Commission to fully understand how markets are functioning.

"I'm aiming to get legislation complete and to have market studies powers in place by the end of 2018. And the Commerce Commission also needs to be able to self-initiate these studies where they see that markets are not doing a good job for New Zealanders.

"Having thorough information and shining a light on a market enables us then as Government to decide if we need to take any action," Mr Faafoi says.

"While these powers are being provided for, I have also instructed MBIE officials to continue to monitor the market and explore options for regulatory interventions to enhance competition as required," says Megan Woods.
FMA statistics show the fledgling NZ P2P lending sector is serving banks and fund managers well, but more needs to be done for retail investors and SMEs, Gareth Vaughan argues
By Gareth Vaughan
Peer-to-peer (P2P) lending, according to Investopedia, is a method of debt financing that enables individuals to borrow and lend money without the use of an official financial institution as an intermediary, thus removing the middleman from the process.
That certainly fits with the concept of P2P lending popularised in the likes of the UK and US post the Global Financial Crisis and envisaged by the New Zealand government when it rubberstamped regulations enabling licensed P2P lending in 2014. Something of a revolution was in the air.
But the Financial Markets Authority's first statistical report on P2P lending, issued this week, highlights just how little actual P2P lending there has been in NZ to date.
The useful and informative FMA report details that there are 20,744 investors registered with licensed P2P services. At 207,230, there are about 10 times as many borrowers registered with P2P services. The volume of investors, or savers, versus borrowers sounds unbalanced and it is. But the bulk of money being lent through P2P platforms is coming from banks and institutional, or wholesale, investors.
Far and away the biggest NZ P2P lender is Harmoney, the first to launch, going live in September 2014. According to its website, to date Harmoney has matched borrowers and lenders for loans totalling $651 million. According to the FMA report, as of June 30 the total value of Harmoney loans outstanding was just under $239 million. The five other active P2P lenders had a shade under $50 million worth of outstanding loans between them.
So that's about $289 million worth of lending across the sector. Just three years in it's obviously still very early days for P2P lending in NZ. But to give the volume of lending arranged through these online platforms some context, Reserve Bank sector credit figures show that, as of September 30, there were $423 billion worth of loans outstanding in NZ across the housing, consumer, business and agriculture sectors. Reserve Bank figures also show gross deposits held by NZ banks of $316.213 billion at September 30, with $162.922 billion of these household deposits.
Thus P2P to date is clearly just a drop in the borrowing and lending ocean.
Harmoney's plans always envisaged securing a significant volume of funding from institutional investors and banks. The company's founder and co-CEO Neil Roberts was always open about this. And this is the way it has panned out. Harmoney says three quarters of funding for its loans comes from institutional, or wholesale, investors, with just a quarter from ma & pa retail investors.
$128 mln of lending from two banks
Harmoney has Heartland Bank as a 12.9% shareholder. Heartland also lends money through Harmoney, and as of June 30 had lent $78 million through the P2P lender. A Heartland spokeswoman says this has continued to grow since, and Heartland's lending through Harmoney represents around one-third of the Harmoney loan book.
In its annual report in June TSB disclosed it had lent $50 million through Harmoney to that point. So as of June 30, two NZ banks had lent a combined $128 million through the country's leading P2P lender.
Other institutional lenders to utilise Harmoney include US firm Blue Elephant Capital Management, which revealed plans to lend US$50 million through the Kiwi P2P lender in 2014, and the UK's P2P Global Investments PLC, which in 2015 Harmoney said it had secured $200 million of funding from as the P2P lender eyed the Aussie market.
This shows that banks and institutional investors are dominating lending through Harmoney, which says the average lender is getting an annualised realised return of about 13% before tax.
There are now a total of eight P2P lenders licensed by the FMA. Notably among them Squirrel Money's managing director John Bolton has pledged that his firm won't seek funding from banks or institutional investors, and will be a pure P2P play.
In September FMA CEO Rob Everett said he was both disappointed there's only one P2P lender with scale to date, and that there has been little lending to small and medium sized businesses (SMEs) through P2P lenders. The FMA's report shows $259.9 million loaned to individuals with debt consolidation dominant, and just $29.5 million loaned to businesses.
Everett said the designers of NZ's P2P regime would've wanted to see more funding helping SMEs "innovate, grow and employ more people" by now. He suggested perhaps SME owners don't want to expose their businesses to the scrutiny of fund raising through a public P2P platform, or don't feel it's a viable way for them to borrow at this stage. However, when interest rates go up SME owners may search beyond banks for funding, Everett suggested. If it really wants to help SMEs grow through P2P loans perhaps the NZ Government could do what its British counterpart did and lend money itself to SMEs via P2P platforms?
Of course with a new investment class such as P2P lending, more retail investors should be enticed in over time, assuming loan default rates don't get too high. (As of June 30, $29 million of loans were in arrears or had been written off). But it would be nice if those ma and pa investors prepared to take more risk for the higher interest rates offered by P2P lenders compared to bank deposits, were able to battle past the banks and fund managers for a decent slice of the action.
Perhaps more work needs to be done by P2P lenders themselves, and the FMA, to educate retail investors and SME owners on the opportunities - and risks - offered by P2P lending. And to make sure banks and fund managers don't continuously gobble up the best loans. Otherwise the danger is that P2P lending is just backdoor banking. 
*The three tables below come from the FMA report.
Harmoney tracks the funding split of loans arranged via its website in the chart below. The company says on average 25% of loans are funded by retail investors and 75% by wholesale, or institutional investors. (The blue is wholesale money, the orange retail money).
The graph below shows a breakdown of Harmoney's loan portfolio by reason for borrowing. Debt consolidation is far and away the biggest use of loans arranged through Harmoney. However, the company says in some cases these loans will also include a portion of funding for another purpose.
This article was first published in our email for paying subscribers early on Wednesday morning. See here for more details and how to subscribe.
Investors looking for enhanced returns from alternative assets need a market platform that can link buyers and sellers with transparency, providing the liquidity both need
"Alternative assets" are popular these days.
These are investments that are not traded on public markets, nor bank term deposits, savings accounts, or managed funds.
They do include financial assets like currencies and real estate trusts.
And they include "real" assets like real estate syndications, some infrastructure and energy holdings, and rural investments held by multiple parties.
Their popularity is essentially based on the good returns these investments can deliver.
But their Achilles heel is the great difficulty in cashing out of them before they are wound up at the end of their investment life.
In a low interest rate world, going up the risk curve is something many investors contemplate. But actually it is not easy to do.
New Zealand's commercial world features markets that are relatively small by world standards, and enterprises that are similarly small. Many don't have the scale to meet listing rules and requirements. (Attempts by NZX and others to appeal to that market have generally failed over the years.)
Investors need liquidity. Without it, investment risk rises substantially. And return requirements get elevated similarly.
A new platform has been established locally to provide a professional mechanism to connect buyers and sellers, incorporating the necessary compliance, and enabling the necessary transparency.
It is the type of service that everyone claims is "needed" but is a challenge for promoters of investments. Platforms like this need to be fully independent.
By bringing together business owners who need capital and investors looking for other investment options, essentially private enterprise investment, Syndex provides a platform that solves a problem for both groups of people. The three sectors where its impact is most likely to be felt are the agrisector, commercial real estate property, and private equity.
New Zealand's 500,000-plus businesses can be over-reliant on bank funding, and given banker contraints, that may be quite limiting. In many cases, capital rather than debt is what is needed. Emerging export industries like wine, horticulture, high-tech manufacturing, ICT and biotech, which have been growing rapidly, should be creating opportunities for investors to diversify into them.
Equity crowd funding has proven to be very limited, and there are a number of business brokers who operate a bit like a mini merchant bank who have moved to fill the obvious need. But they don't address the investors need for an active, fair secondary market that is liquid.
"How do I get out?"
This is a key question for any investor after they are satisfied by the returns on offer. When circumstances change, a bank will always cash out a term deposit in exchange for an interest rate adjustment. A listed share just requires a call to your broker. A listed bond requires the same. A managed fund can be sold back to the manager. The price you will receive is easily checkable on the exchanges handling these securities.
But for real estate-based syndications, things become far less certain. Promoters claim to provide a service, but transparency and pricing are very opaque for buyers.
For holders of unlisted private shares, transparency for buyers and liquidity for sellers is even less than these.
The Syndex exchange addresses both issues, and it provides a mechanism to ensure the disclosure and AML requirements are all available.
interest.co.nz will be mirroring the listings on that exchange on this page. We hope this provides an easy way for investors to keep an eye on the offerings in these markets.
It is likely that some price discovery aspects will disappoint sellers, especially in the early stages. That is because there has been no transparent platform to supply this information and such markets are thin. They are also heavily influenced by promoters who can and do constrain offers to meet the needs of their credibility with sellers (who were clients of the promoter earlier).
But proper, arms-length price discovery at a level someone will buy is important. All markets will clear at some price. This only becomes 'fair' when there is a sustainable balance of both buyers and sellers. Syndex is not the first to set up a market to do this, but perhaps they have the most comprehensive solution.
Their advantage is they are providing a full, end-to-end service, utilising the advantages of the online cloud.
We want to see investor infrastructure like this become ubiquitous, achieve the critical mass and balance it needs, enabling the liquidity to make New Zealand's small markets work better.
Take a look here.
Household debt to disposable income comes off its peak; Low interest rates keep debt servicing costs down
New Zealand's bad news story of high household debt has taken a slight turn for the better.
New Reserve Bank (RBNZ) figures show that in the September quarter household debt as a percentage of disposable income slipped off its record high – just.
It fell to 167% from 168% in the previous two quarters.
Household debt rose by 6.0% from the 2016 to the 2017 September quarter, to $271 billion. Meanwhile disposable income increased by only 5.0% to $162 billion.
Low interest rates saw the cost of servicing debt slip back a notch, with interest payments equivalent to 8.3% of households' disposable income.
This portion sat at 8.4% in the June and March quarters. It got as high as 14.1% in 2008 when interest rates were much higher – IE the Official Cash Rate (OCR) was 7.50%.
The RBNZ has repeatedly expressed concern over high indebtedness making borrowers more vulnerable to a sharp rise in interest rates or a fall in incomes.
Yet keeping the OCR on hold at 1.75% earlier this month, Acting Governor Grant Spencer said: "Monetary policy will remain accommodative for a considerable period."
The RBNZ only expects to start hiking the OCR in June 2019.
This does not mean to say retail banks won't increase rates sooner, as they noticeably did in 2016 and at the beginning of 2017, in the face of shrinking deposits relative to loans.
Coming back to the RBNZ's data, household net financial wealth (which doesn't include land or housing) rose to $615.6 billion in the September quarter – only a 1.4% increase from the previous September quarter.
Terry Baucher argues governments of both hues could be more honest about their use of fiscal drag & suggests income tax thresholds could be automatically adjusted for inflation each year
By Terry Baucher*
In response to our low wage economy the new government has committed to raising the minimum wage from $16.50 an hour progressively to $20.21 per hour by 2020. Aside from directly helping out minimum wage earners, the theory goes that a rise in wages will boost local economies through increased spending.
So if we're committed to giving people back more, is tinkering with the minimum wage the best way to go about it? What if, instead of increasing the minimum wage, people got a tax cut?  
On the face of it, increasing the minimum wage is worth more to the recipient than a tax cut. The tax rate for every extra dollar anyone working 40 hours a week earns – at the current minimum wage of $16.50 per hour – is 17.5%. Add in ACC of 1.39%, and a minimum wage earner gets to keep 81.11 cents of every extra dollar they earn.
By contrast, National's tax cuts proposed in this year's Budget would have given a person on the minimum wage an extra 77 cents a week. Complicating the picture further, for those earning below $48,000 a year, the tax cuts of $10.77 per week were mostly offset by the scrapping of the Independent Earner Tax Credit worth $10 a week. So on the face of it, given a choice between a wage increase and a tax cut, someone on the minimum wage would choose the wage increase.
Except that for some people, earning a few extra dollars could mean they wind up with nothing. Hang on – if the highest income tax rate is 33%, how is that possible? Welcome to the world of the effective marginal tax rate (EMTR). High EMTRs are a huge problem for anyone receiving social assistance such as Working for Families (WFF) tax credits, or the accommodation supplement. It affects the 310,000 families receiving Working for Families, some of whom are also amongst the 136,000 households receiving the accommodation supplement.
At present, if a person's annual income exceeds $36,350 any social assistance they receive is abated at a rate of 22.5 cents per dollar. For example, the marginal tax rate for someone earning the average wage of $58,935 annually is 30%. If they are also receiving WFF, the abatement of these credits at 22.5% increases their effective marginal tax rate to 52.5%. Add in ACC of 1.39%, KiwiSaver at 3% and perhaps a student loan repayment of 12% then the EMTR rises to 68.89%.  
This combination of tax and abatement makes it difficult for those with below average income to move ahead. At a tax conference in 2014 Inland Revenue illustrated this problem with the example (PDF) of a single parent with two children living in Auckland. 
If the solo parent wasn't working, the combination of sole parent support (formerly known as the domestic purposes benefit), temporary additional support, accommodation supplement and family tax credit resulted in net income after tax of $700 per week. If the solo parent worked 30 hours (at the then minimum wage of $14.25) their net income would rise to $805 after tax. In effect, the solo parent was working for an extra $3.50 per hour from which they would have to meet additional childcare and transport costs.  
None of this is new. In 2009, the last tax working group looked at the issue and concluded "the existing social welfare system is in need of major review". However, its recommendation to find "alternative ways of dealing with high EMTR problems" was ignored. 
Inland Revenue's Briefings to Incoming Ministers have also repeatedly covered this issue. The 2014 briefing noted that "although some taxpayers do face high EMTRs, they are the minority"; about 14% of taxpayers (approximately 488,700) face EMTRS of over 40%, and 7% face EMTRs of over 50%. Nonetheless, many of those who face very high EMTRs of over 60% have relatively low incomes, with the median income of the estimated 108,150 taxpayers whose EMTR was more than 60% just $35,000. What this practically means is that these people on low incomes face financial disincentives to work more.
One reason why abatement has become such a problem for relatively low-income earners is that the tax thresholds involved have not regularly been adjusted for inflation – inflation adjusting was dropped in 2010 by the then National government. This is also a problem for taxpayers not receiving social assistance, as increases in wages move them into higher tax brackets. This effect, known as fiscal drag, is a sneaky way of increasing taxes without attracting too much attention. Overall, the effect of fiscal drag is currently about $800 million annually.
As income tax thresholds have not been increased since 2010, the number of taxpayers paying tax at the top rate of 33% has risen by 75% from 377,000 to 659,000. The biggest growth has been in those earning more than $100,000 annually, which has more than doubled from 141,000 in 2010 to 295,000 now. This group of taxpayers is predicted to pay almost $14 billion of personal income tax, or 42% of the total estimated $33 billion tax take, for the year to June 2018. The strong growth in income for those earning more than $70,000 reflects the resumption of a pattern which the 2008 Briefing to Incoming Minister noted declined sharply when the top income tax rate was increased to 39% in 2000. Strange that.
National's tax cuts included in the last budget would have ameliorated the effect of fiscal drag, but not significantly. The new government has instead decided to focus its initial tax package on lower-income earners facing high EMTRs. However, the problem of fiscal drag remains and will need to be addressed sooner rather than later.  
Maybe it's about time governments of both hues started being more honest about their use of fiscal drag, and instead – as happens for ACC – income tax thresholds were automatically adjusted for inflation each year. That way the public would know what was actually a tax cut, instead of a long-overdue inflation adjustment.  
It's not clear if the question of index-linking thresholds is something within the terms of reference for the new Tax Working Group. Furthermore, it appears the vexed issue of the interaction of tax and social assistance is to be dealt with separately. That's probably a good idea given the scale of the issue. Could it also be a hint that some form of universal basic income might be under consideration?
------------------------------------
*Terry Baucher is an Auckland-based tax specialist and head of Baucher Consulting. You can contact him here » 
This article first appeared on The Spinoff here and is used with permission.
Everything you need to know about the P2P lending market - who's lending, who's borrowing, how reliable they are, and what the differences are between the platforms
Nearly nine in every 100 loans written through New Zealand's peer-to-peer (P2P) lending platforms are in arrears, according to the Financial Markets Authority (FMA).
Borrowers responsible for 1,469 loans, worth more than $20 million, are overdue on their loan repayments.
This is one of the insights the regulator has revealed as it has aggregated and published the data it required P2P lenders to submit in their annual returns for the year to June 30.
Peer-to-peer lending matches people who want loans with people who are willing to fund those loans. The intermediary is the peer-to-peer lending service.
The FMA's data indicates large - and most likely institutional - investors are doing a decent chunk of the lending.
While the bulk of lenders are investing smaller amounts of money (IE under $5,000), 48 have lent an average of $1.54 million each. Totalling $73.84 million, this is equivalent to a quarter of the $289.10 million of loans outstanding (loans that were still within their specified term at the end of the reporting period).
The FMA hasn't provided a breakdown of retail versus institutional investors. However given the fact TSB has invested $50 million through Harmoney, it is safe to say a big hitter like this plays a disproportionately large role in New Zealand's "peer-to-peer" lending market.
Harmoney - the first P2P lender to launch in New Zealand in 2014 - is also the largest, with 83% of outstanding loans in the market written through its platform.
There are seven other P2P lending platforms, one of which got a licence after June 30 so hasn't been included in the FMA's data.
With Harmoney only offering unsecured loans, it is not surprising that 96% of the loans in the market by number, and 78% by value, are unsecured.
Nor is it surprising that loans for businesses only making up 10% of outstanding loans by value, with Harmoney not offering loans to businesses. Individual borrowers can however use their loans for business purposes.
The FMA's data also shows there are 207,230 borrowers registered with P2P platforms, 843 of which are repeat borrowers, who have repaid their loans and taken out new ones.
It shows the majority of loans by value have interest rates of between 8% and 24.99%.
The FMA's data also shows 5,208 loans, worth $81.37 million, have been refinanced.
Meanwhile 833 loans, worth $8.53 million, have been written off.
P2P lenders compared 
Below are a couple of tables interest.co.nz put together for a story in July, and updated in November, detailing the differences between the main P2P lenders in the market from an investor's perspective.
| | | | | | |
| --- | --- | --- | --- | --- | --- |
|   | | | | | |
| Who | Part owned by founder and CEO, Neil Roberts (40%), Trade Me (14%), Heartland Bank (13%) and others. | Part of the Squirrel brand founded in 2007 that provides mortgage broking services. Headed by John Bolton. | Formerly LendMe. Founded by Mark Kirkland, Marcus Morrison and Edwin Morrison of Auckland-based law firm K3 Legal. Headed by Marcus Morrison. | Part of Finance Direct Group founded in 1999. Headed by managing director, Wayne Croad and technology specialist, Bob Durrant.  | Part of the Southern Cross Financial Group, which was founded in 1997 and specialises in short term property finance and first mortgage investments. Headed by Luke Jackson. |
| Trading in P2P since | Sep 2014 | Nov 2015 | Dec 2015 | Dec 2015 | Dec 2016 |
| Types of investors | Personal & institutional | Personal | Personal & institutional | Personal & institutional | Personal & institutional |
| Types of borrowers | Personal | Personal | Personal & business | Personal & business | Personal & commercial property |
| Types of loans | Unsecured | Secured or unsecured | Secured | Secured | Property secured |
| Minimum investment | $25 | $500 | $1,000 | $500 | $10,000 |
| Fractionalisation | $25 lots | No | $1,000 lots | $50 lots | $10,000+ lots |
| How investors are matched with borrowers | Investors select loans individually or via their autolend criteria. | Investors automatically matched with loans based on risk/return and terms. | Zagga matches investors' stated investment risk with borrowers' credit profiles and loan requirements. | Investors select loans. | Investors select loans. |
|   | | | | | |
| Borrowers' personal details disclosed to investors | No | No | Yes - to registered investors and subject to terms and conditions. | No | No |
| Terms | 3 years, 5 years | 2, 3 & 5 years | Up to 5 years | 3 years, 5 years | Up to 5 years, but generally 6-24 months. |
| Platform makes repayments to investor on behalf of borrower if they can't meet obligations | No | Yes. Squirrel pays principal and interest to investor from its Reserve Fund, provided there is money in the fund. There is currently $247,456 in the fund. | No | No | Southern Cross Partners may choose to pay investors, but is not obligated to do so. |
| Secondary market available to sell loans | No | Yes. A fee of 1% of the loan balance transferred, up to a maximum of $50, applies. | Not at the moment. | No | Yes. A $175 fee may apply. |
| | | | | | |
| --- | --- | --- | --- | --- | --- |
|   | | | | | |
| Amount lent since inception | $630 million | $17.5 million | $18.5 million incl. $12.3 million in Australia. | $24 million | $85 million |
| Average loan size on current book | $19,800 | $16,500 | $314,000 | $22,600 | $618,000 |
| Value of loans with more than 30 days' worth of payments in arrears against current book | 3.8% | 1.5% | 0.7% | 0.5% | 4.0% |
| Value of loans written off against loans written since inception | 3.2% | 0.8% | Nil | Nil | Nil |
| Early repayment rate since inception |   | 33% | 13% | 38% |   |
| Portion of loan applications approved | 23% | 23% | 30% | 20% | 30% |
| Portion of approved loans that get funded | 99% | 88% | 50% | 100% | 100% |
|   | | | | | |
| Fees | 15%, 17.5% or 20% p.a. of gross interest collected, depending on size of lender's total outstanding principal. | 0.95 - 2.95% p.a. of gross loan repayments made, depending on loan's risk grade. | 0.9 - 1.95% p.a. of outstanding loan balance, depending on loan's risk grade. | 10% of gross interest collected, regardless of the size of the lender's outstanding principal. | None |
| Range of returns (after fees, before tax) | 8.8% - 19.7% | 7.91% - 8.92% | 5.44% - 12.79% | 7.4% - 16.2% | 6.25% - 8.00% |
| Average return on current book (after fees, before tax) | 11.23% | 8.42% | 6.22% | 11.93% | 5.00% |
A 'fast cash short term loan' finance company tempts investors with 10% pa for a first ranking security position, to fund loans that carry a cost of credit more than twenty times as high
Christchurch-based Moola.co.nz is an active player in the "fast cash short term loan market".
The company uses a convenient online method of applying for a loan. It also has a strong advertising presence on radio and TV.
Moola.co.nz says "we tell you all the costs and don't hide fees". However, there is no link to the detail when the company uses that claim on its website. But the link is in the navigation, here.
It is a successful strategy. This is success that is being celebrated in the business world with the company placed second in the recent Deloitte Fast 50 awards, racking up revenue growth of 1013% in three years.
The company is growing quickly and is seeking "indications of interest ... from wholesale investors (as defined in the Financial Markets Conduct Act 2013). Any offer will only be made to wholesale investors who are acceptable to Moola.co.nz, and will be subject to a minimum investment of $50,000."
Moola.co.nz says this offer is for "a debt facility secured by a joint registered first ranking GSA [general security agreement] over the company. Interest is paid at 12% per annum for 3 years, 10% per annum for 2 year and 8% per annum for 1 year."
These are high returns by today's standards for fixed interest 'secured' debt.
But those rates pale in comparison to what Moola charges clients.
The company's website offers a handy calculator. Here is the default calculator; borrow $1,000 and repay in one week: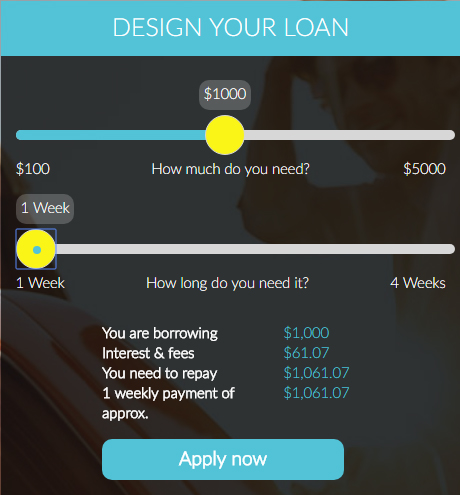 Missing is disclosure of the effective cost of credit. In this case it is 309.5% pa.
A similar loan paid back in two weekly instalments will incur a 391.8% pa effective cost of credit.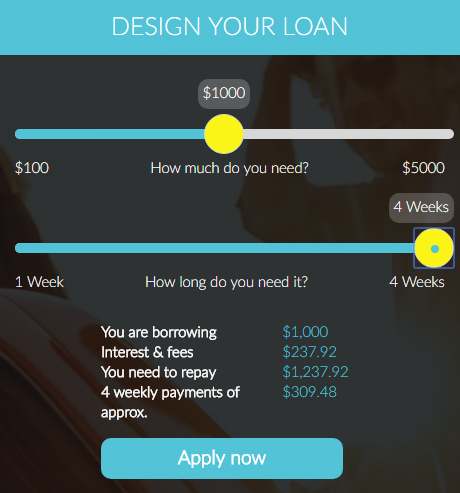 One over four weeks will incur a cost of credit of 456.7% pa.
The online promotion works very well on a responsive browser, especially on a mobile phone. The links to the pesky fees and interest rates are there but are not immediately obvious.
When you get there, this is what they say:
What you see is what you get

We've made our loans clear and fair. At Moola there are no hidden costs, small print or surprises.

We pride ourselves on being a responsible lender. A big part of that is ensuring that all of our customers understand the fees and charges associated with their loan. If there is something you don't understand, just ask our team or check our Q&A.

Short Term (2 - 30 days)

Interest is charged at 1.5% per day on the unpaid balance at the end of the day

547.5% Annualised Interest Rate (AIR)

Establishment Fee: $28.00

Cancelling a direct debit: $20.00

Defaulted Fee: $23.00

Direct Debit Fee: $2.00

Extension Fee: $11.00

Manual Payment Fee: $2.00

Veda Lodgement: $20.00

Wage Deduction Fee: $30.00

Processing Fee: $0.00

Mid Term (63 - 114 days)

Interest is charged at 0.75% per day on the unpaid balance at the end of the day

273.75% Annualised Interest Rate (AIR)

Establishment Fee: $28.00

Cancelling a direct debit: $20.00

Defaulted Fee: $23.00

Direct Debit Fee: $2.00

Extension Fee: $11.00

Manual Payment Fee: $2.00

Veda Lodgement: $20.00

Wage Deduction Fee: $30.00

Processing Fee: $45.00

Long Term (94 - 170 days)

Interest is charged at 0.5% per day on the unpaid balance at the end of the day

182.5% Annualised Interest Rate (AIR)

Establishment Fee: $28.00

Cancelling a direct debit: $20.00

Defaulted Fee: $23.00

Direct Debit Fee: $2.00

Extension Fee: $11.00

Manual Payment Fee: $2.00

Veda Lodgement: $20.00

Wage Deduction Fee: $30.00

Processing Fee: $45.00

The Annual Interest Rate (AIR)

We want you to understand everything about your loan and this is one of the most common means of comparing different loans. But when you see our annual interest rate (AIR) you might have a slight freak out. The problem is that while the AIR is a standard method of comparing various loans, it was not designed with short term loans in mind. Our loans are for a maximum of 186 days and this short duration distorts the AIR in the same way a magnifying glass does.
The full cost of credit
Shining a light on this fee structure is important. As we have pointed out previously, Moola.co.nz is actually at the middle of a very, very high scale in terms of cost of credit. Interest rates are high, but adding in fees to get a full cost of credit bumps the effective rate even higher.
But miss a payment and those fees kick in harder. A minimum $28 establishment fee is just the start as the above lists show. These help build substantial profitability.
And the "interest rate" is only one component in the customer's total cost of credit (ie the total cost for borrowing the original amount).
Sadly, there is demand for these services. After all Moola grew more than 1000% in just three years.
Online convenience is wonderful, except when you miss the common sense big picture. User interfaces, simplified for a small mobile screen are easy to design to gloss over the essential disclosures. Repayment obligations in $ should have the effective cost of credit referenced beside them to help unsophisticated impulse borrowers understand what they are signing up for.
Wholesale investors are being invited to grab some 'high rate' crumbs from this feast.
According to Companies Office records, Moola.co.nz is owned 50/50 by Edward Recordon (who founded and once ran payday loan firm Save My Bacon) and Taurus Investments (Steve Brooks and James Cooney).
Commerce and Consumer Affairs Minister Kris Faafoi on how to get New Zealand up to speed on open banking, what the Aussies are doing, and the feasibility of digital identities
By Jenée Tibshraeny
A banking alternative that offers fee-free international money transfers and Mastercard spending, at the interbank exchange rate, is on its way to New Zealand.
London-based, Revolut, is one of the open banking fintechs eager to launch in New Zealand.
The only problem is, it needs a banking partner.
In other words, the fintech that is aiming to disrupt banking needs banks' buy-in to exist.
Like other open banking initiatives, Revolut requires banks to hand over information about their clients, if those clients request it, so they can manage their money through an alternate platform.
According to Revolut, "today's hyper-connected world deserves a financial partner [IE Revolut] just as progressive. One that adapts to your needs, gives you control and constantly pushes you into new exciting spaces."
Authorities overseas have made headway, putting some parameters in place to ensure open banking is secure. In early 2016, Britain's Open Banking Working Group created the UK Open Banking Standard framework. Meanwhile the Australian Government has just received feedback on an independent review into open banking.
Open banking plan of action to be made after April
New Zealand's new Commerce and Consumer Affairs Minister, Kris Faafoi, admits New Zealand has "lagged back a bit" on this front, so wants to get moving fast.
Yet speaking to interest.co.nz in a Double Shot Interview, he says: "We're simply not far enough down the road to have any firm view of exactly what might be regulated."
He supports his predecessor, Jacqui Dean, before the election telling banks to pave the way for greater retail payments competition, or face regulation.
He says he will draw up a timeline with a plan of action on open banking after April, once Payments NZ responds to a letter Dean sent it before the election, asking how the industry will progress open banking. Dean also copied in the CEOs of the country's major banks.
"I think there's some exciting opportunity in open banking," Faafoi says.
"If you take a step back from just the banking industry, this is just another example of where disruptive technology is creating opportunities for consumers to do things better. In this case it's manage their money.
"Obviously there are some concerns that everyone might have around privacy and security of their information, and I think they are some of the most basic issues we'll have to work through.
"We'll hopefully work collaboratively with the banks.
"We want to build a broad-based economy, and I think there are some clever people out there in the technology space who would welcome the opportunity to design and sell this kind of technology and we want to make sure we make the most of that."
Banks the 'first batter up'
Faafoi sees banks as the "first batter up" in a move towards a world with more data sharing.
"I think we'll probably learn a few lessons along the way from the discussions that we'll have as we get closer to making open banking more of a reality," he says.
"People might be free and willing to give that up, but as a government we have to make sure… that the information… is used in a way that New Zealanders will be comfortable with."
Both the Australian Bankers' Association (ABA) and FinTech Australia have made submissions to the Australian open banking review, calling for an environment to be created where data sharing is extended beyond banks.
FinTech Australia says: "if the desired policy outcome is to empower consumers with the ability to take control of their financial data, make better decisions about their financial position and ultimately improve their long-term financial health (including for small businesses), then we must take even further steps to implement a broader scope, to include superannuation, insurance and other relevant financial institutions."
Economy-wide framework something for further down the track
The ABA, whose submission the New Zealand Bankers' Association supports, also calls on the Government to set an economy-wide framework to "underpin data sharing across the economy with minimum standards on customer protections like privacy, liability and security".
It says the framework should be applicable to all industries, but retain sufficient flexibility to enable industries to develop solutions appropriate to their circumstances.
Asked whether establishing a broader framework to facilitate the secure sharing of data, Faafoi says: "I think we might have to get to that once the free flow of data becomes more broad…
"We'll have to have some principles around how the information is shared and the privacy and security of it."
Fintech Australia says: "Large FSIs [Financial Services Institutions] should not be allowed to control the process to determine minimum security standards; there may be conflicts of duty and interest, and a disincentive for them to meet the policy outcomes as intended.
"Nor is the Government best placed to determine minimum security standards alone, as resource and geographical constraints make it difficult for them to continuously maintain a view of international best practice.
"Government is also not necessarily incentivised to create a solution that would balance practical commercial outcomes."
Mandatory reporting and the sharing of government data 
FinTech Australia also welcomes a move from the Australian Government to require government agencies and businesses covered by the Privacy Act to notify anyone affected by a data breach if it is likely to be harmful.
It says this "supports the ability to institute an Open Financial Data regime with greater consumer confidence".
New Zealand's Privacy Commissioner has been calling for the introduction of mandatory reporting for some time. It has been included in a Privacy Bill being drafted.
Giving the Government some of its own treatment, ABA wants it to "complement open banking by enabling Australians more convenient access to publicly held personal information".
Put to Faafoi, he says: "We have to be very careful about that. We just haven't progressed those conversations far enough. But I would be very cautious about the kinds of information that a government collects and whether or not they can be dissemination."
Low RealMe uptake stymies digital identity benefits
The ABA goes on to say it supports the Government encouraging innovation through the introduction of digital identities.
ANZ's Head of Financial Crime, Paula Milne, in July talked to interest.co.nz about this idea. She suggested those signed up to RealMe could consent to their verified information being shared with approved organisations like banks, lawyers, accountants, etc.
This would reduce admin for individuals, as well as the organisations - many more of which have to do time consuming due diligence on their clients under the second phase of the Anti-Money Laundering and Countering the Financing of Terrorism Act.
The ABA also says digital identities would complement innovation, lower costs and risks.
Put to Faafoi, he says: "Initially, off the top of my head hearing that idea, I think it would make things a lot more efficient. Making sure we can scrutinise digital identities is something that I think is going to hold a lot of transactions up in the future if we don't have a good system."
However his concern is the uptake of RealMe.
"It's something that the last government created, but I'm not sure how well they pushed it in terms of the raw numbers of how many people actually signed up to it."
Currently 366,353 New Zealanders have had their identities verified through RealMe.
Faafoi says a drive for greater RealMe uptake falls into the Minister of Internal Affairs' remit.
"As more and more of our lives go online - and in the last 10 years it's gone through the roof exponentially - making sure that we can quantify who people are, and making sure that we can deal with people with confidence if we're transacting financial transactions, is going to become even more important."
This article was first published in our email for paying subscribers early on Monday morning. See here for more details and how to subscribe.
Credit Suisse argues a run of bad luck is seeing Millennials do it tougher than their parents did when they were young
Credit Suisse is proving to be a bit more empathetic to those latte sipping Millennials than BNZ chief economist, Tony Alexander, has been in the past.
In the investment bank's 2017 Global Wealth Report, it puts forward an argument for why Millennials have had an "unlucky" start to adult life.
Here are a few exerts from the report:
The "Millennials" – people who came of age after the turn of the century – have had a run of bad luck, most clearly in developed markets. Capital losses in the global financial crisis of 2008-2009 and high subsequent unemployment have dealt serious blows to young workers and savers. Add rising student debt in several developed countries, tighter mortgage rules after 2008, higher house prices, increased income inequality, less access to pensions and lower income mobility and you have a "perfect storm" holding back wealth accumulation by the Millennials in many countries. In emerging markets, it appears that trends have been somewhat more positive and the Millennials have everywhere met both their challenges and opportunities energetically – for example by pursuing a more active, healthy lifestyle and participating in the sharing economy. Nevertheless, on the whole, they are not what one would call a lucky generation.
The Millennials' challenges seem to have been most evident in North America, but the ripples have extended to Europe and elsewhere. They contrast with the good fortune experienced by the baby boomers, born in large numbers between 1945 and 1964, whose wealth was boosted by a range of factors including large windfalls due to property and share price increases. The millennial cohort is smaller as a percentage of the total adult population than the baby boomers were at the same age. Normally it is good to belong to a smaller cohort: there is less congestion in school and less competition with peers for jobs and homes. So why aren't they a lucky cohort? Did the financial crisis and its fallout just swamp the advantage of being in a small cohort? Or is there more to it?
Some commentators have mentioned the shadow cast by the baby boomers in developed countries. The boomers are now aged about 50 to 70 – their peak wealth years. They occupy many of the top jobs and much of the housing, especially at the higher end. Some Millennials feel that their own progress is being held up as they wait for the boomers to vacate. Cohort analysis seems to have been turned on its head: the big cohort is now the lucky one.
The comparison between Millennials and boomers is not entirely fair. All cohorts tend to have relatively high wealth when aged 50–70, and young people always struggle to settle in the labor market, establish families and buy homes. The boomers also experienced setbacks: the stagnation of the 1970s, high mortgage rates in the 1980s, and high inflation for a couple of decades. However, the Millennials are doing less well than their parents at the same age, with respect to incomes, home ownership and other dimensions of well-being…
Assets and debts of the Millennials
According to the IMF, state pensions in advanced economies are expected to replace just 20% of per capita income by 2060, compared with 35% today. Also, fewer workers are now covered by employer-based pensions than in the last, and defined benefit pensions are declining fast…
So it is increasingly important for people to save for retirement on their own account. The share of financial assets in total assets will need to rise in most countries in the future... This is especially true for the Millennials, who will likely face the added challenge of higher contributions and taxes required to fund state pensions and other benefits for the baby boom cohort in their retirement…
Student loans have been an increasingly important component of debt in a number of countries…
The rise in student debt is partly due to higher fees. But it also reflects the fact that Millennials are more educated than preceding cohorts. For instance, the percentage of 25–34 year olds with tertiary education in OECD (Organisation for Economic Cooperation and Development) countries rose from about 15% in 1970 to 26% in 2000 and 43% in 2016. This greater educational attainment may help to ease the Millennials' labour market difficulties.
However, although average rates of return to college and university have held up fairly well, this is largely because lower wages for less-educated workers have reduced the opportunity cost of tertiary education. Acquiring more education in order to overcome the "millennial disadvantage" is a strategy that will reap rewards for a minority of high achievers and those specializing in areas in high demand like high tech and finance. But for most university-educated Millennials the outcome may be job opportunities and wages no better than those of their parents, achieved by a dint of more costly education…
Entrepreneurship
It is sometimes claimed that Millennials are starting more businesses than earlier generations, and doing it at younger ages. But the official statistics suggest otherwise: only 2% of Millennials in the United States are self-employed, versus 8% of Generation Xers (those born between 1965 and 1980) and baby boomers. And entrepreneurship, as measured by the fraction of self-employed workers, has been declining in most OECD countries since the turn of the century. The OECD self-employment rate fell from 17.6% in 2001 to 15.8% in 2011…
The apparent decline in entrepreneurship among Millennials relative to their predecessors seen in the official statistics may reflect the fact that the cohorts being compared are observed at the same point in time, not at the same age. More Millennials will start businesses as they age. Another explanation is that those Millennials who have become entrepreneurs have each created more businesses than their counterparts in earlier cohorts. This may reflect their "tech savvy" and the greater ease of starting multiple businesses these days with the help of the internet. A third factor is that although many Millennials would like to start a business, for a time they were restrained by tough economic conditions. This suggests a surge in millennial entrepreneurship may occur soon or may already be taking place, as has been seen in some emerging markets, such as China and India.
Comparing cohorts
Figure 4 shows wealth components for US adults aged 20–29 and 30–39 in 1992, 1998, 2007 and 2013. Total assets increased markedly for the 20–29 year-old group between 1998 and 2007, due mostly to an increase in real assets caused by rising house prices. Real assets for 30–39 year olds also increased rapidly at the time, but mean financial assets fell in this age range, perhaps reflecting re-allocation of portfolios in response to the changing returns from real and financial assets. Things went into reverse between 2007 and 2013: real assets declined substantially for both groups between 1998 and 2007, but since returned to its 1992 level.
These comparisons tell us about the experience of Generation X and Millennials in their early adulthood. Generation X was still in its late 20s and 30s when house prices rocketed in the United States prior to the global financial crisis, and during the crisis itself. So it, as well as the first wave of Millennials, had a wild roller coaster ride. They experienced not only the effects of the general rise and fall of economic activity, but also the impacts of wild swings in asset prices. Both aspects are reflected in the wealth changes seen in Figure 4…
Inequality and mobility
Millennials have been affected by the general rise in income inequality in advanced economies over recent decades. In a world with constant mean income, constant inequality and no mobility, parents and children would be equally well off. If – more likely – mean income is rising, and there is some mobility, but inequality is constant, then most children will be better off than their parents. But income inequality has been rising in the United States since the mid-1970s, and while mean income has also risen considerably, median income has not increased much.
Mobility has also gone down. Similar trends have been seen in other "anglo" countries (with some notable differences, of course). The net result is that past expectations no longer apply. For example, 90% of children in the United States born in 1940 had earnings greater than their parents', but this ratio had fallen to 50% for children born in the 1980s. About 70% of this decline was due to the rise in inequality.
Billionaire Millennials
Some Millennials have become very prominent billionaires, for example the principals in Google, Facebook, Twitter, and some other internet or high tech enterprises. This raises the question of whether some Millennials, at least, have been unusually successful entrepreneurs…
Rates of return and interest rates
The financial prospects of a cohort are affected by the rates of return they receive on investments and by the interest rates they face. Throughout the world, equity returns were high in both nominal and real terms during the 1980s and 1990s, providing favorable investment opportunities to baby boomers in the first half of their working lives, and also to young members of Generation X… IN the first decade of the new century, however, both real and nominal returns collapsed, creating quite a different investment environment for the Millennials. After 2010, returns rebounded, but not to the level seen in the 1980s and 1990s.
The interest rate story is similar to that for equity returns, but the decline in real rates began earlier, in the 1990s. Although they rebounded slightly in Europe after 2000, the decline was steady in the United States. This is significantly because workers trying to acquire assets increasingly have to switch to riskier investments to get a reasonable rate of return. Real lending rates, which are also important for young people, via mortgages for example, have declined over time as well, but more slowly than deposit rates. In the United States, lending rates reached quite a low level after 2010, but in Europe they remained at 3.8%, far above the real deposit rate of 0.4%. Hence safe saving opportunities have deteriorated for young people, while borrowing has not become correspondingly cheaper.
Conclusion
The Millennials have not been a lucky cohort so far. They faced the rigors of the financial crisis and the high unemployment that followed in many countries, and have also been widely hammered by high and rising house prices, rising student debt and increasing inequality. Their pension outlook is also worse than that of preceding cohorts. Some of the Millennials have prospered in spite of these difficulties, as reflected in the more positive picture we see in China and a range of other emerging markets, and the recent upsurge in the number of Forbes billionaires below the age of 40. Some have had substantial family help in paying for education and buying homes, and some stand to inherit from wealthy boomer parents in the future. But there are many Millennials who have not been so fortunate. As a result, the Millennials are not only likely to experience greater challenges in building their wealth over time, but also greater wealth inequality than previous generations.