Food prices are not rising - in fact healthy food prices are lower now than at the start of 2018. Better weather conditions kept prices of fruit & vegetables considerably lower
Food prices are very stable with the rate of rising prices edging down from already low levels.
During all of 2018, overall food prices rose a tame +1.0%. 
But on a monthly basis they have been falling for five consecutive months, since August. In December they fell -0.2% from November.
These trends were picked up earlier in our own proprietary monitoring of Countdown prices for our specific 'healthy grocery list'. In fact, that stable consistent list reported a -2.8% fall in 2018, and prices have fallen further at the start of 2019.
During the year there was some seasonality at play and in the Statistics NZ data set, prices rose as much as a modest +2.4% in April (year-on-year), but since then the price pressures have fallen away. Similarly in our own monitoring, prices of that healthy food list spiked up +8% in July. But this too has fallen away since.
Avocados and lettuces were much cheaper than the previous summer, but egg prices hit a record high in December 2018, Stats NZ said.
"Overall, getting your five-plus (5+) a day servings of fruit and vegetables was cheaper in 2018," consumer prices manager Geraldine Duoba said. Fruit prices were -3.8% lower in December 2018 than in December 2017, while vegetable prices were -7.5% lower.
Bad weather in 2017 reduced the supply of many vegetables, pushing up their prices, but growing conditions were mostly more favourable during 2018, boosting supply and lowering prices.
A smaller than usual avocado harvest resulted in record prices in May 2018, when they reached an average price of $5.06 per 200g avocado. By December, avocado prices had fallen to an average $1.72 per avocado, -26% lower than the December 2017 average price of $2.31.
Meat and fish prices bucked the trend, up +3.8% in the year, pushed up by pork and chicken prices.
Eating out was up +2.9% overall. Clearly, eating at home with a focus on fruit and vegetables saves money.
A market leading offer by Kiwibank comes at a time all banks, especially the large ones, are under pressure to raise vast amounts of new capital over the next few years
[Important: See note at the end of this story.]
Kiwibank not only kicked off the year with a mortgage rate change, it is one of the first with a term deposit rate change as well.
And Kiwibank has released a 3.55% one year rate that is market leading, a rise of +5 basis points.
However, it has also trimmed -10 bps from its six month rate, taking it back to 3.35%.
Most banks are deposit-funded so these costs are the primary driver of bank margins. And these rates very much limit how low mortgage rates can go. To go lower, that will mean that deposit rates will have to be cut and there are no signs yet that that is imminent.
Yes, wholesale swap rates are low and near record lows at the short end (one and two years). But apart from the four large Aussie banks, no others have significant wholesale funding. And even the Aussie-owned banks have less than 15% of their funding from wholesale sources.
One big and relatively new pressure these big four banks face is the need to raise large volumes of capital. Both the Australian, and separately the New Zealand bank regulators are realising the risks are unreasonable with our banks being so highly leveraged. That means banks will need to raise significant capital over the next few years. Their demand for this will raise their cost of capital, so they will bring new pressures to the market for 'higher rates', whether they be in the equity markets, the overseas "private placement market" or in local wholesale and retail funding markets.
Kiwibank itself also has unusually low levels of loss-absorbing capital, even lower than its Aussie rivals. [See note below.]
To be sure, there is a lot of funding around looking for places to invest, but the scale of what banks will need (up to A$83 bln in Australia, and another NZ$20 bln in New Zealand), this is likely to keep interest rates elevated above where they might otherwise go from the competition effect alone.
Back in the here-and-now, generally Heartland Bank, and Chinese retail bank ICBC, offer the highest rates over most durations. Today's Kiwibank offer is an exception, pushing them to the forefront on a key rate offer.
And rates on offer in New Zealand are significantly higher than those available from the same institutions in Australia.
Rates in the table below are the highest offered by each institution for the terms listed. You however will need to check how often interest is credited or paid. That important factor is not filtered in the above table and rates with various interest payment/credit arrangements are mixed here. However, our full tables do disclose the offer basis.
Our unique term deposit calculator can help quantify what each offer will net you.
All carded, or advertised, term deposit rates for all financial institutions for terms of less than one year are here, and for terms of one-to-five years are here.
The latest headline rate offers are in this table.
| | | | | | | | | |
| --- | --- | --- | --- | --- | --- | --- | --- | --- |
| for a $25,000 deposit | Rating | 3/4 mths | 5/6/7 mths | 8/9 mths | 1 yr | 18 mths | 2 yrs | 3 yrs |
| Main banks |   |   |   |   |   |   |   |   |
| ANZ | AA- | 3.00 | 3.25 | 3.40 | 3.40 | 3.45 | 3.50 | 3.60 |
| | AA- | 3.00 | 3.25 | 3.40 | 3.45 | 3.45 | 3.50 | 3.65 |
| | AA- | 2.90 | 3.25 | 3.25 | 3.40 | 3.40 | 3.45 | 3.55 |
| Kiwibank | A | 2.95 | 3.35 | 3.40 | 3.55 |   | 3.55 | 3.70 |
| | AA- | 2.95 | 3.25 | 3.35 | 3.40 | 3.45 | 3.50 | 3.65 |
| Other banks |   |   |   |   |   |   |   |   |
| | BBB | 3.00 | 3.20 | 3.30 | 3.35 | 3.40 | 3.50 | 3.60 |
| | BBB | 3.25 | 3.35 | 3.50 | 3.50 | 3.60 | 3.70 | 3.80 |
| HSBC Premier | AA- | 2.60 | 2.90 | 2.90 | 2.90 |   | 2.90 | 3.00 |
| ICBC | A | 3.10 | 3.40 | 3.40 | 3.50 | 3.60 | 3.70 | 3.80 |
| | A | 2.80 | 3.30 | 3.30 | 3.35 | 3.55 | 3.55 | 3.70 |
| | BBB | 2.90 | 3.15 | 3.20 | 3.45 | 3.45 | 3.60 | 3.70 |
| | A- | 2.90 | 3.15 | 3.20 | 3.25 | 3.45 | 3.50 | 3.65 |
| Selected fincos |   |   |   |   |   |   |   |   |
| FE Investments | B |   | 4.80 |   | 4.50 | 5.40 | 5.50 | 5.60 |
| Liberty Finance | BBB- | 3.60 | 3.95 | 4.25 | 4.30 | 4.35 | 4.40 | 4.45 |
| UDC | BBB | 2.85 | 3.25 | 3.40 | 3.45 | 3.45 | 3.50 | 3.60 |
Update and SPECIAL NOTE:
Kiwibank has pointed out that this statement in particular: "Kiwibank itself also has unusually low levels of loss-absorbing capital, even lower than its Aussie rivals" is in their view "incorrect and has the potential to be misleading".
They have contacted us saying:
"The RBNZ's proposal that bank's will need to hold additional capital will not result in higher rates being paid in funding markets (retail or wholesale). Capital is funding contributed by shareholders – not depositors – therefore, if a greater proportion of loans are to be funded by equity, then all else being equal this will result in less need for deposit funding, and potentially lower deposit rates being offered by banks. Kiwibank's TD special is to attract further funding to facilitate growth in its loan book, not to increase its capital.
"Capital is most meaningfully measured in relation to the risks it is held to absorb losses from, not absolute balance sheet size. Risk is quantified using the RBNZ's risk weighted asset (RWA) methodology. At September 2018, Kiwibank's loss absorbing capital/risk weighted assets (measured at the total capital level) was 15.7% compared to ANZ's 14.4%, BNZ's 13.6%, ASB's 13.9% and Westpac's 16.6%).  It is worth noting that currently the Australian banks are allowed to model their RWA using internal measures – as a result their capital levels are significantly higher than they would be if they used the standardised approach - for instance the Australian bank's average risk weight for their residential mortgages is less than 30%, whereas for standardised bank's it is approximately 40%.
"Note also that Westpac's currently high levels of total capital reflect it being required by the RBNZ to hold additional capital after being found to have failed to seek approval for some of its internal models used to calculate its risk weighted assets.
"The low level of capital you may have been referring to is potentially from comparing bank capital to notional balance sheet size. Using this method, the "risk" arising from $100m of credit card loans is deemed to be the same as that from $100m of NZ Govt bonds – so while simple, is also an approach with significant limitations. Kiwibank's relatively lower capital levels when measured on this basis arise from its greater proportionate exposure to residential mortgages, while the Australian banks' have a proportionately higher exposure to business loans (which are inherently riskier)."
----
While we accept that "all else being equal [the demand for more capital] will result in less need for deposit funding ..." But while that may be the result, the sheer scale of the overall industry demand for capital may during the process, for some banks, make funding harder to source at certain points in time, putting upward pressure of the rates that have to be paid.
And we note that Craig Ebert at BNZ stated in their BNZ Markets Outlook today: "Yes, the banking capital proposals from the RBNZ promise to put upward pressure on retail interest rates, all else equal" in their review.
We also accept that using the RBNZ RWA comparative, it does show that Kiwibank's capital position is not out of line with the other main banks. And yes, we were referring to the overall leverage situation (so our use of the words 'loss absorbing capital' was technically wrong in the context it was used). While the example of credit cards vs NZ Govt bonds is also correct, no bank in New Zealand has an asset profile as extreme as that so the use of that comparison is not really valid. We do stand by the overall top-level leverage comparison. We think this imbalance is generally behind the RBNZ (and APRA) drive for more capital and a better balance in bank balance sheets.
We are no fan of how the calculation of how risk-weighted assets has evolved, believing banks have essentially taken advantage of weak regulation, using technicalities to hold less and less capital, especially for mortgages, over a period when risks have proven to be low. But that weakens their resilience when the inevitable correction comes - which is why the regulators are requiring a change of course.
The Kiwibank response above is a valid position from a bank point of view. But there are also other views, both by depositors, and by regulators.
We have corrected the potentially misleading use of the words "loss absorbing" in the way we used them. We used them in a general sense, but they do have an important technical meaning and that should prevail. Apologies to Kiwibank for that.
Personal loans are a uniquely profitable corner of the overall debt market where margins are high but shopping around is essentially ineffective. No-one stands up for the interests of these borrowers
How much do you owe on your credit cards? How much for other personal loans (that is, not for housing)?
All up, we owe banks and other financial lenders $16.7 bln for these types of high-interest loans.
And given there are only 3.2 mln adults between the ages of 15 and 64, this works out at an average per person of $5,191. For those that have this type of debt it will be a lot more of course, because many people won't have any.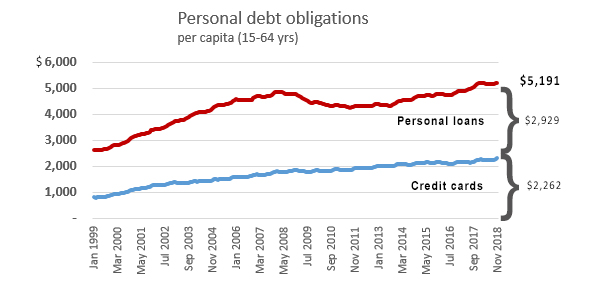 Of that $16.7 bln, the four big Australian-owned banks are owed $9 bln, and probably the bulk of this is because they are the big credit card issuers.
But they aren't the only ones. Other big issuers like Latitude (Gem) and Flexi Card (Q) are active as well. Incidentally, they are also Australian.
But you might be surprised to learn that some of our smaller Kiwi-owned banks have heavy positions in personal lending too.
Here is where all those obligations flow back to:
RBNZ reference

H1

F1

 

H2+H3

 

H5

H6

H7

 
Total
loans
share of
all loans
 
Total
non-perform
 
Non-perform
ratio
Individual
provisions
Collective
provisions

September 2018

 
 
 
$ mln
%
 
$ mln
 
%
$ mln
$ mln
ANZ
3,573.9
2.8%
 
34.4
 
1.0%
6.0
63.5
ASB
2,004.7
2.4%
 
12.6
 
0.6%
-  
80.3
BNZ
1,417.4
1.7%
 
11.3
 
0.8%
0.4
27.3
Kiwibank
403.9
2.1%
 
0.5
 
0.1%
0.1
8.6
Westpac
2,043.6
2.5%
 
12.9
 
0.6%
-  
79.9
 
--------
--------
 
--------
 
--------
--------
--------
All main banks
$9,443.5
2.4%
 
71.7
 
0.8%
6.5
259.6
 
 
 
 
 
 
 
 
 
Cooperative Bank
183.9
7.7%
 
0.3
 
0.1%
-  
3.4
Heartland Bank
984.1
24.1%
 
25.2
 
2.6%
2.0
27.2
Rabobank
10.9
0.1%
 
-  
 
0.0%
-  
-  
SBS Bank
504.9
13.1%
 
2.1
 
0.4%
-  
16.6
TSB
82.0
1.5%
 
1.5
 
1.8%
-  
6.9
 
--------
--------
 
--------
 
--------
--------
--------
Challenger banks
1,765.8
6.7%
 
29.1
 
1.6%
2.0
54.1
 
--------
--------
 
--------
 
--------
--------
--------
All retail banks
$11,209
2.7%
 
100.8
 
0.9%
8.5
313.7
 
 
 
 
 
 
 
 
 
All other banks
7.7
…
 
 
 
 
 
 
 
 
 
 
 
 
 
 
 
All non-banks
5,437
43.3%
 
 
 
 
 
 
 
======
-----
 
 
 
 
 
 
Total (C5)
$16,654
3.7%
 
 
 
 
 
 
 
 
 
 
 
 
 
 
 
Credit cards (C12)
7,257
1.6%
 
 
 
 
 
 
Personal lending
9,397
2.1%
 
 
 
 
 
 
All this data is sourced from the RBNZ, mainly the Dashboard series, also C5, C12, and Stats NZ
Heartland Bank's Marac division, and SBS Bank's Finance Now division are both significant within each of those institutions. Both have larger personal loan ledgers than Kiwibank.
Most banks have significant provisions booked for the likelihood some of this high-risk debt goes bad. The main banks have provisions in place exceeding three times the current level of non-performing loans. For the Cooperative Bank and SBS bank, this cover is more like ten times. But the Heartland Bank provisioning stands out in these comparatives as low.
Financial institutions are attracted to this type of lending because the margins are high. High interest rates charged are bolstered by high fee levels. Fees are ubiquitous here and considered 'normal' even though for most other types of lending (housing, business, rural) large chunks of their operating costs in those sectors are covered by the interest earned. But not for personal lending, where even the CCCFA and regulators accept that fees can cover 'reasonable costs'. This gives these lenders considerable latitude (pun not intended) to bulk up their net margins in a way that they just don't do elsewhere. It also attracts a wide range of non-bank lenders into the field.
Because 'everyone does it' there is no market pressure available to borrowers to make shopping around effective. Fees are often only disclosed formally at the point where you know you want to buy the goods involved, or at least, borrowers seem to ignore the online disclosures elsewhere. Disclosure isn't very effective.
Lenders do have the option to use positive credit reporting to offer sharper, competitive interest rates to borrowers with exemplary credit histories. But again, there is no real evidence any institution is doing that - and even if they did, the fees are still likely to apply. There may be as few as 200 banks and finance companies offering personal loans to customers nationwide. But there are probably more than 1 mln people who use these services (credit cards and personal loans). Because loan balances are relatively small (~$10,000 or so) no one customer has any negotiating leverage to remedy the imbalance in what is offered. That is up to the regulators and even now there is no official energy trying to square up the power ledger here.
Economic trends and their impact on gold. The interplay between market risk and economic growth will drive demand in 2019, says the World Gold Council
Content supplied by the World Gold Council
As we look ahead, we expect that the interplay between market risk and economic growth in 2019 will drive gold demand. And we explore three key trends that we expect will influence its price performance:
financial market instability 
monetary policy and the US dollar
structural economic reforms.
Against this backdrop, we believe that gold has an increasingly relevant role to play in investors' portfolios.
Gold's price seesawed in 2018 as investor interest ebbed and flowed despite steady growth in most sectors of demand.
Gold faced significant headwinds for most of the year. The dollar strengthened, the Fed continued to hike steadily while other central banks kept policy accommodative, and the US economy was lifted by the Trump administration's tax cuts. These factors fuelled positive investor sentiment which, in turn, pushed US stock prices higher, at least until the start of October.
But as geopolitical and macroeconomic risks continued to increase, emerging market stocks pulled back. Eventually, developed market stocks followed, in a selloff led by US tech companies. This resulted in short-covering in gold with its price ending the year near US$1,280/oz (-1% y-o-y).
*As of 31 December 2018. Based on named indices, WTI front Future, BBG Commodities Index, New Frontier Global Balance Index, LBMA Gold Price, Bloomberg Barclays Global Treasury Index, Solactive Long USD Gold Index.
Potential for growth and heightened risk in 2019
We expect that many of the global dynamics seeded over the past two years and the risks that became apparent later in 2018 will carry over. And with them, we see a set of trends developing that will be key in determining gold's demand. In turn, their interplay will be most relevant for gold's short- and long-term price behaviour (Focus 1). 
We expect: 
Increased market uncertainty and the expansion of protectionist economic policies will make gold increasingly attractive as a hedge 
While gold may face headwinds from higher interest rates and US dollar strength, these effects are expected to be limited as the Fed has signalled a more neutral stance
Structural economic reforms in key gold markets will continue to support demand for gold in jewellery, technology and as means of savings.
1.    Financial market instability
Globally, there were net positive flows into gold-backed ETFs in 2018. While North American funds suffered significant outflows in Q2 and Q3, this trend started to shift in Q4 as risks intensified (Chart 2). 
We believe that in 2019 global investors will continue to favour gold as an effective diversifier and hedge against systemic risk. And we see higher levels of risk and uncertainty on multiple global metrics: 
Expensive valuations and higher market volatility 
Political and economic instability in Europe
Potential higher inflation from protectionist policies
Increased likelihood of a global recession.
Focus 1: Drivers of gold

Gold has a dual nature: consumption and investment. And gold price drivers can be grouped into four categories:

wealth and economic expansion
market risk and uncertainty
opportunity cost 
momentum and positioning. 

As a consumer good and long-term savings vehicle, gold demand historically has been positively correlated to economic growth. As a safe-haven, its demand historically has been strongly responsive to periods of heightened risk. In the short and medium term, however, the level of rates or the relative strength of currencies, as well as investor expectations, can either enhance or dampen gold's performance. See The relevance of gold as a strategic asset, January 2018. 
*As of 31 December 2018.
First, despite the recent market correction, many stock valuations remain elevated, especially in the US, after almost a decade of almost uninterrupted price appreciation. Yet bond yields remain stubbornly low (Chart 3). Even in the US the 10-year Treasury yield is 1.5% below its 2008 pre-Lehman crisis level, providing investors less cushion in case of further market volatility. Indeed, volatility metrics have begun to creep up, with the VIX jumping from an average of 13 in Q3 2018 to an average of 21 in Q4.
*As of 30 November 2018.
Second, while European growth has recovered from the aftermath of the sovereign debt crisis it has failed to reach the level of the US economy, making it more vulnerable to shocks – and explaining why Europeans have been adding gold to their portfolios steadily since early 2016. Today, Europe is facing major challenges. The most obvious is Brexit. Not only has it imposed a continuous level of unease among investors, but its timing and implications – both for the UK and for continental Europe – are best left to diviners. What is certain, however, is that clarity will not come any time soon. In addition, continental Europe continues to face internal turmoil. France is grappling with social unrest; Spain is fending off secessionism and fragile political alliance, and Italy's populist government continues to highlight the inherent instability of the monetary union – to name just a few.
Third, more and more governments around the world seem to be embracing protectionist policies as a counter movement after decades of globalization. And while many of these policies can have a temporary positive effect, there are longer term consequences that investors will likely grapple with in the coming years; for example, higher inflation. Protectionist policies are inherently inflationary – either as a result of higher labour and manufacturing costs, or as a result of higher tariffs imposed to promote local producers over foreign ones. They are also expected to have a negative effect on long-term growth. And although so far investors have taken some of the trade war rhetoric as posturing, it is not without risk to restrict the flow of capital, goods and labour.
*As of 30 November 2018.
Combined, these trends have increased the risk of recession. For example, in the US there are a few signs that investors are becoming wary. A good percentage of the growth seen in 2018 was a byproduct of tax cuts. But similar measures may be more difficult to enact with a split congress. There has also been a deterioration of credit markets with spreads widening by more than 70bps (+50%) since the January 2018 lows, while credit conditions for consumers are tightening. In addition, the US treasury curve is very flat: the 2s/10s curve currently stands at 13bps, a level of curve flattening last seen before the 2008 financial crisis, with some economists predicting its inversion in the first half of 2019. While an inverted yield curve does not cause recessions, it has generally preceded them – albeit with a long lead. And it indicates that bond investors are concerned about the sustainability of long-term growth.
2.    The impact of rates and the dollar 
While market risk will likely remain high, two factors could limit gold's upside: higher interest rates and US dollar strength.
Higher US interest rates alone are not enough to deter investors from buying gold, as seen between 2004 and 2007 or 2016 and the early part of 2018. And while higher interest rates combined with a strong dollar can dampen gold's performance, there are reasons to believe that the upward trend of the US dollar may be losing steam. 
First, the US dollar DXY Index, which measures the relative direction of the dollar against a basket of key currencies, has already appreciated by almost 10% from its 2008 lows. A similar trend in 2016 was followed by a significant correction. 
*As of 30 November 2018.
Second, the positive effect of higher US rates on the dollar will diminish as the Fed policy stance becomes neutral, especially since the recent US dollar strength was fuelled in part by the more accommodative monetary policy maintained by other central banks (Chart 5).
Third, the Trump administration has often voiced frustration about competitive disadvantage caused by a strong US dollar.
Finally, emerging market central banks continue to diversify exposure to the US dollar.
3. Structural economic reforms
Emerging markets, making up 70% of gold consumer demand, are very relevant to the long-term performance of gold. And among these, India and China stand out. 
These two countries have begun to implement economic changes necessary to promote growth and secure their relevance in the global landscape. 
China's Belt and Road initiative, for example, is focused on promoting regional economic development, boosting commodity markets and upgrading infrastructure (see The economic outlook for China, Gold Investor, October 2018).
India has been active in modernising its economy, reducing barriers to commerce and promoting fiscal compliance. In fact, India's economy is expected to grow by 7.5% in 2018 and 2019, outpacing most global economies and showing resilience to geopolitical uncertainty. 
Given its unequivocal link to wealth and economic expansion, we believe gold is well poised to benefit from these initiatives. We also believe that gold jewellery demand will strengthen in 2019 if sentiment is positive, while increase marginally should uncertainty remain.
Similarly, efforts to promote economic growth in western markets are expected to result in positive consumer demand, as has been observed generally in the US since 2012. 
Why gold why now
Gold's performance in the near term is heavily influenced by perceptions of risk, the direction of the dollar, and the impact of structural economic reforms. As it stands, we believe that these factors likely will continue to make gold attractive.
In the longer term outlook, gold will be supported by the development of the middle class in emerging markets, its role as an asset of last resort, and the ever-expanding use of gold in technological applications.
In addition, central banks continue to buy gold to diversify their foreign reserves and counterbalance fiat currency risk, particularly as emerging market central banks tend to have high allocations of US treasuries. Central bank demand for gold in 2018 alone was the highest since 2015, as a wider set of countries added gold to their foreign reserves for diversification and safety.
More generally, there are four attributes that make gold a valuable strategic asset by providing investors: 
A more tactical opportunity
In addition, gold speculative positioning in futures markets remains low by historical standards after hitting record lows in the final months of 2018. CME managed money net long positions stand near record low since 2006 – when data was first broken down by investor type. Furthermore, net combined speculative positions, which go back further, are negative for the first time since December 2001. And large net short positions have historically created buying opportunities for strategic investors, as such positions are prone to short-covering adding momentum to rallies in the gold price (Chart 6).
*As of 18 December 2018.
---
This article is a re-post from here. The original article also has detailed Notes and Sources.
---

Our free weekly precious metals email brings you weekly news of interest to precious metals investors, plus a comprehensive list of gold and silver buy and sell prices.
To subscribe to our weekly precious metals email, enter your email address here. It's free.
---
Comparative pricing
You can find our independent comparative pricing for bullion, coins, and used 'scrap' in both US dollars and New Zealand dollars which are updated on a daily basis here »
Terry Baucher expects the Tax Working Group's final report to recommend the introduction of a realisation-based Capital Gains Tax
By Terry Baucher*
Capital gains tax is the New Zealand equivalent of the Irish Border in Brexit: An intractable issue which politicians have kicked endlessly down the road without resolution. Until now. Perhaps.
The Tax Working Group's interim report released in September follows this pattern of deferring the dreaded day.
Rather than make an outright recommendation, the interim report instead explains the policy reasons for increasing the taxation of capital and wealth before reviewing two main alternatives; broadening the taxation of realised capital gains from classes of assets not already taxed (the CGT approach), or taxing on a deemed return basis, the risk-free rate of return method.
What the TWG isn't proposing is a separate capital gains tax regime encompassing the taxation of all gains and replacing the present rather ad-hoc approach. This is an important point which seems to have been drowned out by all the noise around the issue. The TWG is recommending a "targeted" approach to tax asset classes which are not currently fully taxed. Existing regimes such as those for financial arrangements and foreign investment funds (FIF) will remain.
This is an extension of the incremental approach to taxing capital gains which has been in place for the past 50 years. What makes the TWG's suggestions radical is that it should effectively result in comprehensive taxation of almost all capital gains. The suggested approach should also be legislatively easier to introduce as it would not require a complete rewrite of the existing legislation.
The TWG has decided to follow the example of Canada and South Africa and adopt a "valuation-day" basis under which all the gains from the date of introduction will be taxed. The TWG rejected the Australian approach of exempting assets acquired prior to introduction of CGT as encouraging "lock-in" or the retention of assets in order to defer realising a tax liability.
A valuation-day basis does require obtaining market valuations of assets held on the date of introduction. Much has been made of the compliance costs involved in obtaining market valuations of assets with the view that these costs would be a deal-breaker.

Although such an approach would indeed be prohibitively costly, other jurisdictions which introduced valuation day CGTs have managed to resolve the compliance issue. The TWG noted the Canadian approach where the taxpayer's cost in an asset acquired prior to the introduction of CGT could be the median of either actual cost, the value on valuation day or the sale price.
Another option would be to allow taxpayers to pro-rate the gain or loss on a time basis. This was one method allowed by South Africa after it introduced its valuation day basis CGT on 1 October 2001. 
In short, adopting a pragmatic approach can resolve the valuation issue without imposing unreasonable compliance costs. (It might also require banging a few heads at Inland Revenue which too often circumscribes promising initiatives such as the Accounting Income Method with overstated fears of potential tax avoidance).
Other key features of the TWG's proposals are that the net gains will be taxed at a person's marginal income tax rate, no concession will be made for inflation and capital losses will generally be able to be offset against other income. In some circumstances, such as death, the gain could be "rolled-over" and only taxed on ultimate disposal. All up the proposals are estimated to potentially raise close to an additional $6 billion of tax over the first ten years.
But fitting a CGT into the existing patchwork has its issues. The "tax, tax, exempt" (TTE) approach applicable to investment vehicles such as KiwiSaver funds and other portfolio investment entities (PIEs) creates issues around aligning their tax treatment with that of individuals. This was an issue seized on by the New Zealand stock exchange (NZX) and the Securities Industry Association (SIA) in their submission to the TWG.

An answer to the problem identified by the NZX and SIA might be to tax Australasian shares using the FIF regime fair dividend rate (FDR) methodology. In this regard the TWG noted that the current 5% FDR rate was set in 2007 and may now be too high. It is considering whether that should change and whether the present comparative value option available for individuals and trusts should be removed. Alternatively, overseas shares currently subject to FDR could instead be subject to CGT, a move which would raise an estimated $680 million over ten years.
The alternative to a CGT, the risk-free rate of return method (RFRM), was proposed by the McLeod Tax Review in 2001 and adopted for the FIF regime introduced in April 2007. Its attraction is more predictable cash flows for the government and the issue of "lock-in" doesn't arise. However, it also has issues around valuing assets, taxpayers may not have the cash flow to meet tax liabilities (an existing problem with the FIF regime), and how would it tie in with the availability of interest deductions. Intriguingly, RFRM is seen by some as a better tax solution for addressing housing inequality.

On housing, the TWG's terms of reference exclude taxing the family home but the interim report raises the issue of whether an exception should be made for "very expensive homes" defined as worth more than $5 million. The suggestion is that imposing an upper limit should act as a deterrent to owner-occupiers over-investing in their property. It will be interesting to see if that suggestion makes it into the final report.
A largely unremarked feature of the TWG's work is the greater attention given to the implications of the tax system for Māori. This is in marked contrast to previous tax working groups. Māori submitters were overwhelmingly opposed to a land tax, so a policy backed by the last tax working group in 2010 has this time been rejected.
Māori concerns about how a land tax would operate would be equally applicable to the RFRM alternative.
The TWG's interim report also identified the potential implications of a CGT on Māori freehold land and assets held by post settlement governance entities as requiring further analysis. If a CGT is introduced then a possible exemption for such assets might be one outcome.
The issues the TWG identified for expanding the scope of capital taxation centre on the longer-term sustainability of the tax system in the face of growing fiscal pressures from an ageing population and the fairness and integrity of the tax system. As the interim report notes; 
"Taxing capital income that is currently untaxed is likely to provide a significant and growing revenue base for the future. Such gains are the single largest source of
income that other countries tax and that New Zealand largely does not. …

The lack of a general tax on realised capital gains is likely to be one of the biggest reasons for horizontal inequities in the tax system. People with the same amount of
income are being taxed at different rates depending on the source of the income."
Against this background my belief is that despite the reservations of several of its members, the TWG's final report will recommend the introduction of a realisation-based CGT.
However, it may also suggest that its implementation is deferred by a year until 1 April 2022 to allow time for further consultation. We will be hearing a lot more speculation about CGT for a while yet.
This is my last column for 2018, my thanks to David and Gareth for their support and to all my readers and commenters, thank you for your engagement. Have a great Christmas and see you in 2019.
---
*Terry Baucher is a tax consultant and director of Baucher Consulting Limited a specialist tax consultancy. He is the co-author with Deborah Russell MP of Tax and Fairness published in 2017 by Bridget Williams Books.
KPMG's James Dowle says if Open Banking is to take off, more needs to be done to quell fears from customers about data security, while banks and other providers need to really demonstrate the true value and benefits
By James Dowle*
The European Union's Payment Service Directive 2, sometimes known as Open Banking, came in to effect in January 2018. Many commentators predicted an unprecedented transformation in banking and payments as the sharing  and  aggregation of data opened up new opportunities for existing and new players in the retail finance arena.
In the UK, after a decade of overseas and new financial service providers entering the market, it seemed almost inevitable that someone would blaze an Open Banking trail that would generate a hotbed of innovation, change and market competition.
We heard that opportunities would exist for new providers who would 'own' the interface with the customer, able to create an amazing customer experience through multiple channels while offering customers access to all of the products on the market. We heard that there would be more aggregators able to proactively find customers the best deals in the market and the enable switching between products and providers to happen quickly, and without frictions.
And we were told that customers would be able to transfer money quickly between accounts from different providers in real-time, just like they were doing it within the walls of one institution.
But nearly one year after the flag dropped on Open Banking, it's actually been a bit of a damp squib. Some might even say a flop.
In the UK, a recent YouGov poll asked people about the Open Banking and the results were quite shocking:
Three quarters of people surveyed in the UK had never even heard of 'Open Banking'
The tech-savvy Millennial age group was the least well-informed, with 85% of this demographic remaining unaware of 'Open Banking' and what it can offer
And even of those people that do understand 'Open Banking', 77% remain sceptical and concerned how financial institutions will share customer data
So, has Open Banking failed? Was it just misguided market dabbling by legislators or an over-inflated piece of innovation developed by industry-insiders? Or is it still too soon to make a call?
Why has Open Banking failed to live up to the hype?
European banks and industry commentators have been scurrying around trying to figure out why Open Banking has failed to cause the transformation that was anticipated. And it seems that the root cause lies in one of the oldest truths about the sector: banking and finance is boring to most consumers. That's often a tough pill for those of us whose life revolves around this sector, but most people still don't get overly excited about their personal financial management. Add in that, again according to the same UK YouGov  poll, most people are pretty happy with their financial service providers, and the age-old stickiness means that this just doesn't hit the top of the charts of people's unmet needs in life.
Some commentators suggest that the problem is more that no one has yet produced the 'killer App' and that Open Banking remains in the 'early adopter' foothills of the hype curve. A bit like the internet in the late 1990's, the potential is there, but no one has really learnt how to unlock it.
One underlying issue that seems to be in play is that while customers are not so unhappy with their financial service providers that they would  actually doing anything radical like moving their holdings, there is a general mistrust with banks, building societies and anyone who 'looks after' our money. While we trust financial institutions to keep our money safe, we don't trust them to do the right thing – and the findings of the current Australian Royal Commission are making customers even more concerned whether they should trust anyone in this sector.
So when people start talking about Open Banking and its benefits, the conversation can run into a 'trust' road block as soon as the concept is shared of banks and other providers sharing customer data. YouGov's survey noted that over three quarters of respondents had concerns about their main provider sharing their data with other financial institutions.
So if Open Banking is to take off, more needs to be done to quell fears from customers about data security and banks and other providers need to really demonstrate true value and benefits for those of us who are prepared to share our data in this way whilst providing some certainty around data privacy and security.
So what does this mean for New Zealand?
For New Zealand's financial service providers, it's hard to know what to do. Regulators have seemed unlikely to enforce Open Banking style requirements for quite some time and the lack of take up in overseas markets might reinforce this stance. So should providers wait and do nothing?
But Open Banking is not really a regulatory issue. It's about the customer experience, and that is something that no provider can afford to ignore. The reality is that even if Open Banking does  not  manifest itself in its current incarnation, the current rather static nature of retail financial services in bound to change. The question is what do financial institutions need to do now to make sure that they can be ready for any change.
Get your infrastructure ready
At the heart of Open Banking is the ability to both share the data that you have and to utilise and 'mash up' data from other financial service providers. Traditional core systems weren't designed for this sort of real-time dynamic interaction, so providers will need to make sure that their systems and architecture are ready and able to support these interactions. Security and privacy become more important than ever, so having the right technology backbone and infrastructure to be able to support such an environment will become table-stakes for providers in the near future.
And even if it isn't Open Banking that drives this move, we can already see how financial services providers are evolving to be platform providers, where they integrate the services of related third-parties into their offerings, e.g. mortgage providers who can also offer integrated services with estate agents, solicitors, moving firms, etc. Being a platform  provider  requires the same sort of data interoperability and integration that is needed by Open Banking. Developing a capability regarding APIs and their benefit to integrating with third-parties access must be on the agenda for all financial service providers.
Find your partners
While more people than ever before have access to banking services, there remains a significant proportion of the population that struggles to gain access to cost-effective borrowing, both as personal customers and as SMEs. The data available to support credit-decisioning is often limited and can require potential customers to provide paperwork they  don't have or to inaccurately describe their typical spending patterns and other obligations. Most financial institutions price and process their lending to reflect the poor quality of this data meaning that customers at the margins are left to borrow on credit cards or via payday lenders.
In China, companies like WeBank and Baidu have started to leverage other sources of personal data to help come to more informed (and faster) credit decisions than the banks can achieve. By leveraging other data sources, including web activity, and using artificial intelligence, they can not only make better credit decisions, they can also identify risk of default much more proactively than traditional banks.
To be able to offer  a broader set of services, including the platform offerings described before, and better decision making capability, financial service providers need to start to identify and secure partners with whom to share data.
Help customers trust you again
Data privacy concerns are growing  all of the time and seem to have  been one of the barriers to Open Banking. There is no doubt that all financial institutions are going to have more and more customer data over time and it is critical that customers trust that it is safe and only used for their benefit.
One major step towards trust for providers is to make sure that they only collect the data that is absolutely necessary for an activity, rather than treating every customer interaction as an opportunity to 'harvest' more information. And the key to this is to stop asking for the same data again and again.
Providers need to be able to re-use existing data more effectively in order to rebuild trust with their customers.
Don't waste the opportunity of the hype
While the Open Banking might not yet have changed the world of financial services, we believe that the changes that it encompassed are inevitable. Customers will want and get a single view in one place of all of their holdings no matter which providers they use. And moving between products and services will be friction-free and easier than ever, even between providers. And some providers will become platforms, integrating financial offerings with other third-party services.
In order to play this game, financial service providers need to get started now on making their infrastructure, partnering and data security fit for purpose. The calm before the storm is now – so providers need to get prepared.
So what happens if I don't want to be part of that game? Well, that is an option. But the opportunity is huge for smaller players. While your name might not be unknown to many consumers today, as soon as there is aggregation of all services on one platform, your name will be as visible as any of the big four banks. Look at how moneysupermarket.com has transformed the visibility of tier two and three financial services providers in the UK.
Open Banking might look like a difficult (and expensive) game to play, but it could be the gateway to the market that many smaller financial service providers have been looking for in so long.
---
*James Dowle is a Director for KPMG and leads Fintech for the firm. James has spent much of the past twenty years designing and implementing technology solutions for banks around the world. He also has considerable experience of working with credit unions and other non-bank deposit takers in New Zealand. This article originally appeared in KPMG's FIPS Non-Banks: Review 2018 and is reproduced here with permission.
Credit card users should take advantage of low-interest cards, balance-transfer deals & interest-free periods, Commerce & Consumer Affairs Minister Kris Faafoi says
Commerce and Consumer Affairs Minister Kris Faafoi says banks must only charge credit card interest rates they are satisfied borrowers can repay without suffering substantial hardship, and is encouraging credit card using consumers to shop around.
Faafoi's comments to interest.co.nz come after we pointed out our interview with The Co-operative Bank CEO David Cunningham. Cunningham describes the credit card market as "a real area of customer harm", saying it would be a worthy recipient of a probe by the Commerce Commission under its new market study powers. 
"I would expect credit card providers to charge fees that are fair and reasonable for consumers. Under the Credit Contracts and Consumer Finance Act, banks can only charge a credit card interest rate if they are satisfied that borrowers can make repayments without suffering substantial hardship," Faafoi said via a spokeswoman.
"I would encourage consumers to shop around and take advantage of low-interest cards, balance-transfer arrangements, and the interest-free period on cards to reduce the amount of interest they pay on credit cards."
Additionally Faafoi said the recent Financial Markets Authority (FMA) and Reserve Bank (RBNZ) report into bank conduct and culture shows New Zealand banks "need to lift their game" when it comes to identifying problems and risks, including in relation to how they sell products.
"I am considering the report's recommendations on the regulation of bank conduct and will determine if regulations need to change," Faafoi said.
Following the conduct and culture report interest.co.nz argued here that if the FMA and RBNZ are serious about making banks consider their customers' long-term outcomes they could start by taking a look at the credit card market.
Reserve Bank data shows credit card advances outstanding stood at $7.257 billion as of September, having risen 6.1% year-on-year. The weighted average interest rate on personal interest bearing advances was 17.9%, and the weighted average interest rate effective on all personal advances 11%. In 2017 total credit card billings in NZ reached $43.368 billion.
*This article was first published in our email for paying subscribers early on Friday morning. See here for more details and how to subscribe.
KPMG's annual FIPS for the non-banking sector reports that a number of participants in its survey have noted 'quite an impact' from the new lay-buy schemes; questions over non-regulation of such schemes
The very fast growth of 'buy-now-pay-later' schemes in New Zealand is starting to have an impact on the non-bank finance sector, both through increased lending occurring through these schemes, and borrowers then having a decreased capacity to borrow from more traditional lenders, according to KPMG's annual Financial Institutions Performance Survey (FIPS) of the non-banking sector released on Monday.
KPMG says there have been four main companies that have introduced a 'buy-now-pay- later scheme' in New Zealand so far, with one of these being Laybuy, who have 220,000 customers in New Zealand to date. Some of the biggest retailers currently using the Laybuy service are Glassons, Hallenstein Brothers, Stirling Sports and Barkers, among others.
"A number of more established survey participants noted quite an impact from these schemes," KMPG says.
"They noted that many of 'their' customers are  going to the store and instead of buying up to a set amount that they could afford in cash, they might be doubling or indeed tripling that amount and buying and spending more using the lay-buy option."
According to KPMG this has two main impacts: Firstly, it puts the traditional finance transaction with other counterparties, rather than the traditional financier, and secondly, it uses up the customer's capacity in relation to future loans with their more traditional financier.
"A number of players have said that these platforms have very quickly become their major competitors and pointed out they do not appear to be regulated. A question that was  asked was for how long will they remain unregulated."
KPMG says participants in the non-bank sector will need to consider what their role in the disruption of their sector or niche will be, and how they either plan to disrupt themselves or others, or, where possible, how they will protect themselves from disruption as these new players emerge quickly.
And KPMG's Head of Banking and Finance John Kensington says: "It will be interesting to see how the regulators react to this type of currently non-regulated lending, given the minimal information obtained by these schemes from borrowers and the fact that many earn significant amounts of their income from late fees."
But business is good...
Notwithstanding this looming disruption though, the non-bank sector has continued its strong loan growth over the year.
"Per the Reserve Bank of New Zealand (RBNZ) statistics, the non-bank sector has achieved a stellar 23.42% growth in its housing lending, an increase of $478 million to $2,519 million, as shown in Figure 1," KPMG says.
"This compares to an increase of $13,904  million to $252,319 million for the banking sector, or an increase of 5.83%. This result shows that while the non-bank sector has had strong growth, it is still a relatively small player in the housing sector lending (less than 1%);  however, they have the opportunity to (and some do) make the most of their regulatory advantage with respect to loan-to-value ratio (LVR) restrictions imposed on the New Zealand registered banks not applying to them.
"However, the regulatory advantage in respect of LVR may be short lived, with the RBNZ relaxing LVR restrictions from 1 January 2019, as announced in its November 2018 Financial Stability Report. The extent to which the non- bank sector will be impacted remains to be seen, as the banks may continue to operate well within the regulatory imposed limits on them given the current climate around conduct and responsible lending."
Further opportunity
KPMG says there also appears to be further opportunity for the non-banks sector with the apparent slight credit tightening by the banks, especially around lending exposed to the housing market.
"Across the board all of the survey participants noticed reduced or little competition from the banks within their segment. It appears the banking 'black box',  as it is referred to, has further shrunk with the banks lowering their risk appetite in this stage of the market cycle. This is at least partially due to the flow on effects of the  Royal  Commission of Inquiry into Misconduct in the Banking Industry in Australia. Non- bank participants are noticing banks are declining, and they are seeing, more bank quality applications than ever before. This is evidenced through participants having no shortage of applications or appetite for credit."
A number of these applications were coming from borrowers who are new to the non-bank sector, and may have been turned down for the first time by a bank.
KPMG says similar to the growth in housing lending, personal lending continues to grow, from $4.83 billion to $5.44 billion for the non-bank sector. This is against a backdrop of a stable economic environment, with low inflation and low unemployment helping to drive the continued demand. However, this stable economic environment is not mirrored by overall confidence.
"One thing that came out clearly during our interviews from a range of survey participants in the non-bank sector was that they have increasingly seen both the importance and benefit of operating in a niche and recognising what that niche is, from both a funding and lending perspective.
"Participants believed they more clearly than ever understood what their niche is, their market, and what their customers wanted, allowing them  to  achieve good results. For some participants, this was achieved  through  developing a digital front end allowing efficient acquisition of deposits or distribution of loans, and for others it was a particular target market that they were appealing to with a particular product.
Less competition from banks
"The majority of survey participants we spoke with observed that there was less competition from the banks in their sector this year, and they believed that the banks had probably slowed down their lending. This means that in many areas in which banks traditionally lent in, participants were subject to slightly less competition and greater opportunities were now available to them. A common metaphor noted by participants was that they felt it was  like driving on a road where there was less traffic so they could clearly see where they  were  going.
"They have had less competition and were able to both see the deals that were better for them and see them more clearly. This reduction in competition was observed not only from bank competition, but also in the form of less competition between the various non-bank participants."
Talking about conduct
In the wake of the The Australian Royal Commission of Inquiry into the Banking and Financial Services industry and the subsequent review in New Zealand by the Financial Markets Authority (FMA) and the Reserve Bank, one of the topics discussed at length with non-bank participants was their view on conduct. In particular, the discussion focused on how  they might measure up against a conduct framework and what impacts they might see coming out of the RBNZ and FMA review.
"Two key themes arose out this discussion. The first was that the non-bank sector, on the whole, does not feel that it is as exposed as the bank sector to a number of the conduct issues, mainly because their products are not as wide ranging nor as complex. In many cases, they also believe they do not have the same conduct risk, as they do not incentivise staff to undertake the transactions with customers and have a greater focus on service when compared to banks.
"Our view is this assessment may not sufficiently focus on exactly what conduct risk is, how conduct risk might develop in the future in light of the RBNZ and FMA's investigations, and what follows on from them. Survey participants should also remain aware that what is considered appropriate conduct does change over time, and what is appropriate for a customer today may not be deemed appropriate for them in the future.
"The other theme raised was the question as to whether any rules that are going to apply to banks as a result of the conduct investigations will automatically apply to the non-bank sector, or whether there will be some period where the banks are under greater scrutiny and ultimately operate under tighter rules.
'Not the same issues'
"The overriding theme from discussions was that the non-bank sector felt it did not have the same issues as the banks and that they were in a relatively good position in respect to conduct. This has led to a 'wait and see' approach being adopted by many."
KPMG says that one of the impacts that may come to light is that, as there is greater scrutiny on banks, and banks themselves start to modify their conduct frameworks they may became more cautious in their actions.
"As a result, there may be a larger number of customers who are declined credit. These customers will naturally move to the non-bank sector to seek the service they need. This provides the non-bank sector in effect with a greater number of customers.
"However, this may present a risk, as these customers are the ones that present a higher risk, as most have not met the particular criteria for qualifying for certain financial products. Given that non-bank participants may not have a conduct risk management that is as mature as the banks, and their overall awareness of conduct is less front of mind, it may simply shift customers who are getting declined by banks to a non-bank lender to provide the same level of finance or product.
"While this more cautious approach by the banks may result in a slight tightening of credit, as they rationalise things to ensure they are fully compliant with the RBNZ and FMA's conduct expectations, this in turn may push borrowers to the non-bank sector and if all the demand cannot be met (due to capital, liquidity and other risk constraints in the non-bank sector), it could lead to credit not being available to some potential borrowers in the market.
"Non-bank participants should re- emphasise the need to put conduct front of mind in everything they do, even if they believe that they are already doing the right thing by their customer."
Strong year of profits
The survey has revealed another strong year (up to September 2018) of profits and lending growth for the non-banking sector. Net profit after tax (NPAT) among the 25 non-bank financial institutions surveyed showed an increase of $44.34 million (22.97%) over the year resulting in a total NPAT of $232.61 million.
KPMG's Kensington says the real story behind the profit growth was the strong growth in lending during the period combined with the margin on that lending improving slightly.
"This  increase is primarily due to banks tightening their lending criteria, possibly in light of findings from the Royal Commission of Inquiry into banking misconduct in Australia and some bank customers  having to borrow elsewhere. This action by the banks has led to more business opportunities being seen within the non-bank sector. In addition, a strong economy with continuing economic growth has driven the increased demand for credit by consumers. Of the participants surveyed 22 of the 25 have made a profit, with 16 increasing their NPAT over the previous year," KPMG says.
Total assets
The sector has seen another year of strong asset growth, up 14.73% ($1.80 billion) to $14.03 billion, with 24 of the 25 survey participants increasing their total assets. Gross loans and advances have  also  increased, relatively in line with total assets, at 14.24% ($1.43 billion) to $11.44 billion, with 22 of the participants increasing their loan books.
KPMG says participants are now looking to shift their focus on increasing the yield on and the quality of their loan books rather than growing for  growth's sake.
"With applications increasing, participants can be more selective about their growth without slowing too much."
Asset quality
The ratio of impaired asset expense to average loans and advances rose by 46 bps to 0.84% for the non-bank sector this year. The main driver for this was Fuji Xerox whereby the ratio jumped from 2.42% in the previous year to 12.27% this year, and the inclusion of Latitude Financial Services, which is not included in the 2017 sector ratio and has a ratio of 2.91% in  2018.  However,  16  of  the 25 participants saw increases in this ratio, including the largest three, UDC, Latitude and Toyota Finance.
In absolute terms, impaired asset expense rose by $42.06 million to $90.45 million. This is predominantly driven by Latitude (up $22.88 million), Fuji Xerox (up $6.09 million) and UDC (up $4.96 million). While Latitude did see a strong increase in loan growth during the year of 15.81%, the increase in impaired asset expense was 134%.
Provisions for impairment increased by 17.28% over the year to $198.30 million. Looking at its component parts, collective provisions rose by $20.24 million (14.94%) to $155.69 million, and specific provisions rose by $8.98 million (26.7%) to $42.61 million.
The increase in collective provisions can be primarily attributed to Latitude, up $9.54 million (27.52%) compared to growth in gross loans of 15.98%.
However, KPMG says it should be noted that the 14.94% increase in collective provisions for the sector was largely in line with an increase in loans for the sector of 14.18%.
The increase in specific provision for the year was mainly driven by Fuji Xerox, up $3.60 million (120%), and UDC, up $3.09 million (52.79%).
However, for UDC, the increase is off the back of a decrease in 2017. The provision in the current year is essentially in line with the provision in 2016, and is still a relatively small amount compared to their overall loan portfolio of $3.2 billion.
Loans in arrears over 90 days but not impaired, for participants that disclose this information, has been flat for most participants except for Latitude, up $4.13 million to $15.47 million, which largely in line with their overall loan growth percentage. A large decrease for First Mortgage Trust was also noted, down $4.60 million to just $0.26 million.
Gareth Vaughan details how the RBNZ's proposals for NZ banks to hold more capital are a victory for the smaller NZ owned banks over their much bigger Aussie owned rivals
By Gareth Vaughan
Question; Name an industry in New Zealand that's dominated by overseas owned businesses that, thanks to local regulations, are handed a major advantage over their domestically owned competitors?
Answer; Banking.
ANZ NZ, ASB, BNZ and Westpac NZ, our four Australian owned banks, currently enjoy favourable capital positions over their Kiwi owned rivals such as Kiwibank, TSB, SBS Bank, The Co-operative Bank and Heartland Bank. 
This is because the Aussie owned banks, which control 88% of NZ banking system assets, are allowed to use what's known as the Internal Ratings Based (IRB) approach to credit risk measurement whilst other NZ banks must use what's known as the standardised approach. The IRB approach is an international banking standard that was imported into NZ by the Reserve Bank in 2008.
It means the big four banks are allowed to set their own models for measuring risk exposure which they must then get approved by the Reserve Bank. In contrast banks using the standardised approach have their credit risk prescribed by the Reserve Bank.
Effectively what this means is the big four banks are able to hold less capital than if they used the standardised approach giving them a profitability advantage over their Kiwi competitors. Or put another way, the Aussie owned banks can use a smaller portion of equity funding for mortgages than standardised banks, which translates into a funding cost advantage. This is a factor in the significantly higher return on equity the Aussie-owned banks generate than their local rivals, as demonstrated in the Reserve Bank September quarter dashboard chart below.
Stark contrast
The differences between the internal and standardised approaches can be stark.
A Reserve Bank probe of the big four banks' use of the IRB approach to credit risk shows them with risk weighted assets (RWA) equivalent to 69% of the standardised approach used by all other banks for residential mortgages. Across all types of lending combined, ANZ, ASB, BNZ and Westpac have credit risk RWAs of between 67% and 86% of the comparable standardised calculations, with an average of 76%.
Risk-weighted assets are used to determine the minimum amount of capital that must be held by banks to reduce the risk of insolvency. The capital requirement is based on a risk assessment for each type of bank asset. There is considerable variation both across different types of loans and across IRB banks.
For example, ANZ NZ's latest General Disclosure Statement shows an exposure weighted risk weight of 19% applied to total residential mortgages of $76.168 billion at September 30. That means the bank's risk weighted exposure was $15.761 billion, and total capital held against its home loans $1.261 billion. 
At Kiwibank, the biggest of ANZ's standardised competitors, risk weightings on home loans start at 35%. With $16.956 billion of home loans at June 30, the state owned bank had risk weighted exposure of $6.488 billion, and a minimum capital requirement of $520 million. 
That means Kiwibank's minimum capital requirement against almost $17 billion of home loans was equivalent to 3% of that sum. At September 30, ANZ was holding capital equivalent to just 1.65% of its more than $76 billion of home loans.
The Reserve Bank's says its proposed changes would increase the total RWA value required by the four Aussie owned banks from $251 billion, where they were at March 31, to $290 billion. Note, as of September 30 the big four had combined total assets of $447.038 billion and Tier 1 capital, which consists of the likes of paid-up ordinary shares, retained earnings and preferred shares, of $34.247 billion.
The chart below comes from the Reserve Bank consultation paper.
Levelling out the playing field
The proposals outlined in the Reserve Bank consultation paper issued on Friday go some way towards evening the playing field for the NZ owned banks against their Aussie owned rivals. That's because the Reserve Bank is proposing to make the Aussie owned banks increase the assets they use to determine the minimum amount of regulatory capital they hold to the equivalent of 90% of what's held by other NZ banks, up from about 76% now.
In a combined submission to the Reserve Bank last year, The Co-operative Bank, SBS Bank and TSB Bank argued the regulator should standardise the measurement of risk weighted exposures across all banks.
"This would result in all banks holding the same level of capital for the same underlying risks, ensuring a level playing field across the banking sector. This will encourage further competition in the banking system, consistent with the Reserve Bank of New Zealand objectives," the three banks argued. 
A submission from the New Zealand Superannuation Fund and Accident Compensation Corporation, who in 2016 bought a combined 47% of Kiwibank, also touched on levelling the capital playing field with the big four banks. Remember the Super Fund's CEO at the time was none other than Adrian Orr, who took over as Reserve Bank Governor in March. And Rabobank also called for a more detailed look at the differences between IRB and standardised approaches in its submission.
The Reserve Bank consultation paper also calls for the four Aussie owned banks to hold more capital than their Kiwi rivals because they are systemically important, or too big to fail. It calls for a Tier 1 capital ratio of 16% of RWA for banks deemed systemically important because of their size, and 15% for all other banks. Currently all banks require a minimum Tier 1 capital ratio of 10.5%.
Even though they too will need to increase the amount of capital they hold, this is a victory for the NZ owned banks over their much bigger rivals as, if the Reserve Bank proposals are adopted, they will be operating on a leveller playing field. Not completely level, but better than where it is now. Personally, I'd like to see the IRB approach scrapped altogether.
All banks combined will need $20 bln more capital than they had in March
The Reserve Bank's consultation paper suggests the proposed increase to banks' regulatory capital requirements means NZ banks collectively would need $13.7 billion more Tier 1 capital than they held at March 31. They'll also need to replace $6.3 billion of what's known as Additional Tier 1 capital, which the Reserve Bank says will be non-compliant. Note, Tier 1 is the likes of paid-up ordinary shares and retained earnings. Additional Tier 1 capital is capital instruments such as preferred shares that are continuous given there's no fixed maturity date.
The Reserve Bank is proposing a five-year transition period to the new bank capital regime. The regulator suggests the required capital increase will differ from bank to bank, ranging from between 20% and 60%. This, it says, represents about 70% of the banking sector's expected profits over the five-year transition period. The biggest of the NZ banks, ANZ NZ, estimates it'll need to find up to $8 billion.
Against this backdrop there's expected to be what the Reserve Bank describes as a "minor" increase in borrowers' interest rates, and potentially a small reduction to Gross Domestic Product. The Reserve Bank argues this will be worth it to make the financial system stronger and safer, including for bank depositors.
The Reserve Bank dashboard chart below shows banks' Tier 1 capital ratios at September 30. The Reserve Bank proposals would mean a minimum of 16%, as a percentage of RWA, for the big four banks and 15% for the other banks.
Choking on their schooners
NZ's Australian owned banks this year made combined net profit after tax of $5.128 billion, an increase of $433 million, or 9% year-on-year. They paid annual dividends of $3.39 billion. These dividends are set for a dramatic drop if the Reserve Bank proposal becomes reality.
Hence that strange sound you heard on Friday afternoon could have been senior bankers in Sydney and Melbourne choking on their schooners of beer.
The Reserve Bank is seeking submissions by March 29 next year and wants to make final decisions on its bank capital adequacy review, which has been running since March 2017, by June 2019.
So between now and then buckle in and get ready for some serious big bank lobbying, painting doomsday scenarios if the Reserve Bank has its way. Because if the Reserve Bank does get its way life will get a bit tougher at the Kiwi debt farm for the Aussie owned banks. Crikey, there has already been a report from Macquarie banking analyst Victor German suggesting the Reserve Bank's capital proposals could result in the Aussie banks cutting back the supply of credit to the NZ economy and potentially even selling their NZ subsidiaries.
*This article was first published in our email for paying subscribers. See here for more details and how to subscribe.
Credit card market 'a real area of customer harm', says The Co-operative Bank's CEO David Cunningham
By Gareth Vaughan
On the heels of its probe into the retail fuel market, the Commerce Commission should turn the attention of its new market study powers to the credit card market, says The Co-operative Bank's CEO David Cunningham.
Cunningham told interest.co.nz that when he heard news of the competition probe into the retail fuel market he thought "next stop credit cards."
"I think that's a real area of customer harm. I I think about the conduct and culture of banks, and doing right by customers, how is it that $4.5 billion of borrowing is via credit cards at an average interest rate that New Zealanders are paying of 17.9%?" Questioned Cunningham.
"Why isn't it that banks are saying 'you should not be in that product we're going to move you to a 13% product'," Cunningham added.
"If that $4.5 billion was at that [interest] rate that's $200 million [customers save]. So I stand back and go 'that's the harm that banks are doing to customers.' So I think there's a lack of competition in areas like credit cards in particular."
Credit cards are a "gravy train" for banks, he added.
Cunningham's comments come after interest.co.nz recently argued that, if the Financial Markets Authority and Reserve Bank are serious about making the banks they regulate consider their customers' long-term outcomes, they could start by taking a look at the credit card market.
 The Co-operative Bank launched a credit card two years ago, charging annual interest of 12.95% for both purchases and cash advances. At that time Cunningham's predecessor Bruce McLachlan said credit card interest rates and fees "have been ridiculously high for too long." The Co-operative Bank now has about 16,000 credit card customers. 
See all credit card offers here.
*This article was first published in our email for paying subscribers early on Monday morning. See here for more details and how to subscribe.