A review of things you need to know before you go home on Tuesday; Ruataniwha approved, SBS raises home loan rates, service businesses strong; buyers like horticulture
Here are the key things you need to know before you leave work today.
NEW WATER STORAGE APPROVED
The Environmental Protection Authority has granted resource consents [4] for Hawke's Bay's Ruataniwha Dam project, with conditions.
SBS RAISES MORTGAGE RATES
Mortgage market rate leader SBS has today increased its rates [5] across the board. The increases were between 9 and 15 bps but even after these rises they are still the bank with the lowest overall mortgage rates - if you have an LVR less than 80%. They made no equivalent term deposit rate changes.
SERVICE INDUSTRIES SMILING
The latest PSI data [6] from Business NZ shows the service sector in very good heart.
FARM SALES SOLID
March farm sales were good, according to the latest REINZ data [7]. 188 farms were sold in March, up 7% from the same month a year ago. The real growth was in horticulture and forestry transactions. It was these same categories that saw increases in prices/hectare [8]. Apart from Canterbury where irrigation premiums are now being paid, dairy land prices are stable and have been for three years now.
WHOLESALE RATES FLATTER
Swap rates [9] made back some of their recent falls, closing up 3 bps pretty much across the whole term curve. Even the one year was up. The 90 day bank bill rate [10] was up only 1 bps today, essentially holding the advance we saw yesterday. It is now at 3.25%.
OUR CURRENCY
The NZ dollar [11] has seen some late afternoon sagging as tomorrows Fonterra auction gets closer (and there are growing expectations it won't be a good one [12]). It is now at 86.5 USc. We are at 92.2 AUc, and the TWI is just under 80.5.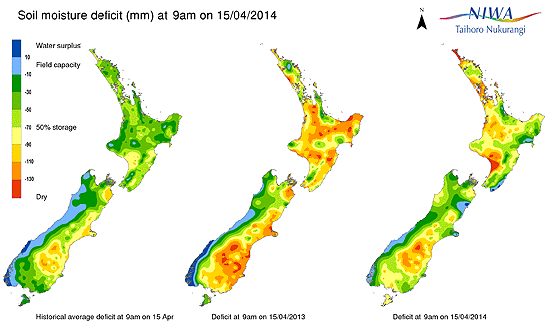 ---
Source URL: https://www.interest.co.nz/news/69477/review-things-you-need-know-you-go-home-tuesday-ruataniwha-approved-sbs-raises-home-loan
Links
[1] https://www.interest.co.nz/category/section/news
[2] https://www.interest.co.nz/users/david-chaston
[3] http://www.shutterstock.com/
[4] https://www.interest.co.nz/rural-news/69473/environmental-protection-authority-grants-resource-consents-ruataniwha-dam-conditio
[5] https://www.interest.co.nz/borrowing/mortgages
[6] https://www.interest.co.nz/charts/confidence/psi-index
[7] https://www.interest.co.nz/charts/real-estate/farm-sales
[8] https://www.interest.co.nz/rural/resources/farm-sales
[9] https://www.interest.co.nz/charts/interest-rates/swap-rates
[10] https://www.interest.co.nz/charts/interest-rates/bank-bill-rates
[11] https://www.interest.co.nz/currencies
[12] https://www.interest.co.nz/currencies/69465/lower-dairy-prices-will-take-toll-nzd-time-usd-boosted-higher-retail-march-eyes-rba