The Barclay Affair and Labour's international student migrant sweat-shops: The week isn't even over and Winston Peters already has maximum points. No one else is even on the winners' podium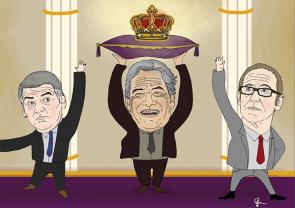 By Alex Tarrant
The week isn't even over but Winston Peters has emerged as the only person on the winners' podium.
Labour had been looking to take gold by default. They really had nothing to do with escalation of the Barclay Affair but by way of being the largest Opposition party, were happily fronting the outcry as Bill English shot himself in the foot on what he knew, and when, about the sordid state of affairs in his old electorate of Clutha-Southland.
It was his own doing. The fact he texted someone that Todd Barclay had told him about secretly recording office staff was key. The second rule of not getting caught is don't put anything in writing. (The first rule is don't do anything that you might be caught out by.)
The third rule of not getting caught is make sure you've made it look like you did the right thing while everyone else was carrying on with the bad behaviour. English tried this by saying he'd told police about what Barclay had told him.
In Parliament Wednesday he tried to say he couldn't have taken his concerns further because there had at the time been a police investigation and he didn't want to be seen talking over it. Also, it can't be a cover-up when you've said what you know to the police, he argued.
It fell on deaf ears. The fact Barclay admitted he'd misled the media over what he had done (or hadn't done, as per his previous claim) was king. The young man who didn't know how to properly use the word 'refute' in a basic sentence had to go. (Traditionalists would argue that to refute, you have to prove something is wrong, not simply disagree with it – and he certainly didn't do that).
And so Little led the outrage. Quite rightly – that's part of his job after all. But did he land any punches on English in Question Time, getting the Speaker to force English into any answers he didn't want to give? No. Never mind though. Just say 'cover up' and get on the front page. It worked. Fair enough politics.
Peters chimed in on the Barclay Affair too. He tried to push the Fuji-Xerox accounting saga in Parliament but was overshadowed by the main news of the week, with the opposition being fronted by Little.
So just as the weekend columnists were gearing up to give the points to Labour, what do they do? They shoot themselves in the foot as well [4]. Sweat-shops, poor living conditions, INTERNATIONAL STUDENTS paid next to nothing to help out on a Labour-linked 'get out and vote' scheme run by Little's former chief of staff Matt McCarten. You could not have made this stuff up.
And this, right after you've secured political points for an immigration policy that grabbed the attention of those wanting to be told Labour would get tough on foreigners moving into our houses, and over-crowding our roads, schools and hospitals, without really ruffling feathers in the business community.
All that good work potentially undone by the fact foreign students were drafted in to help boost Labour's vote, while being paid next to nothing and having to live in terrible digs.
National campaign chair Steven Joyce pounced. "This is truly appalling behaviour both for its lack of human decency and industrial strength hypocrisy," he said.
"If the allegations are correct, Labour has brought international students to New Zealand on false pretences, failed to look after them, and failed to meet their obligations to the students in the most basic way, while at the same time campaigning against exploitation of migrants."
Matt McCarten tried to save Labour to some extent by saying it was his programme, that it had become greater than he could manage, and that Labour – good on them – had contacted him earlier this week all concerned about it and offering to fix things. Not going to work. Damage already done.
It was a God-send. Who cares about some kid from Southland when Labour can be accused of running a migrant sweat-shop? Peters hadn't released a statement at time of writing, but he can be expected to climb all over it as well and claim the middle ground.
How about the Greens? Well, they used their first question in Parliament's Question Time after the Barclay Affair broke to ask the Prime Minister about refugees.
Sure, it was global refugee day. But it set Peters off. Five thousand more refugees! You've got to be kidding. You couldn't hand it to him on a platter any better than that. The Greens right now are very, very wary about not antagonising Peters. He's their only hope of getting any Cabinet positions due to Labour's low polling. Great policy, wrong timing. No political points to them.
The final points for Peters come from Thursday's migration figures [5]. Headlines of another record annual intake will only add strength to his bow. They should have been points to Labour. Not anymore.
New Zealand First has been trying to push the line that this year's election is a three-horse race. Party insiders say add a fair whack of the undecided vote to their headline polling figures and you get closer to 15% support, or 20% depending on who you're talking to.
Mostly, that has been dismissed as a load of hot air. It certainly is. Hot air pushing the New Zealand First balloon ever higher as everyone else tries to patch up self-inflicted holes.