We review the mortgage market post election and in the middle of the Spring selling season, one characterised by limp demand and quiet activity. Good mortgage rate deals may be available
October 1 starts the second month of Spring. We are supposed to be well into the upswing of the residential sales cycle.
This is also when banks and other mortgage lenders launch their new season incentives, usually around interest rate 'specials'.
But this year, things are eerily quiet on that front.
Yes, we have had some minor tweaking, but the emphasis has been on 'minor'.
And real estate sales volumes, while picking up will still likely be in cycle lows when the September data is revealed over the next two weeks. No upside records are expected.
However, now is a good time to assess interest rates. The market is positioned competitively.
Almost all institutions have 'special' rates, fighting rates distinguished from their 'standard' rates.
'Special' rates require at least 20% equity, and are usually only available for owner-occupiers. Sometimes they require you to sign up to other bank products, like a credit card, KiwiSaver, or a bank insurance product.
One feature of current rate offers is the compressed range on offer. The difference between the highest and lowest one year carded rates is just 14 bps (ASB is offering 4.45% at the low end whereas BNZ, Westpac and SBS Bank are all offering 4.59% at the high end.)
For two years fixed, Kiwibank is offering 4.65% at the low end, whereas BNZ is offering just 4.75% at the top end, a range of only 10 bps.
The range widens as the terms get longer but there are four banks offering a lower three year rate than ANZ, BNZ and Westpac are offering for an 18 month rate.
Margins-to-swap for terms 12, 18 and 24 months are all about +2.45%. Margins at this level are 'normal' - rarely do they fall below 2% which is a natural pricing barrier. That suggests about how much wiggle room is available from carded levels. They rise from there for longer terms.
All banks will negotiate, but the extent of their flexibility will first depend on the strength of your financials, and secondly on your persistence and tolerance for doing the shopping-around work. It is intensive work.
Our analysis excludes HSBC Premier which have the lowest rates for almost every term except for 6 months fixed. HSBC's Premier offer has conditions that are more restrictive than what most banks require, but if you meet them they clearly have a superior rate offer all round.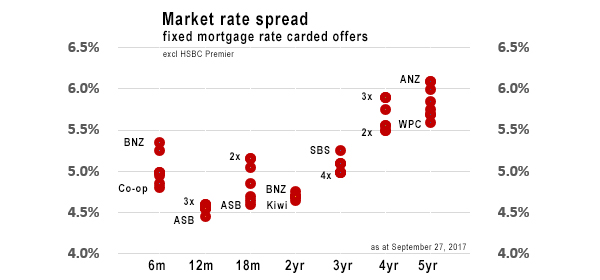 See all banks' carded, or advertised, home loan interest rates here. [3]
Here is the full snapshot of the fixed-term rates on offer from the key retail banks.
In addition to the above table, BNZ has a fixed seven year rate which is 6.15%.
And TSB Bank still has a ten year fixed rate of 6.20%.
---
Source URL: https://www.interest.co.nz/news/90042/we-review-mortgage-market-post-election-and-%C2%A0-middle-spring-selling-season-one
Links
[1] https://www.interest.co.nz/category/section/news
[2] https://www.interest.co.nz/users/david-chaston
[3] https://www.interest.co.nz/borrowing
[4] https://www.interest.co.nz/charts/interest-rates/daily-swap-rates
[5] http://ad.doubleclick.net/ddm/trackclk/N7821.153290.ADHUBNZ/B8218625.112482408;dc_trk_aid=285594041;dc_trk_cid=58945881
[6] https://www.asb.co.nz/rates-and-fees?utm_source=Interest&utm_medium=ASB%25252BLogo%25252BMortgage&utm_campaign=Interest.co.nz
[7] http://www.asb.co.nz/rates-and-fees?utm_source=Interest&utm_medium=ASB%25252BLogo%25252BMortgage&utm_campaign=Interest.co.nz
[8] https://www.bnz.co.nz/personal-banking/home-loans?source=interest.co.nz&medium=link&campaign=mortgages
[9] http://www.bnz.co.nz/personal-banking/home-loans?source=interest.co.nz&medium=link&campaign=mortgages
[10] http://kiwibank.co.nz/personal-banking/home-loans/
[11] http://www.westpac.co.nz/home-loans/interest-rates/?opendocument&utm_campaign=WPG_0175_Interest&utm_medium=logo&utm_source=Interest.co.nz_Home_loan_rates&utm_content=logo_Interest.co.nz_Home_loan_rates
[12] https://​goo.gl/6DtBFj
[13] http://​goo.gl/6DtBFj
[14] http://www.hsbc.co.nz/borrowing
[15] https://www.sbsbank.co.nz/home-loan?utm_source=interest&utm_medium=display&utm_content=mortgage-logo&utm_campaign=direct
[16] http://www.sbsbank.co.nz/getinquick?utm_source=interest&utm_medium=display&utm_content=rates&utm_campaign=getinquick
[17] https://www.sbsbank.co.nz/getinquick?utm_source=interest&utm_medium=display&utm_content=rates&utm_campaign=getinquick
[18] https://www.tsbbank.co.nz/loans/home-loans-mortgages?utm_source=interest.co.nz&utm_medium=mortgage_logo&utm_campaign=interest.co.nz
[19] http://www.tsbbank.co.nz/loans/home-loans-mortgages?utm_source=interest.co.nz&utm_medium=mortgage_logo&utm_campaign=interest.co.nz