Tauranga MP and National leadership contender spoke with Interest.co.nz about what an Opposition he leads would look like and what changes he would make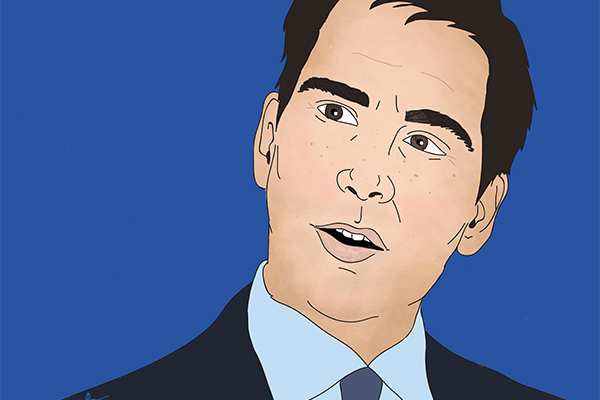 By Jason Walls
National Party leadership hopeful Simon Bridges wants to spearhead an evolution in his party.  
The 41-year old Tauranga MP says National needs to begin this evolution now in order to have a shot at winning back the Treasury benches in 2020.
To do this, he plans to freshen up the party's policy line up and bring new talent onto the Opposition's front bench. Should he be elected leader in a contest with Amy Adams and Judith Collins.
But the evolution of the National Party he aspires to lead would not be "something radical."
"We [won] 44.5% of the vote the last election – we were a success on a number of measures so it's not about wrecking that success, it's [about] evolving our position."
Bridges seems to be brimming with new ideas but is reluctant to say what his new plans actually entail – only that he would make them known "reasonably soon after my election."
The party's values, however, won't change if he is in charge.
"The things that people associate us with – a strong economy, law and order, security, private enterprise and individual freedom – will remain our equities.
"But, we will want to evolve that so people take a second look at us in Opposition and say "yeah, they have been doing the hard yards, they have got some interesting ideas that are relevant to us as we move into the 2020s and maximise our vote."
He may be giving little away publicly about any new policy ideas, but Bridges has been lobbying his Caucus colleagues to get them onside with his plans of a National party evolution.
Those who agree with his vision, and are willing to back his leadership bid, could have a lot to gain.
When announcing his run at the leadership on Wednesday [4], Bridges was at pains to emphasise he was the candidate of "generational change and experience."
He wants that combination to extend to his front bench.
"That generational change involves keeping some of the best experience we have got but also bringing in new talent, which will be important."
He won't say who he has in mind, only that the party has "so much talent in our Caucus, we need to be sure we keep bringing that through strongly."
National's tentative relationship with NZ First
One of the major reasons National was unable to form a Government last year was due to its lack of coalition partners.
Both United Future and the Maori Party were voted out of Parliament and ACT won just one seat.
National's only hope of winning another three years in power was New Zealand First, which in the end opted to support Labour.
Under a Bridges-led Opposition, National would be looking to win 61 seats with the help of a coalition partner and would be unlikely to attempt getting across the line by itself.
"[Winning] 50% was a wonderful idea but has never happened."
But National's list of political allies is very short. So, would Bridges, who won the Tauranga seat in a contest against Winston Peters in 2008, work with NZ First?
That remains to be seen, as he won't go into much detail, saying only his party needs to hold "the entire Government to account, whether it's Greens, Labour or NZ First."
"That doesn't mean we go after NZ First, but it certainly doesn't mean that they get an easy go."
He says National and NZ First will be in an "interesting position" over the next two and a half years as they do align in some areas of policy.
"We're in a position where we can put bills up and get them through, I would expect [NZ First], for example, to support bills that have strong law and order aspects to them when we do them."