US housing starts rise; US consumer sentiment rises, Canada house sales fall; China visitors flood in; NZ regions boom; UST 10yr 2.89%; Fear index high; oil up and gold down; NZ$1 = 74 USc; TWI-5 = 74.6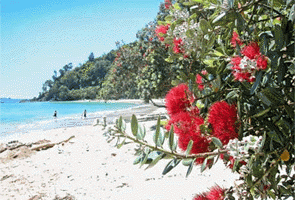 Here's our summary of key events overnight that affect New Zealand, with news of a rise in optimism among American consumers, but a rise in fear among investors this week.
Firstly, American housing starts [4] got off to a great start in January (and that is in the depths of a very cold winter), rising +7.3% above the same month a year earlier and the third month in a row it has risen. The annual rate is now up to 1,326,000 which is an extra 96,000 houses over the December annual rate. The jump may both ease housing price pressures that are rising +5.6% pa [5], and is big enough to register a boost to the country's economic growth. Some also suggest [6] the rise may restain rent increases.
The latest indicator of consumer sentiment [7] in the US also showed gains. It rose in early February to its second highest level since 2004 despite lower and much more volatile stock market prices. The analysis [7] of the results is worth reading because within the rise are some important shifts in the basis of the optimism; job security factors are rising, attractions to short-term discounts and low costs are falling.
In Canada, new mortgage-qualification rules that came into force in January have taken the gloss off Canada's housing market. Buyers had rushed to make purchases in December to beat the deadline and sellers sat tight while assessing the fallout. But the impact may not have been as strong as some had feared. Sales volumes were down -2.4% year-on-year [8] while average prices were up +2.3% on the same basis.
As its the Chinese Lunar Holiday week, there are millions of people in China on the move. This year more people are choosing to travel on an international vacation and there is plenty of evidence 2018 will be a record year for such travel, even if it is not what most people do. Until 2014, New Zealand was almost off the radar for such travel, but in 2015 visitor numbers from China almost doubled in February from 26,000 to 51,000. Ever since, Chinese New Year inbound travel has seen a massive spike. And although we don't have the data yet, it is likely to be the same in 2018, only more so. Today, for example, there are 19 direct flights arriving directly from China or Hong Kong into Auckland. One-stop flights via Singapore, Bangkok and Australia will add to the flow.
And here is a local story you may have missed yesterday. Data on the amount of ready-mixed concrete poured in the December 2017 quarter [9] showed a +4.2% gain over the same quarter a year ago. It is more impressive when you consider the Auckland region had a -10.4% fall over the same period (the Waterview Tunnel is now complete and the Central Rail Loop is only now just ramping up). Wellington recorded a +4.5% rise off of a small base, and Christchurch recorded a -12.1% drop as the quake rebuild winds down. What is really impressive is how the regions are stepping up. Northland is up an amazing +23%, Waikato and the Bay of Plenty are up +15% as is the Hawke's Bay. The Manawatu is up +11% while Otago and Southland are up +17%. Regional momentum is very impressive reflecting a payoff from years of preparation.
The UST 10yr yield is now down to 2.89% as bond prices slipped in early trading today but have risen as the day has progressed. That is a net yield fall of only -1 bp since where we left it yesterday afternoon. The Chinese 10yr is at 3.90% (unchanged) and the New Zealand equivalent is at 3.01%, also unchanged.
Local swap rates ended the week pretty a tad firmer from where they started but the shift is not material.
The VIX [10] is calmer today, but not back to the unworried levels of a few weeks ago.The Fear & Greed index [11] is still hard over on the fear side.
Gold markets aren't closed yet but the price of gold is down to US$1,350 in New York. But over the week, that represents a +US$35 jump..
Oil prices are higher today with the US benchmark now just under US$62 and the Brent benchmark over US$65/bbl. The difference between these two prices is narrowing fast, perhaps indicating the less US crude is available on international markets these days.
The Kiwi dollar is rising today is now at just under 74 USc. On the cross rates we are at 93.4 AUc and 59.5 euro cents. That puts the TWI-5 at 74.6, matching the rate a month ago and highest since mid October.
Bitcoin is at US$9,933 having slipped below US$10,000. It can't seem to push on up over that benchmark at the moment after a heady rise during the week off of its three month low.
[12]
The easiest place to stay up with event risk today is by following our Economic Calendar here » [13].