US Fed likes what it sees; China nationalises Anbang; Germany posts big surplus; OECD frets about debt; world trade jumps in 2017; ANZ tightens screws; UST 10yr 2.87%; Fear index high; oil up and gold down; NZ$1 = 72.9 USc; TWI-5 = 74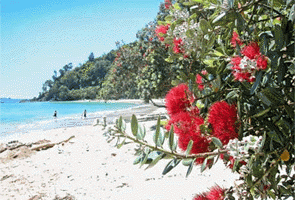 Here's our summary of key events overnight that affect New Zealand, with news world trade had ist best year in 2017 since the GFC.
Firstly, the US Fed has issued its semi-annual report [4] to Congress and this quote gives a clear idea of what the document concludes. "The economic expansion continues to be supported by steady job gains, rising household wealth, favorable consumer sentiment, strong economic growth abroad, and accommodative financial conditions. Upbeat business sentiment appears to have supported solid growth over the past year." (p16)
China has nationalised one of its largest insurance companies [5] and placed its bosses under arrest and who have been accused of 'economic crimes'. They rose to prominence under the patronage of a previous Party boss. The company, Anbang [6], has been as prolific in its international buying spree as HNA, whose bosses will also be now sweating it. The move puts all those overseas assets directly in Beijing's hands, although a fire sale is more likely.
Germany (its Federal government and the country's 16 states and its communities) posted a budget surplus of €36.6 bln [7] (NZ$61.7 bln) in 2017. This is the fourth annual surplus in a row and came as their economy expanded by +2.2%, the largest annual growth since 2011. That growth as largely export-driven. Interestingly, given that Germany's economy is 13 times larger than New Zealand's, their budget surplus is 1.0% of GDP while ours is +3.5% of GDP.
In a new Report [8], the OECD is sounding the alarm about how much countries are borrowing. They say members' total sovereign debt has increased from US $25 tln in 2008 to more than US $45 tln as politicians get to think that debt will always be cheap. But the OECD is warning that debt servicing will hit budgets hard.
And international trade flows recovered strongly in 2017 to grow at their fastest pace since 2011. The CPB Netherlands Bureau for Economic Policy Analysis [9] said that the volume of exports and imports of goods was +4.5% higher than in 2016, marking a pickup from the +1.5% rate of expansion in the preceding year, which was the lowest since the global financial crisis. The 2017 growth was above the average since 2000 (+3.6%), but well below the average from 2000 to 2007 of +6.9% growth.
In Malaysia, police have arrested [10] three men over an alleged 1 billion ringgit (about NZ$350 mln) Ponzi scheme with 70,000 victims that was run through a New Zealand company.
In Australia, ANZ said [11] it would treat changes involving interest-only loans - such as a customers extending the term of their loan or switching from a principal and interest product to one where they only pay interest - as a "credit critical event."
In New Zealand, the High Court has placed CBL Insurance into interim liquidation [12], following an application by regulator RBNZ.
The UST 10yr yield is now down to 2.87% as bond prices have risen consistently through the last trading session on Wall Street. The Chinese 10yr is at 3.89% (down -1 bp) and the New Zealand equivalent is at 2.99% (up +1 bp).
Local swap rates ended the week flatter, slightly higher at the shorter end and slightly lower at the longer end than at the same time last week.
The VIX [13] is still elevated but is ending the week at its lowest point in seven days. The Fear & Greed index [14] is still strongly on the fear side.
Gold markets aren't closed yet but the price of gold is down to US$1,328 in New York. But over the week, that represents a -US$32 drop.
Oil prices are higher today with the US benchmark now just under US$63.50 and the Brent benchmark over US$67/bbl. The narrowing we saw last week hasn't persisted this week.
The Kiwi dollar is slipping today is now at just under 72.9 USc. On the cross rates we are at 93.1 AUc and 59.3 euro cents. That puts the TWI-5 back at 74, and even though that is plumb in the middle of its 2018 range, it is actually the lowest in eleven days.
Bitcoin is now at US$10,213 and +5.5% above where we left it yesterday afternoon. However it is 'only' +2.8% higher than this time last week. It has been volatile in between in a +15% / -5% range.
[15]
The easiest place to stay up with event risk today is by following our Economic Calendar here » [16].