Markets were quiet ahead of the US CPI data release tonight; UST 10yr yields fell 2 bps to 2.88%; NZD increased from 0.7285 to 0.7323 during the local sesssion before falling back to 0.7300 overnight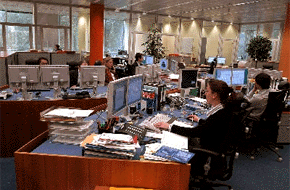 By Nick Smyth [4]
Markets were very quiet overnight, with no major economic data released.  Market movements across bonds, equities and currencies were very modest.  The focus turns to the release of US CPI tonight. 
The S&P500 was unchanged overnight, holding on to its large gains (~1.7%) on Friday after the non-farm payrolls report showed strong employment gains but lower wage growth.  Given the market's sensitivity to the inflation outlook, and the read-across to Federal Reserve tightening, the release of US core CPI tonight takes on added significance.  The median expectation is for a 1.8% YoY rise in core CPI, and a non-consensus number could generate a significant market reaction.  
Ahead of US CPI, the US 10 year bond yield fell 2bps overnight to 2.88%.  After a sharp run-up in January, the 10 year yield has been consolidating within a 2.80% - 2.95% range for the past month.  Overnight, the auction of 3 and 10 year Treasury bonds met with reasonably good demand (the Treasury issues 30 year bonds tonight).  US bond auction sizes were increased earlier this year to take account of the widening US fiscal deficit and the Fed's balance sheet reduction (the Fed is allowing some of their US Treasury bond portfolio to run-off, which adds to the financing requirement for the government). 
Currency movements were also very contained.  The GBP rose around 0.3% after UK Brexit Minister Robin Walker said the UK and EU were very close to agreeing a transitional deal for after March-2019.  Walker said "U.K. and EU's access to each other's markets should continue on current terms" during such an implementation period.  The UK hopes to agree a transitional deal at next week's EU Summit, although there is a risk that the ongoing dispute around the Irish border delays this.  We still think a transitional deal will ultimately be agreed between the two sides, and NZD/GBP will move lower this year.  In the meantime, NZD/GBP remains stuck within a 0.52 – 0.53 range. 
The JPY strengthened yesterday afternoon in response to the growing scandal involving Japanese Prime Minister Abe and Finance Minister Aso.  The scandal erupted last year, and PM Abe said at the time he would resign if he or his wife were implicated in a controversial sale of public land.  The Ministry of Finance released a report yesterday stating that an MoF official had removed reference to PM Abe's wife in a document related to the sale.  Finance Minister Aso, a close ally of Abe, has come under pressure to resign, but yesterday said he had no intention of stepping down.   The market is nervous that the Abenomics agenda, which includes the BoJ's QQE, could be called into question if Abe is forced out.  For now though, the market reaction has been reasonably contained and not suggestive of major political change.  USDJPY fell has fallen from close to 107 yesterday lunchtime to around 106.35 now. 
The NZD increased from 0.7285 to 0.7323 during the local session yesterday before falling back to 0.73 overnight.  RBNZ Acting Governor Grant Spencer is speaking today with the topic being "Getting the best out of macro-prudential policy", although this is unlikely to be market-moving.   The NZDMO launched the syndication of the 2029 nominal bond yesterday, with books to close today.  NZ yields increased yesterday, in line with those in Australia.   
Besides US CPI and Spencer's speech, we have NZ food prices, the NAB Survey in Australia and BoC Governor Poloz speaking in the day ahead. 
---
Get our daily currency email by signing up here:
---
BNZ Markets research is available here. [9]