Slightly more buoyant housing market in February as sales volumes and prices rose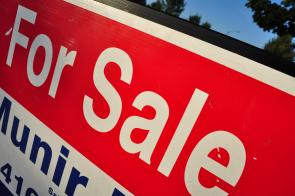 The housing market bounced up in February with the volumes of homes sold running ahead of February last year and prices also improving versus January, according to the Real Estate Institute of New Zealand.
The REINZ recorded 6373 residential property sales in February, up 1.2% compared to February last year, while the national median price was $530,000, compared to $520,000 in January.
That puts it the national median price up by 3.9% compared to February last year.
Homes also became slightly easier to sell, with the median days needed to make a sale dropping from 46 in January to 44 in February.
The latest figures will bring some welcome relief for the real estate industry, which suffered lacklustre sales volumes and soft prices for much of last year.
In Auckland, 1600 homes were sold in February, slightly up from the 1568 that were sold in February last year. But that's still well below February in 2012 to 2015 when more than 2000 homes were sold each month, and below February 2016 when 1819 homes were sold.
Around the country, the volumes of properties sold in February was up compared to February last year in Auckland, Bay of Plenty, Hawke's Bay, Manawatu/Whanganui, Wellington, Nelson, Marlborough, West Coast, and Southland, and down compared to February last year in Northland, Waikato, Gisborne, Taranaki, Tasman, Canterbury and Otago.
Median prices were up compared to January in all regions except Taranaki where they dropped from $365,000 to $350,000, Tasman which was down from $550,000 to $530,000 and Otago where they fell from $464,000 to $400,000.
However although median prices remain ahead of where they were in February last , they remain below the record highs that were set last year in all regions except Hawke's Bay, which hit a new record high of $444,000 in February.
The graphs below chart the monthly median price movements and volumes sold for all regions of the country.