Deputy and soon-to-be acting Prime Minister Winston Peters put his own stamp on this week's post cabinet press conference, as Jason Walls describes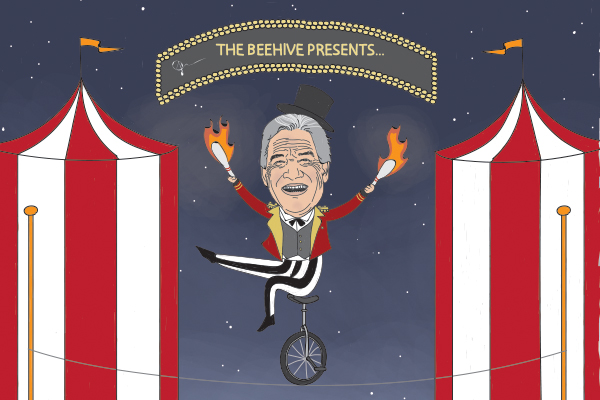 By Jason Walls
If Deputy, soon-to-be acting, Prime Minister Winston Peters made one thing clear at his first post-cabinet press conference, it was that journalists are now playing by his rules.
Gone are the days, at least for the next six weeks, when the Prime Minister finishes up when reporters are out of questions.
The weekly press briefing ends when he says it ends.
Say goodbye to detailed answers to questions and hello to vague, at times seemingly random, monologues.
While Prime Minister Jacinda Ardern is on maternity leave, Peters has been tasked with chairing the Government's cabinet meetings.
He has also taken the reins of the post-cabinet press conference, something that has been keenly anticipated by many.
From the outset, it was clear Peters was putting his own stamp on the weekly conference on Monday afternoon.
He brought along Health Minister David Clark – who was there to provide details on the nurses' pay negotiations. "Any questions for the Honourable David Clark?" he asked, without moving from behind the lectern.
After an awkward few seconds, a reporter asked if Clark could stand at the microphone – "No, you need the questions first and then I'll put him at the microphone," Peters said.
After a question, Peters let Clark take over.
As Clark entered his sixth-minute answering questions, Peters glanced at his watch.
"I think we have covered the subject as comprehensively as we can possibly do it with Mr Clark here," he said, as he resumed his place behind the lectern.
Reporters' questions were still being fired at Clark but now, it was Peters' turn.
Any questions
"Any questions," he said, peering around the room.
Usually, there is never a second of silence at post-cab. Reporters race to be the first one to ask their questions. In fact, most times Ardern is hit with a wall of noise before she has even uttered "any questions."
Monday was different – there was deafening silence as Peters waited for the first question. Perhaps no one wanted to be first.
Eventually, a question about Pike River Mine was asked, then another, and another. He stood by his commitment to being the first one into the mine.
"Are you being responsible, Mr Peters, with being the first one in?" he was asked.
"What's wrong with that – if that's your major issue on the 18th of June 2018, I'm happy to answer it; or maybe it's because you care about me," he said, sporting his signature ear-to-ear grin.
It's just under 11 minutes in – so far, so good.
Before the election, Peters gave what has now become an infamous press conference when he refused to answer questions, personally attacked journalists and baffled many who were watching at home.
The events of that night were still front of mind of many in the Beehive Theatrette on Monday.
And things felt like they might be building up to those levels a couple of times. Peters was not happy about answering questions about the process of how he will find out if he has officially become acting Prime Minister.
He sighed, loudly, and rolled his eyes: "I think the Prime Minister has already walked you through the process countless times," he said, begrudgingly.
Time to go, but first…
After a few more questions, he checked his watch again. The questions were now about his relationship with Fonterra.
Last week, Regional Economic Development Minister Shane Jones called for the co-op's Chairman, John Wilson, to resign.
Peters refused to say Jones was out of line and joined in on slamming the dairy giant.
He continued that criticism on Monday.
"I do believe in a thing called commercial accountability, as I also believe in political and journalistic accountability."
He blamed the former National Government calling out Fonterra's massive losses in its overseas ventures.
For the next ten minutes, he canvassed a range of topics: Business confidence, trade, the economy and his superannuation lawsuit leak just to name a few.
As the questions dragged on, he began to fidget with his papers – rolling them up and tapping them on the lectern. He looked like he wanted to get out of there.
And at 26 minutes and 43 seconds, he's done.
"Thank you very much," he said walking away from the stage. Reporters questions still being asked as he makes for the door.
"I've answered all your questions, and I'll see you next time," he yelled back.