Research commissioned by Trade Me found 47% of buyers found home via Trade Me, while 9% found home via print ad
By Bernard Hickey
Research commissioned by Trade Me from independent research firm Perceptive has found 47% of home buyers said they uncovered the home they bought through Trade Me, while a combined 9% found their home through a print advertisement in a real estate listings magazine or newspaper.
Trade Me released the research after several real estate agency groups in Hamilton and Hawkes Bay pulled more than 1,300 listings from Trade Me Property after it changed its fee structure from a flat monthly fee per agency office to a per-listing fee of NZ$159 + GST. The agents affected said the change more than quadrupled their costs, which they had previously absorbed as part of their marketing fees to vendors. Some are now offering a Trade Me listing to vendors as an 'extra' cost to other marketing costs still being absorbed, which include listings on Realestate.co.nz and newspaper and real estate magazine advertisements. Others are recommending vendors drop Trade Me altogether and use other tools.
Trade Me said the fee better reflected the value of the listing, arguing around half of buyers found their homes through Trade Me and the cost was relatively low when compared with the overall agency commission and the cost of other types of advertising. See the full article published earlier here.
Perceptive surveyed 300 buyers and 300 sellers across New Zealand by telphone between August and October last year. Perceptive asked buyers how they first found the house the bought.
47% said they found it via Trade Me, 15% found it after being contacted directly by a real estate agent, 5% found it through a flyer or sign, 4% found it through the Property Press, 3% through other real estate agency-published magazines such as Harcourts' Blue Book, 2% through a national or local newspaper, 2% through Realestate.co.nz, 2% through Open2View.com and 20% through 'other' means, ranging from driving or walking by the house, 10% through an open home and 15% from another agent.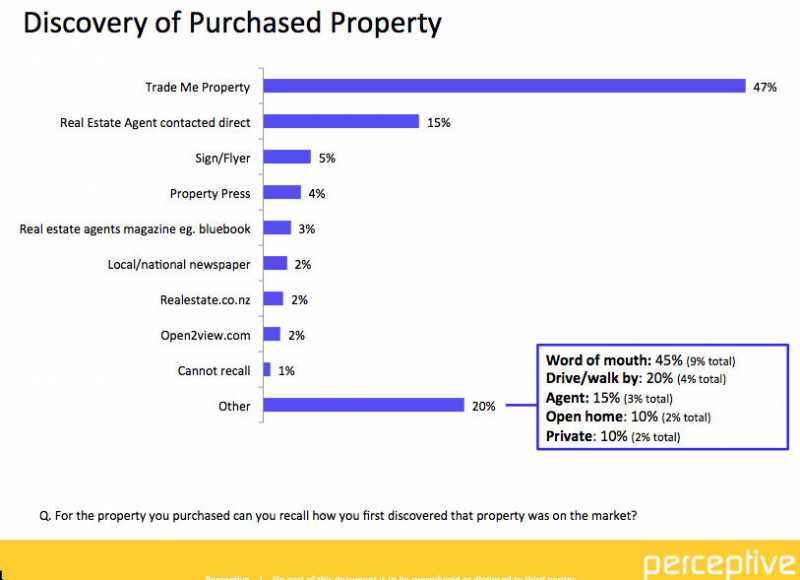 Respondents were then asked which sources they used to actively search for property. 81% said Trade Me Property, 39% said Property Press, 35% said Realestate.co.nz, 29% said a local newspaper, 22% said a real estate agent magazine and 19% said Open2View.com.
Perceptive then asked what was their primary search tool. 68% said Trade Me, 9% said Property Press, 8% said they contacted an agent direct, 6% said Realestate.co.nz, 4% said a newspaper and 2% said Open2View.com.
It then asked the sellers how much they had spent on marketing, including the amounts they thought they had spent on digital marketing vs print marketing. The survey found 22% thought they had spent nothing. The remainder said they thought they had paid an average of NZ$3,117.50, including 42% on print and 58% on digital.
The survey found 73% of sellers decided on which marketing channel to use after a recommendation from a real estate agent. It found 62% of agents then told the sellers where the leads had come from, while 38% did not.
Perceptive then asked where sellers thought the leads had come from. 18% said they thought they had come from print advertisements, 40% from online searches, 18% from agent databases, 4% from flyer drops and 20% from other means.
Still print biased
Sellers were then informed of a 2012 survey by Nielsen Research showing that 73% of buyers had researched by Trade Me Property or Realestate.co.nz in the last week, while the second most researched source was real estate agency websites, third was real estate listings magazines such as Property Press and the Harcourts Blue Book, while newspapers were the least used at 31%.
Sellers were then asked how much they would spend on digital and newspaper advertising after knowing that digital was the primary search source. Even after being told of the research showing most buyers used digital searches, the sellers said they would spend an average of NZ$1,519 on digital and NZ$1,928 on print, although 22% of respondents said they would spend nothing on digital and 41% said they would spend nothing on print.
When asked if they only had NZ$500 to market their property, what they would spend it on?: 75% said Trade Me Property.
Asked if a NZ$200 fee for marketing their property would make a difference to their decision on who to choose as their agent, 86% said it would make no difference.
Perceptive then asked what sellers thought they would pay their agent to ensure their property was listed on Trade Me and found 25% said they would pay nothing, while the remaining respondents said they would pay an average NZ$438.26.