In this section
The comment stream
Thursday's Top 10 at 10: What happens when the money printing stops?; Why haven't the masses revolted against income inequality?; Europe's looming deleveraging; Dilbert
Here's my Top 10 links from around the Internet at 10 am today.
As always, we welcome your additions in the comments below or via email to bernard.hickey@interest.co.nz.
See all previous Top 10s here.
My must read today is #1 on whether the current green shoots are sustainable.
1. What happens when QE ends? - Financial markets and many economic indicators are fairly buoyant around much of the developed world right now as very low interest rates and plenty of money printing or Quantitative Easing (QE) begins to work its way through the system. Asset prices are up, which means some people feel wealthier and are beginning to borrow more to spend that wealth.
We're seeing our own version of this in New Zealand where record low interest rates for five years have encouraged a new generation of borrowers to leverage up and bet on on a property boom. Just look at yesterday's retail sales volumes up 4.4% in the June quarter, the strongest growth since the end of 2006.
But what happens when the money printing stops and interest rates rise?
Related Topics
That will be the real test.
It will depend largely on whether any growth in household disposable income will allow those households to sustain and keep growing their debt as those interest rates rise.
This reproduced email exchange from Economist Richard Duncan and a correspondent is a nice debate framing this issue. It's well worth a read.
Duncan is in the camp that says the global economy will struggle as soon as the printing stops because household income growth is so weak. HT scarfie in yesterday's very long and active comment stream.
Regarding your question: "Can an economy sustain itself short term with QE, withdraw it, and see it replaced with bank lending growth, corporate debt, private debt etc….. Is that possible?"

Answer: We just don't know. We have never been in a situation where the Federal Funds Rate was cut to zero and the Fed was also creating a trillion dollars of paper money a year and injecting it into a 16 trillion dollar economy (GDP). That it an incredible and unprecedented (at least since WW II) amount of stimulus.

QE can definitely create a boom and even a very big boom. By buying $1 trillion a year of assets, that will definitely push up stock prices and property prices. The question is about sustainability. If home prices go up, then people will have to take out larger mortgages to finance them. That will cause Total Credit to grow. That hasn't happened yet. Total mortgage debt is still contracting slightly. But, it could happen.

But, what then? Will the people be able to pay the interest on their higher mortgage debt? They couldn't in 2008. So it comes down to the growth in Real Disposable Income. Here's the problem. During the first half of 2013 it only rose 0.5% compared with the first half of 2012. Disposable income is not growing because globalization is putting very strong downward pressure on wages.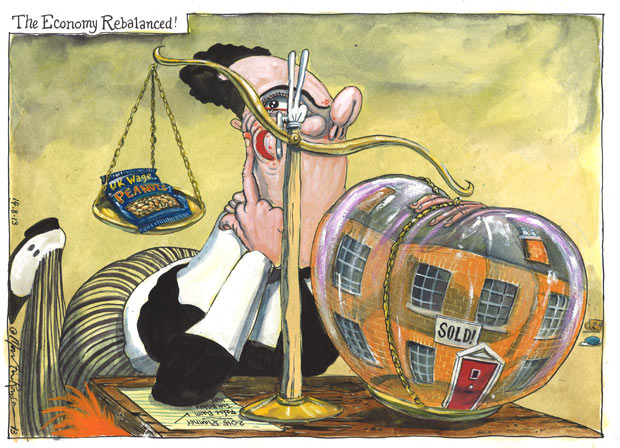 2. Why don't we vote for equality? - The stunning rise in inequality over the last 30 years in many democracies is forcing some to ask why there hasn't been a naked political response by the masses to vote in governments that stop this rise. When will the backlash come? And what form might it take?
Here's a useful academic paper that addresses the issue:
In this paper, we explore five possible reasons why the US political system has failed to counterbalance rising inequality. First, both Republicans and many Democrats have experienced an ideological shift toward acceptance of a form of free market capitalism that offers less support for government provision of transfers, lower marginal tax rates for those with high incomes, and deregulation of a number of industries.

Second, immigration and low turnout of the poor have combined to make the distribution of voters more weighted to high incomes than is the distribution of households. Third, rising real income and wealth has made a larger fraction of the population less attracted to turning to government for social insurance. Fourth, the rich have been able to use their resources to influence electoral, legislative, and regulatory processes through campaign contributions, lobbying, and revolving door employment of politicians and bureaucrats.

Fifth, the political process is distorted by institutions that reduce the accountability of elected officials to the majority and hampered by institutions that combine with political polarization to create policy gridlock
3. The problem with money printing - Literally. America's money printing factories are having real problems getting the printing right for the new US$100 bill, which was supposed to be released in 2011. They're very keen to make it difficult to counterfeit because it is the choice of drug dealers and money launderers all around the world. The trouble it's also very difficult to print...
Here's the New Yorker with the details. No wonder there's so much Quantitative Easing going on. It's so much easier to create money with spreadsheets than actually printing it in a factory onto paper.
For the past few years, the Federal Reserve has been preparing to introduce a redesigned hundred-dollar bill into circulation. It will have a Liberty Bell that changes color, a new hidden message on Ben Franklin's collar, and tiny 3-D images that move when you tilt the bill this way or that. But delay has followed delay. And now again: The New Yorker has learned that another production snafu has taken place at one of the country's two currency factories, according to a document from the Bureau of Engraving and Printing.

The cause of the latest blunder is something known as "mashing," according to Darlene Anderson, a spokeswoman for the bureau. When too much ink is applied to the paper, the lines of the artwork aren't as crisp as they should be, like when a kid tries to carefully color inside the lines—using watercolors and a fat paintbrush.
4. A Baby boomer wave - Here's what America's baby boom looks like in a gif. HT Calculated Risk.
5. 'China can afford to write off its bad debts...just' - Gavyn Davies writes at this FT.com blog about how much of China's bad debts can be absorbed by its government. He reckons it's do-able, but it's not as comfortable as some of the China bulls think.
So could the public sector absorb the costs of a prolonged work-out regime for the financial sector, amounting to 20 per cent of GDP or more? On some estimates, this would take the public debt ratio close to 100 per cent of GDP, which is roughly the same as it is in the US and Europe. However, this would still be clearly sustainable, assuming that the gap between nominal GDP growth and interest rates remains where it is now, and the primary deficit is held at no worse than current levels.

Furthermore, do not forget the asset side of the balance sheet. China owns about $3.5 trillion of foreign exchange reserves, and holds net assets overseas worth 30 per cent of GDP. In the last financial sector work-out, these reserves were used to recapitalise the banking system, and the same could happen again.

Overall, then, there is still time to fix the credit bubble without allowing bad debts in the corporate and financial sectors to take the public sector balance sheet down with them. But public debt ratios are deteriorating fast. Action must start now, and with that action will come a prolonged period of much lower GDP growth.
6. Europe's deleveraging - Here's FTAlphaville looking at the massive scale of deleveraging that still has to happen in Europe. They still have to shed 5.1 trillion euro worth of assets...
Eurozone banks are still 3.2x the size of their domestic economies, on average, much more than other developed countries like Canada, Australia or Japan, where the ratio averages around 2x, and larger than the US, where capital markets are more developed and banks are smaller than the economy.

The prognosis in terms of economic effects seems rather grim, with Gallo and colleagues writing that public support programmes can only partially offset a fall in lending, while the expansion of bond markets "will take a very long time – and perhaps bonds will never really offset banks, in Europe".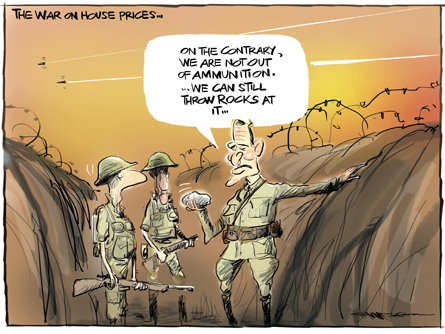 7. Toddler tests - FT reports some New Yorkers are so desperate to get their kids into good schools they will pay US$450 an hour for a tutor that teaches toddlers how to play together on play dates to help them get into the best schools.
Suzanne Rheault, chief executive of Aristotle Circle, which began offering play date experts three years ago, says that some schools "have a 5 per cent acceptance rate, below Harvard at 6.9 per cent. It's like a bloodbath getting into these schools."

Parents are desperate for advice to help their children get into the schools that are seen as a ticket to an Ivy League university. "There's a perfect storm – a lot of money, a lot of immigrants with a focus on education [and] a lot of educated parents keen on getting their child into the best school," she says. "Parents are shameless – they want it so badly."
8. First home buyer subsidies - This Council of Australian Governments report on housing affordability last year concluded that first home buyer subsidies simply push up prices in markets where there are supply shortages. The chart below (courtesty of bond vigilante) shows Australia's first home buyer subsidy programmes seemed to coincide with surges in prices.
Yet our government has just announced increased subsidies for first home buyers in reaction to a surge in house prices caused by (apparently) not enough supply...
Here's the COAG report:
The HSAR Working Party investigated the impact of the FHOG on the Western Australian and Tasmanian housing markets using econometric modelling. The modelling outcomes indicate that the state funded and administered FHOG and the time-limited First Home Owners Boost (the FHOB – introduced by the Commonwealth during 2001 and 2008) tend to increase house prices in both the short and long term. This price increase is more marked in the short term when supply is constrained.
9. Going against the trend - Here's Saxo's Steen Jakobsen arguing that interest rates globally have actually peaked.
"We've seen the high", he says, "and we'll probably even see a new low in terms of interest rates next year based on very low, almost recession like growth".

Jakobsen maintains that interest rates are not the solution to creating growth. They can be supportive but if they really were the answer, the global financial crisis would have been solved some years ago. He argues that the focus has to be on nurturing the small and medium sized enterprises if we're going to see a real change in global fortunes.
10. Totally an American football coach trying to coach Tottenham Hotspur. I laughed.