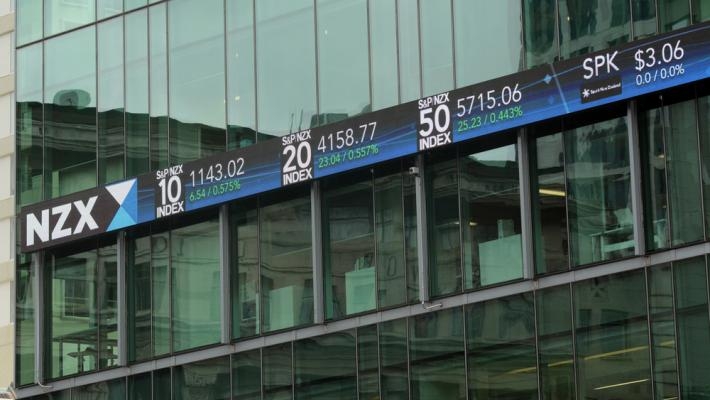 Here is a list of the NZX50 companies as at Friday, 1 Dec 2023, ranked by capitalisation.
This resource allows you to click through to a simple Profile of each company, offering basic details of their operations, earnings and capital structure. These Profiles are not investment analysis and you should approach a qualified investment advisor if you need that information.
We welcome feedback on this resource.
| Rank | Profile | Name | Share Price | Capitalisation bln | NZX50 Share |
| --- | --- | --- | --- | --- | --- |
| 1 | FPH | Fisher & Paykel Healthcare | $23.81 | $13.689 | 12.32% |
| 2 | AIA | Auckland International Airport | $8.07 | $9.672 | 8.70% |
| 3 | SPK | Spark New Zealand | $5.10 | $9.483 | 8.53% |
| 4 | IFT | Infratil | $9.80 | $7.134 | 6.42% |
| 5 | EBO | EBOS | $37.43 | $6.538 | 5.88% |
| 6 | MEL | Meridian Energy | $5.20 | $6.259 | 5.63% |
| 7 | CEN | Contact Energy | $7.80 | $6.066 | 5.46% |
| 8 | MFT | Mainfreight | $67.50 | $5.731 | 5.16% |
| 9 | MCY | Mercury NZ | $6.26 | $4.044 | 3.64% |
| 10 | FBU | Fletcher Building | $4.65 | $3.614 | 3.25% |
| 11 | CNU | Chorus | $7.66 | $3.364 | 3.03% |
| 12 | RYM | Ryman Healthcare | $5.35 | $3.050 | 2.74% |
| 13 | ATM | A2 Milk | $4.14 | $3.010 | 2.71% |
| 14 | GMT | Goodman Property Trust | $2.15 | $2.243 | 2.02% |
| 15 | SUM | Summerset Holdings | $9.40 | $2.163 | 1.95% |
| 16 | POT | Port Tauranga | $5.36 | $1.665 | 1.50% |
| 17 | PCT | Precinct Properties NZ | $1.17 | $1.554 | 1.40% |
| 18 | SKC | SKYCITY Entertainment | $1.89 | $1.430 | 1.29% |
| 19 | FRW | Freightways | $8.21 | $1.352 | 1.22% |
| 20 | KPG | Kiwi Property | $0.84 | $1.319 | 1.19% |
| 21 | GNE | Genesis Energy | $2.37 | $1.268 | 1.14% |
| 22 | PFI | Property for Industry | $2.22 | $1.108 | 1.00% |
| 23 | AIR | Air New Zealand | $0.67 | $1.089 | 0.98% |
| 24 | HGH | Heartland Holdings | $1.59 | $1.002 | 0.90% |
| 25 | VHP | Vital Healthcare | $2.10 | $0.981 | 0.88% |
| 26 | ARG | Argosy Property | $1.11 | $0.937 | 0.84% |
| 27 | SKL | Skellerup | $5.09 | $0.937 | 0.84% |
| 28 | VCT | Vector | $3.70 | $0.918 | 0.83% |
| 29 | ARV | Arvida | $0.98 | $0.704 | 0.63% |
| 30 | SPG | Stride Property | $1.30 | $0.702 | 0.63% |
| 31 | ANZ | ANZ Banking | $26.01 | $0.688 | 0.62% |
| 32 | VGL | Vista International | $2.98 | $0.688 | 0.62% |
| 33 | WBC | Westpac Banking | $22.70 | $0.608 | 0.55% |
| 34 | THL | Tourism Holdings | $3.57 | $0.564 | 0.51% |
| 35 | OCA | Oceania Healthcare | $0.72 | $0.518 | 0.47% |
| 36 | KMD | Kathmandu | $0.77 | $0.501 | 0.45% |
| 37 | VSL | Vulcan Steel | $7.90 | $0.442 | 0.40% |
| 38 | NZX | NZX | $1.37 | $0.432 | 0.39% |
| 39 | SKT | SKY Network Television | $2.82 | $0.412 | 0.37% |
| 40 | SKO | Serko | $4.15 | $0.396 | 0.36% |
| 41 | SCL | Scales | $3.05 | $0.370 | 0.33% |
| 42 | CHI | Channel Infrastructure | $1.48 | $0.348 | 0.31% |
| 43 | FSF | Fonterra Shareholders | $2.98 | $0.316 | 0.28% |
| 44 | MNW | Manawa Energy | $4.52 | $0.308 | 0.28% |
| 45 | IPL | Investore Property | $1.00 | $0.295 | 0.27% |
| 46 | HLG | Hallenstein Glasson | $6.04 | $0.289 | 0.26% |
| 47 | SAN | Sanford | $3.80 | $0.257 | 0.23% |
| 48 | PEB | Pacific Edge | $0.10 | $0.252 | 0.23% |
| 49 | WHS | The Warehouse | $1.78 | $0.203 | 0.18% |
| 50 | SML | Synlait Milk | $1.32 | $0.118 | 0.11% |
|   |   |   |   |   |   |
|   |   | Net Current Assets |   | $-1.054 | -0.95% |
|   |   | ANZ NZD Current Account |   | $0.114 | 0.10% |