Interest.co.nz offers access to a broad readership of New Zealanders who are looking to make both major and routine financial decisions.
The purpose of interest.co.nz is to explain the Aotearoa economy to New Zealanders. This involves both international and local influences. It is a wide brief that has attracted a wide audience.
In 2022, more than 2.5 mln people used the service at least once in the year (3.2 million unique addresses were recorded in 2022 by Google Analytics).
We are free to all readers, for all our content (except the specialist Banking & Finance Daily Newsletter) and monetary tools.
Readership: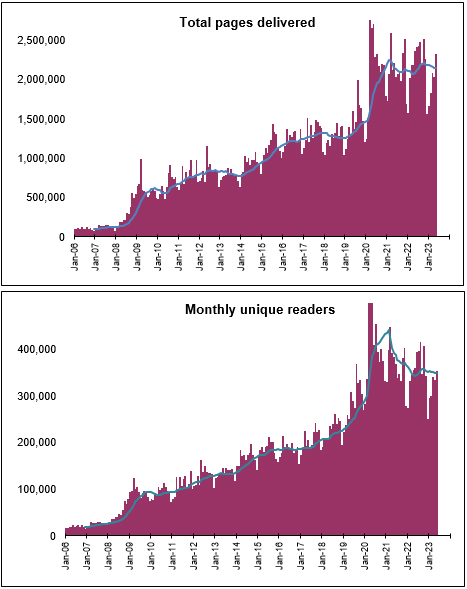 Demographics:
Readers are split 45:55 female:male with a male skew.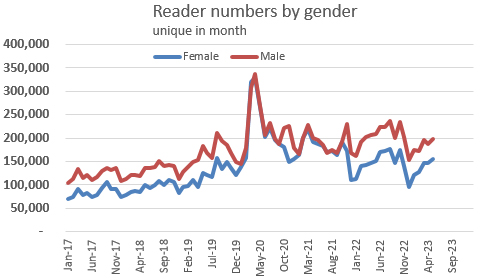 Reader age mirrors life-cycle financial decision making.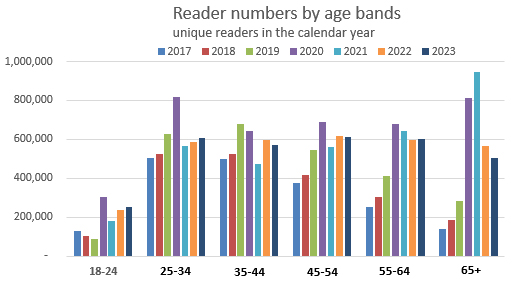 Average Household Income: $160,000 (2022)
- High Socio-Economic Status
- Discretionary Spenders
- 70% have a university degree/diploma
- Professional / White Collar
- Decision Makers
Many other online services refer to pages on www.interest.co.nz  Approximately 50%+ of all traffic comes directly, 30% via referrals from search engines (mainly Google), and 20% from direct references from other websites. Average time-on-site usually runs between 3:50 and 4:00 minutes.
Devices:
About 55% of the content accessed is via a mobile phone, 40% via a desktop device, and 5% via a tablet.
Ranking:
The following shows how we ranked compared with some other key online financial news services. In these rankings, #1 is the largest (in New Zealand, that is Google.com), and the Alexa.com/siteinfo service ranked all New Zealand websites (not just news sites). Here is a track of how we compared:

The Alexa ranking has now been discontinued, but data is available on Similarweb.com which ranks these comparisons and those confirm the Alexa metrics.
Opportunities:
You can access this audience with your message in a number of ways.
1. Banner display advertising
We support most common ad sizes.
Banner campaigns are sold on a CPM (cost per thousand ad impressions) basis. There is a minimum requirement of 50,000 ad impressions per week. Because we deliver in excess of 500,000 pages of content every week, we do not recommend you purchase banner runs of less than 50,000.
We only offer ROS (run of site) placement. You cannot buy placement on specific sections.
We do not offer site skins.
You must meet the advertising standards set by the Financial Markets Authority for all banners that invite prospects to invest. Check with the FMA for full details.
2. Takeovers
Either a home page takeover or a full site takeover, where all display positions are purchased, are available on a per-day basis
3. Hotlinks
Our rate tables can take a logo on any listing. This enables readers to connect directly to an institution's website. With this feature enables, you also get
- hover text (optional)
- url link to the rate numbers in that listing
- hover text for the rate number (optional)
- the logo and links flow through to eDMs
- the logo and links flow through to a table we embed in a news story
4. Featured Rate blocks
Up to two special ad blocks are available at the top of any rate table page.
These blocks are a special size, and must feature a rate.
On the home page, a listing in the RH sidebar table is available.
5. Home page block
This is a tenancy position, all available impressions of the home page in the most dominant position on that page. As a 970x250 billboard.
6. Sponsored Articles
tba
7. Sponsorships
Contact us for more information.
8. Data
In addition, we sell data. We have our own proprietary data sets that stretch back until 2001, and we can supply data in a convenient form for many other series to save you the work of collating it and keeping it up to date.
We also license feeds of our original news articles.
Contact us:
For more information about how you can advertise on interest.co.nz please contact
David Chaston
Publisher
interest.co.nz
09 360 9670
021 997 311
david.chaston@interest.co.nz
Orders must be received in writing, authorised on your official documents.
All orders will be actioned only when pre-paid.
The minimum period for Hotllinks is three months.
All logos or buttons provided must be scalable to the site/page space available, and be in a format we can handle.
Service will cease strictly at the end of the purchased period.
If you are a financial institution, you must have documented directors approval meeting FMA guidelines for all creatives, in advance. We cannot give you advice on this.
GST is additional.
Billing is strictly in advance. All production costs are for the advertisers account. Links from all banners can be either to your site, or your email.