If a bank failed and the Open Bank Resolution Policy was implemented, how would it affect bank depositors, bondholders and shareholders?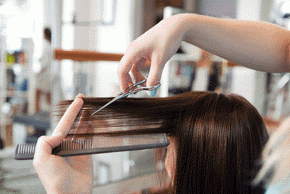 The haircuts taken by depositors in Cyprus' banking crisis earlier this year caused a publicity storm over the Reserve Bank of New Zealand's incoming bank failure tool, the Open Bank Resolution Policy (OBR).
Under attack from the Greens, who were joined by the Labour Party in calling for the reintroduction of a deposit guarantee scheme/deposit insurance, the Reserve Bank strived to distance its OBR from the Cyprus debacle. Finance Minister Bill English weighed in saying it was irresponsible for the Greens to create unnecessary concern when nothing had changed for New Zealand bank depositors.
New Zealand is the only OECD country without explicit deposit insurance. See more on this here.
OBR is touted as a potential tool the Government could use - if a bank failed - as an alternative to a liquidation or taxpayer funded bailout that would keep a bank open for business. The Reserve Bank says, if used, OBR would facilitate "a rapid and orderly resolution of a bank failure" without changing the basic legal framework around ranking of creditors in a wind-up or insolvency.
In an April speech the Reserve Bank's head of prudential supervision, Toby Fiennes, pointed out it was a well-established legal principle that people stand to lose money if a business that owes them money cannot meet all its obligations. Banks were the same as any other business in this regard, Fiennes added, and OBR wouldn't change the ranking of creditors.
"Shareholders will be the first to lose their investment. Once shareholder funds are exhausted, subordinated creditors bear losses, followed by all other unsecured creditors on a pari passu basis, meaning that those with an equal legal claim get equal treatment. This is the same as in a liquidation," Fiennes said.
Below we've put together a chart showing how risk moves downwards from shareholders to covered bondholders to give context to where depositors (and others) sit in the pecking order in comparison to other bank creditors.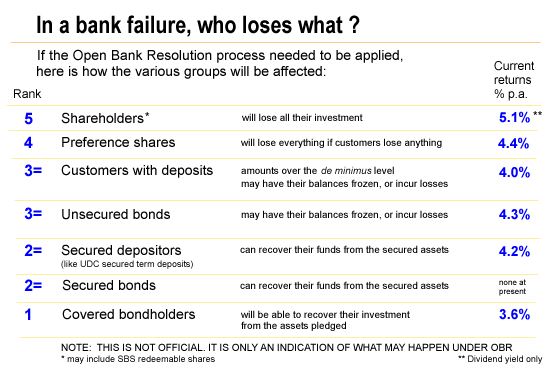 The only secured deposits on a New Zealand bank balance sheet interest.co.nz is aware of are those issued by ANZ subsidiary UDC Finance. As of March 31 UDC had NZ$1.467 billion worth of secured debentures on issue,  with NZ$2.125 billion worth of UDC tangible assets pledged as collateral for the debentures.
New Zealand's registered banks are required to prepare their information technology systems by June 30 this year so they could accommodate OBR if it were to ever be implemented. 
The de minimis
Under OBR a troubled bank would be placed into statutory management. The statutory manager would freeze the bank's liabilities including deposits. The idea is to release customers' transaction accounts as soon as possible. So instead of their accounts being frozen for a lengthy period as they would under a conventional liquidation, a proportion of customers' money would be unfrozen and released for the start of the next business day, with a government guarantee to prevent further runs on the bank. The frozen funds would then be released in whole or in part as possible.
As noted above, under OBR shareholders would be the first to lose their investment. Once shareholder funds were gone, subordinated creditors would be next to wear losses, followed by all other unsecured creditors.
There is, however, scope for a "de minimis". This would be  a nominal dollar amount in relevant customer accounts protected from haircuts and fully available to account holders when the bank reopens the next business day after the appointment of a statutory manager. The purpose of this de minimis is to help customers with limited resources fund everyday expenses. The Minister of Finance would decide whether to set a de minimis amount, and determine what this amount is if one is set. See all our OBR related stories here.
The Reserve Bank says the key processes of OBR would include the following phases:
• imposition of statutory management;
• closure of access channels and freezing liabilities;
• freezing a portion of pre-positioned customer accounts and freezing all other creditors' claims in full (overnight process);
• bank re-opens for core transaction business and allows customers to access the non-frozen portion of their funds;
• release of an equivalent portion of all other liabilities in due course;
• release of additional frozen funds, if available, following more accurate assessment of losses; and
• decisions on the bank's final resolution.
This article was first published in our email for paid subscribers. See here for more details and to subscribe.