NZ doesn't have deposit insurance due to moral hazard and the difficulties of defining boundaries and pricing, but it could easily be accommodated, RBNZ says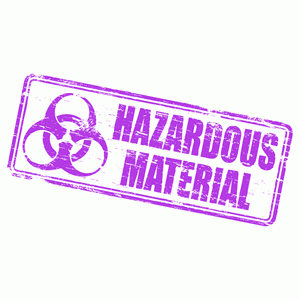 By Gareth Vaughan
New Zealand depositors lack the insurance present in many other countries because the dangers of moral hazard issues and the difficulties of defining boundaries and pricing are viewed by officials here as bigger concerns than consumer protection, the Reserve Bank says, noting, however, that it could easily be accommodated.
In a speech entitled Handling banking failures delivered to the Institute of Directors in Wellington, the Reserve Bank's head of prudential supervision, Toby Fiennes, said deposit insurance could "easily" be accommodated within the central bank's toolkit including the incoming Open Bank Resolution (OBR) Policy, which is designed to deal with bank failures.
"New Zealand does not currently have deposit insurance, for reasons that are more to do with moral hazard and the sheer difficulties of defining boundaries and pricing than consumer protection," Fiennes said. "We believe it is better to keep the risk of failure very low, including through a strong regulatory framework, than to build structures that can distort incentives and behaviour."
"If, however, deposit insurance were to be introduced, it could easily be accommodated within our toolkit of OBR and other crisis measures. It is not a case of choosing between one or the other - they have different objectives and can work alongside one another if need be."
The current government doesn't want to introduce deposit insurance, an issue that flared up after the recent collapse of the Cypriot banking system. Prime Minister John Key says a deposit guarantee scheme would prove too costly for consumers because banks would pass on the cost of any deposit insurance levy to consumers.
Labour, Greens want deposit insurance
However, things may change if Labour and the Greens get into power. Green Party co-leader Russel Norman wants an Australian style deposit guarantee scheme and Labour's finance spokesman David Parker says a Labour-led government would ensure the first NZ$30,000 of all bank deposits were protected and not subject to a haircut in the event of a bank failure. Norman says NZ$100,000 is a "fair level" of protection for New Zealand savers.
In his speech Fiennes said he wanted to stress that New Zealand banks are sound and stable and the Reserve Bank sees the risk of failure currently as very low.
"But there's always the remote possibility that a bank does get into trouble, at some point. If that happens there are no simple solutions. It will be messy, people will lose money and how it is dealt with will depend on circumstances at the time," said Fiennes.
"OBR is a tool that gives government an additional option to taxpayer bailout or liquidation. It is not the only option that will be available on the day. Its mere existence provides important incentives for bank shareholders and management to minimise the risk of failure."
Fiennes said deposit insurance usually involves the establishment of an insurance fund, to which banks contribute.
"There are many different variations on, and within, that basic framework, but OBR can cope with all of them. For example, if there's an insurance fund, the fund itself could stand as a creditor in the OBR. This is how the FDIC (the US deposit insurer) is treated in failed US banks."
He said there were three reasons why New Zealand doesn't have any form of deposit insurance or deposit guarantee;
 – Deposit insurance is not always effective in preventing bank runs by retail depositors. UK-based Northern Rock suffered a classic retail run in 2007, despite a deposit insurance scheme being in place.

– Deposit insurance is hard to price accurately and fairly, and brings with it difficult boundary issues. Should it be just for banks – as is currently the case for OBR – or should it also include finance companies, building societies and credit unions? How would we ensure that the least risky banks do not end up subsidising the more risky?

– Deposit insurance will increase moral hazard, making the banks more susceptible to failure, which brings with it the need for more, costly regulation. Where losses suffered by a bank are very large, the magnitude of claims may overwhelm the resources of a deposit insurance fund.
'Not a one-way street'
Fiennes said it was also unlikely that deposit insurance would prove to be a one-way street.
"Once it is put in place, it would be difficult to remove. On the other hand, some form of depositor protection arrangement may make it easier for the government of the day to impose a resolution such as OBR that does not involve taxpayer support – in effect the political "noise" from depositor voters is dealt with," said Fiennes.
He also pointed to a recent paper by World Bank staff assessing how deposit insurance affected bank risk. Drawing on data across 96 countries during the pre-global financial crisis (2004-06) and crisis (2007-09) periods. They conclude that the "moral hazard effect" dominates in good times, in that the existence of a deposit insurance scheme does lead to riskier behaviour by banks, Fiennes said.
"During a crisis, bank risk is lower and systemic stability greater in countries with deposit insurance coverage. By comparing the magnitude of both effects, they conclude that 'the overall effect of deposit insurance over the full sample remains negative.' In other words, they conclude that a deposit insurance framework increasing the likelihood of bank failure is a greater concern than the absence of an insurance framework worsening the impact of a crisis," said Fiennes.
This Reserve Bank of Australia sourced chart, (below), shows details of deposit guarantee, or insurance, schemes on offer in other countries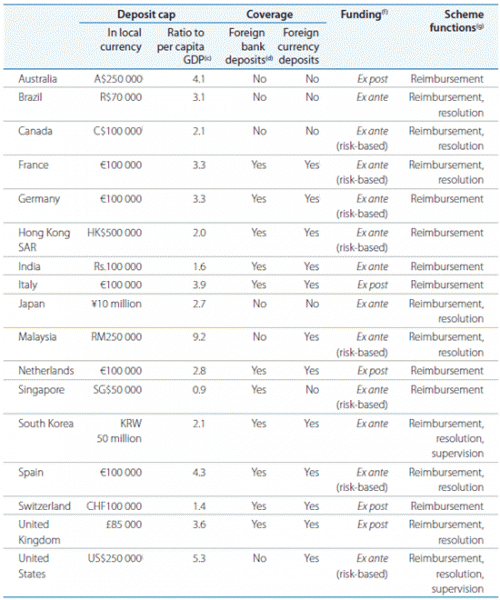 OBR 'a mechanism for reopening a bank very rapidly after a failure'
Fiennes also set out to explain, and defend, the OBR policy. The primary purpose of it was to ensure the financial system continued to function as smoothly as possible by keeping payment systems open so people and businesses could transact with each another.
"It is, as its name implies, a mechanism for reopening a bank very rapidly after a failure event. There is detailed information on our website about the process so I won't go through it in detail now. In outline, when a bank is in trouble and we think it is unlikely to be able to meet its obligations in full and/or on time, it will be placed into statutory management. The statutory manager will legally freeze the bank's liabilities. The basic idea is to release transaction accounts to the bank's customers as swiftly as possible so they can carry on making and receiving payments," said Fiennes.
"Instead of their accounts being frozen for a lengthy period as they would under a conventional liquidation, a proportion would be unfrozen and released for the start of the next business day (with a government guarantee to prevent further runs on the bank). Non-transaction accounts would be released, also in the same proportion, in line with their maturity. The frozen funds would be released in whole or in part as resources are available," Fiennes added.
New Zealand's registered banks are required to pre-position their systems by June 30 this year so the OBR process can operate, if it's ever activated. The Reserve Bank has previously said OBR could save taxpayers' more than NZ$1 billion whether there's a bank failure or not. It estimates pre-positioning is costing the banking industry an initial investment of NZ$20 million, plus a net cost of NZ$1 million per annum for ongoing maintenance.
An alternative option
"OBR is about keeping a bank open and providing the government with real alternatives to liquidation or full taxpayer bailout – both of which may be totally unpalatable. It facilitates a rapid and orderly resolution of a bank failure. It does so without changing our basic legal framework around ranking of creditors in a wind-up or insolvency. In particular: It does not change the fact that depositors' and other creditors' funds are at risk," said Fiennes.
"It is a well-established legal principle that people stand to lose money if a business that owes them money cannot meet all its obligations. Banks are the same as any other business in this regard."
Nor does OBR change the ranking of creditors.
"Shareholders will be the first to lose their investment. Once shareholder funds are exhausted, subordinated creditors bear losses, followed by all other unsecured creditors on a pari passu basis, meaning that those with an equal legal claim get equal treatment. This is the same as in a liquidation."
Fiennes went on to say "the mere presence of OBR in the toolkit will impact expectations of government support." Nonetheless, he acknowledged OBR would not be the only option in a crisis.
"A government could still decide to bail out a bank or allow a bank to go into liquidation, if it felt the risks of doing so were small. But it is critically important to have a tool such as OBR in the crisis toolkit, to maximise options for the authorities on the day," said Fiennes.
(Update adds further detail).