Farms sold in New Zealand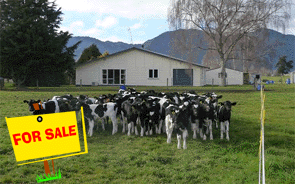 January 22, 2020
These details are drawn from the Real Estate Institute monthly reports for December 2019, and focus only on farm sales - excluding lifestyle blocks.
The market recorded 153 sales, which is -16% below the same month last year and -20% below the average December over the past four years.
The median price per hectare was $38,152 in December 2019, -4% lower than November, and -6% below December 2018.
December 2019 sales included:
11 arable farms,
23 dairy farms,
27 finishing units,
  7 forestry properties,
74 grazing properties,
10 horticultural farms,
  1 special farms

You can find current farms for sale and listed on the market here.
[ REINZ have asked us to remove the price/ha data. They have also ceased supplying regional data for the chart below, butthe national data is up-to-date.]
For more perspectives, see
- Exchange rates
- Commodity prices
- Farm cost indexes
- Interest rate trends
- Rural credit aggregates
- Farm sales activity
- Farms for sale
- International dairy prices