Farms sold in New Zealand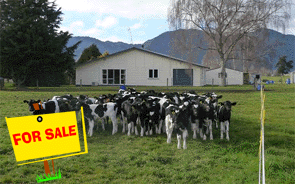 June 25, 2021
These details are drawn from the Real Estate Institute monthly reports for May 2021, and focus only on farm sales - excluding lifestyle blocks.
The market recorded 123 sales, which is +42 above the pandemic-affected month last year but -3% below the average May over the prior four years.
The median price per hectare was $28,250 in May 2021, down -5% from April 2021, but up +22% from May 2020.
  2 arable farms,
  6 dairy farms,
53 finishing units,
  0 forestry blocks,
66 grazing farms, (incl 'others')
14 horticultural farms.

You can find current farms for sale and listed on the market here. Please note that in March 2021, the REINZ chnaged the way it reports farms sales, so comparisons with prior periods may not be on exactly the same basis.
[ REINZ have asked us to remove the price/ha data. They have also ceased supplying regional data for the chart below, but the national data is up-to-date.]
For more perspectives, see
- Exchange rates
- Commodity prices
- Farm cost indexes
- Interest rate trends
- Rural credit aggregates
- Farm sales activity
- Farms for sale
- International dairy prices