BusinessDesk: Half-year profit at Meridian, one of the SOEs earmarked for partial privatisation, falls 20%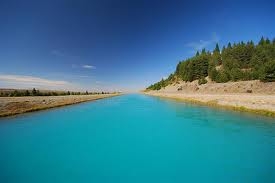 Half-year profit at Meridian, one of the SOEs earmarked for partial privatisation, falls 20%
Meridian Energy has reported stable earnings for the six months to Dec. 31, though the sale of its Tekapo A and B hydro stations to fellow state-owned generator Genesis Energy saw profit fall 20 percent to $98.9 million.
The figure excludes typically volatile changes in the fair value of financial instruments, which fell $89.4 million in the half-year, reflecting non-cash impacts of Meridian's contracts with its largest customer, the Rio Tinto aluminium smelter at Tiwai Point, near Bluff. While total revenue in the first half rose 11.7 percent to $1.223 billion, that was the result of higher average wholesale power prices, which also increased Meridian's internal cost of sales. See Meridian's bond issuer page here.
Energy-related expenses of $559.4 million in the most recent half compared with $394.1 million in the same period a year earlier, as the average price of electricity was 52 percent higher than in the prior period, at $76.23 per megawatt hour. Earnings before interest, tax, depreciation, amortisation and changes in the value of financial instruments were down 17 percent at $294.3 million. Partly reflecting the loss of the Tekapo units, total generation for the period was down 9 percent at 6,284 gigawatt hours.
Underlying return on equity, excluding revaluations, fell 25 percent to 16.2 percent, although the recently appointed chief executive, Mark Binns, said the company had increased net profit after tax by 13 percent on a like for like basis, excluding the Tekapo assets.
"Meridian has achieved a sound financial performance during a challenging period," he said, labelling the result a "stable" outcome.
The six-monthly accounts show Meridian wrote off $6.9 million against the cost of its failed six-year pursuit of a major windfarm project in the Maniototo region of Central Otago. One of Binns' first major acts was to can the controversial Project Hayes, which faced years of legal challenges at the same time as it became a less attractive development option.
The accounts also suggest Meridian intends taking its successful web-based retail subsidiary, Powershop, to Australia, having registered an Australian business named Powershop in December last year. Powershop was again a stellar performer in terms of gaining new customers, with 25 percent growth in the half, and accounting for most of Meridian's total customer growth of 4 percent, giving the group a total of 283,157 connections at Dec. 31.
The total value of group assets was down $351 million at $8.426 billion, reflecting the sale of the Tekapo units under government policy changes intended to stimulate retail market competition. In notes to the accounts, Meridian also gives details on the new 18 year contract it's signed with New Zealand Aluminium Smelters, which kicks in from Jan. 1 2013, and which it describes as a "pricing agreement rather than a supply agreement."
"NZAS will be responsible for purchasing electricity from the national market itself, and Meridian will provide NZAS with price certainty for that electricity," the notes say.
"The agreed base price under the new agreement is significantly higher than under the current electricity supply contract," which constitutes around one-seventh of total electricity consumption in New Zealand, and whose price has never been publicly disclosed.
"The base price is subject to escalation with reference to a multi-year average market price for electricity in New Zealand, the world price for aluminium, and a component as a proxy for price inflation, "Meridian considers this formula will best ensure that the electricity price NZAS pays will remain competitive for electricity demand of the unique type created by the smelter, while recognising the commodity-price driven cycles of NZAS's business environment and the wholesale electricity price cycles to which Meridian is exposed."
The agreement also reduced transmission risk, and "results in a substantial improvement in the core pricing and risk profile when compared to the existing supply contract." Meridian is the largest of three government-owned power companies slated for partial privatisation in the next five years.