NZ Post sees losses from postal services by 2016/17, or earlier, without changes to Post deed to cut deliveries to 3 times a week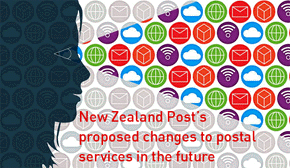 By Bernard Hickey
Government-owned New Zealand Post, which has borrowed NZ$200 million from investors in bonds callable from 2038, has warned its postal services will be unprofitable by 2016/17 or earlier unless it is allowed to change its Post Deed with the Government to cut mail deliveries to three times a week and to convert more than 70% of its 880 post offices to self-service kiosks.
New Zealand Post has announced proposals for major changes in its Universal Service Obligations in its Post Deed, arguing that it is forecasting a further 44% drop in mail volumes by 2016/17 and must have more flexibility. It warned that sticking with the status quo would force it to ask for a subsidy starting at around NZ$30 million a year and rising NZ$10 million a year after that.
"During the last 10 years mail volumes have dropped considerably, with 265 million fewer items being posted each year compared to 2002. Within five years, mail volumes are forecast to be nearly half what they were in 2002," Communications and IT Minister Amy Adams said in a statement.
"New Zealand Post has advised me that it considers changes are needed to ensure a sustainable postal service in the 21st century," she said, adding any change would require Government approval and she wanted public feedback on the proposals.
"In deciding whether to accept or reject the proposal or seek to negotiate a compromise, I will look to balance the interests of postal users with the need to ensure a financially-viable postal service."
New Zealand Post's proposed changes included cutting deliveries to a minimum of three days a week and having more self-service kiosks. It pledged not to reintroduce a rural delivery fee.
"If New Zealand Post does not make the necessary changes, as shown by the following graph, its postal services business will start losing money from 2016/17, and potentially earlier," it said.
"New Zealand Post's ability to make the necessary changes is constrained by the 1998 Deed. Mail processing capacity can be scaled back to match the declining demand, but the terms of the 1998 Deed - and in particular the requirement to provide five or six day delivery to 99.88% of delivery points - prevent a redesign of the processing and delivery networks as a whole," NZ Post said.
"For New Zealand Post to develop a sustainable business model in response to irreversible volume decline, fundamental redesign is required."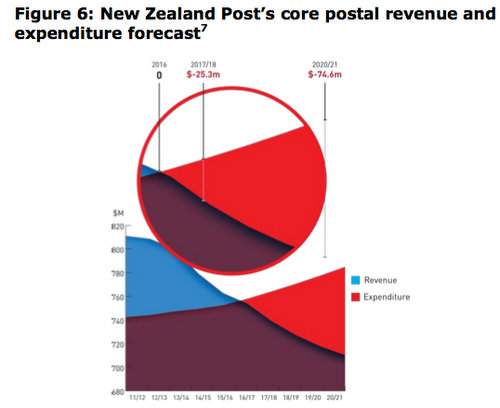 See more on NZ Post's proposal here.
Here is NZ Post's 66 page discussion document.
NZ Post also pointed to an expected fall in bill payment services as payments previously made at Post shops and franchised outlets goes online.
It said it expected to reduce the number of post offices and redesign the ones that are left. It would also move to more franchised and agency outlets.
"These changes are likely to involve less ownership of outlets by the New Zealand Post Group, with a focus instead on agency and franchise models whereby postal outlets are hosted within other businesses. That will mean more local community ownership of New Zealand Post outlets," it said. It also planned more self-service kiosks.
Since its 1989 deed, NZ Post had to maintain 880 outlets with 'over the counter' services.
"New Zealand Post is proposing that the new deed retain the minimum of 880 outlets that is in the 1998 Deed, but that the reference to ̳over the counter' services be removed. New Zealand Post is proposing that the new deed explicitly provide that the network of at least 880 service points may be made up of a combination of outlets owned by New Zealand Post, services hosted in other businesses and electronic self-service kiosks," it said.
As at 30 June 2012 New Zealand Post's retail network included 139 corporate PostShops offering postal and agency services; 147 ̳franchise' postal outlets offering postal and agency services; and 608 Post Centres offering postal services only. In addition, over 1500 resellers (e.g. bookshops, supermarkets, dairies and petrol stations) distribute New Zealand Post postal products (e.g. stamps and postage-included envelopes).
It is proposing the network have 880 service points in total, including no fewer than 240 where consumers can, in addition to purchasing postal services, use such bill payment services as New Zealand Post may provide from time to time. The network may be made up of a combination of outlets owned by New Zealand Post, services hosted in other businesses and electronic self-service kiosks.
Rural impact
NZ Post acknowledged the changes would have a big impact on rural areas because many rural delivery drivers also delivered newspapers, food and groceries. A move from 5 or 6 day a week delivery to 3 times a week would have a significant impact.
"If New Zealand Post no longer paid Rural Post drivers for five or six day per week delivery, those other goods would not be able to be carried without extra payments to drivers, whether by the provider of those other goods, the receiver, or otherwise (e.g. via a subsidy). Therefore, changes to rural delivery frequencies would have a potential impact that is wider than changes to delivery frequency in urban areas," it said.
NZ Post left open the option of charging fees for rural deliveries at frequency of greater than 3 times a week.