Fitch affirms NZ credit ratings, retains stable outlook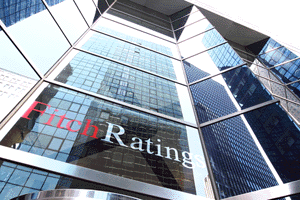 Fitch Ratings has affirmed its sovereign credit ratings on New Zealand and retained its stable outlook.
The credit rating agency affirmed NZ's long-term foreign and local currency issuer default ratings at 'AA' and 'AA+' respectively. The outlook remains stable. See credit ratings explained here.
The Fitch affirmation comes after fellow credit rating agency, Standard & Poor's, also affirmed its ratings on New Zealand, with the outlook remaining stable, late last month.
Fitch says its stable outlook on NZ's ratings balances the prospect of fiscal consolidation and stabilisation of public debt ratios against an expectation already-high net external indebtedness will rise further, exacerbating a long-standing credit weakness. NZ's economic policy framework, level of development and standards of governance rank among the world's strongest from a credit perspective, adds Fitch, and warrant high-grade sovereign ratings.
"The sovereign has no history of debt default," Fitch says.
'High net external indebtedness a central sovereign credit weakness'
Nonetheless the credit rating agency says NZ's high net external indebtedness is a central sovereign credit weakness.
"Net external debt was 214% of current external receipts at end-2012 against the 'AA' range median of a net creditor position of 105%, and an OECD median net debtor position of 63%. Fitch projects NZ's current account deficit will widen and net external debt ratios will rise further over the forecast period (to 2015), led by accelerating residential construction and the reconstruction of Christchurch, a city affected by major earthquakes in 2010 and 2011."
However, Fitch notes NZ's public indebtedness is below that of many advanced-economy peers.
"Direct public debt plus local government debt is projected at 42.9% of GDP at end-June 2013, up from 20.7% at end-June 2008 and above the end-2012 'AA' range median of 36.9%. The 22.2 percentage point rise in NZ's debt since 2008 exceeds the median rise for the OECD countries over 2008-2012 of 16.3 percentage points. However, Fitch expects NZ's ratio will decline from 2014 given the strength of the cross-party consensus on fiscal consolidation."
'NZ households relatively highly leveraged'
Fitch also notes NZ's households are "relatively highly" leveraged, with  household debt at 144.5% of disposable income at the end of 2012, compared with about 100% in the United States.
"Moreover, NZ's household indebtedness has declined only modestly from a peak of 153% of disposable income at end full-year 2009. The ratio has been rising since end-June 2012 as credit growth to households has re-accelerated. However, NZ's banks are relatively strong on a stand-alone basis and are largely foreign-owned, limiting the contingent liability on the sovereign to support the system in the event of need."
Fitch also points out NZ's 'relatively low domestic savings", which it says underlies NZ's credit weaknesses of high external debt and private-sector leverage. The domestic savings rate averaged 21.5% over 2003-2012 against the OECD median of 23.3%.
But it says NZ's economic performance supports its credit ratings.
"GDP growth averaged 1.7% per annum over 2009-2013, not far below the median for 'AA' rated peers (2.2%), and above the median for 'AAA' rated peers (0.8%). NZ's growth has been less volatile than either rating category median. Inflation has been lower and less volatile than the 'AA' category median."
"Nevertheless, NZ's economy is highly commodity-dependent in comparison with other advanced economies, reflecting the importance of the country's agricultural sector."
'Upside & downside risks to the rating well balanced'
Although this reflects NZ's comparative advantages, Fitch says it exposes the country's economic stability and sovereign credit profile to business risks in the farming sector.
"A serious and lingering health issue such as an outbreak of foot and mouth disease would likely have a strong and lasting adverse effect on the economy and the broader credit profile, if it occurred, although the likelihood is low in Fitch's estimation," says Fitch.
Meanwhile, the stable outlook reflects Fitch's assessment that upside and downside risks to the rating are currently well balanced.
"Consequently, Fitch's sensitivity analysis does not currently anticipate developments with a high likelihood of leading to a rating change."
The main factors, individually or collectively, that could lead to positive rating action are; Further progress in fiscal consolidation leading to an outlook for sustained reductions in public debt ratios; Rebalancing of the economy that put New Zealand's net external debt ratios on a sustainable downward path.
The main factors, individually or collectively, that could lead to a negative rating action are; A sharp and sustained rise in New Zealand's external borrowing costs that imposed a disruptive tightening on NZ's monetary and credit conditions sufficient to have a durable negative impact on growth, employment, the public finances, and the health of the banking system; A negative shock to the real economy with similar lasting adverse effects, exceeding the typical cyclical volatility of the economy; A wider and/or longer-lasting current account deficit than Fitch currently projects, leading to higher net external debt ratios relative to peers.
Fitch says its ratings and outlooks are sensitive to a number of assumptions. These include an assumption the outlook for the global economy will remain broadly in line with the projections laid out in its June Global Economic Outlook. And the ratings incorporate an assumption NZ's savings and productivity performance don't undergo a sharp structural change relative to historic behaviour over its forecast period to 2015.
Meanwhile, Fitch also affirmed its short-term issuer default rating on NZ at 'F1+', and the "country ceiling" was affirmed at 'AAA'.