Alison Brook notes there is much being written about the long term effects of the pandemic on consumer behaviour. But will recent changes be permanent once the pandemic threat has passed?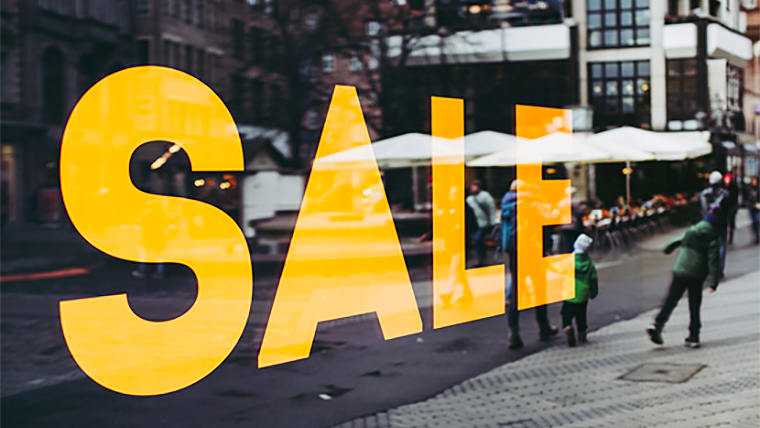 There is much being written about the long term effects of the pandemic on consumer behaviours and values. But will people's behaviour really change permanently once the pandemic threat has passed?
Consumer behaviours tend to be remarkably stable and past pandemics and disasters have shown us that for the most part people snap back to old habits once the immediate risk recedes.
A recent survey of 15 countries by Accenture suggests that consumers certainly expect some of their new habits to stick, particularly the focus on buying local, cost-consciousness, concerns for health and safety and sustainability (for example a desire to reduce food and packaging waste). However, it is more likely that any enduring changes in consumer behaviour will occur as a result of structural changes set in motion by the pandemic – increased working from home, adoption of online shopping and in many cases the impacts of reduced incomes - rather than the behaviours themselves.
Digital commerce gets a shot in the arm
All of the recent studies on consumer behaviour since the pandemic agree on one thing: consumers have decisively switched to online purchasing and now they have made the shift, they intend to stay that way. And it is not just individual consumer behaviour. McKinsey finds that B2B customers are also changing their purchasing patterns, preferring to conduct business online where possible.
In New Zealand, online sales spiked as a result of social distancing and health concerns, with NZPost receiving a record-breaking number of parcels a day.
Google trends result "Online shopping" in NZ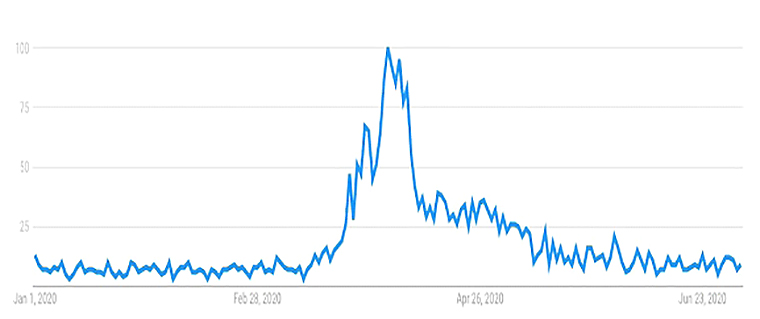 Source: Google Trends
Online purchasing has almost doubled in the last four years (according to a Boston Consulting Group survey of Australian consumers). However, the pandemic has also encouraged many more Baby Boomers and older consumers to make first-time online purchases, while all age groups have purchased goods from a new category online since the onset of the pandemic.
Online grocery shopping, which had experienced slow adoption pre-pandemic, has seen a huge spike in demand. In mid-2019 online food and beverage shopping accounted for just 3 percent of the sector spend. By April of this year, Countdown's e-store in New Zealand saw growth of 300 percent. The predictions are that once people are comfortable with online shopping the convenience and time-saving advantages means they are unlikely to revert back to previous behaviours.
The work from home revolution
If working from home permanently increases post-COVID it will be one of the biggest changes in workplace practice since the industrial revolution. The signs are there that it will be a permanent shift with a number of NZ companies announcing new ongoing work from home arrangements, and if so it will have dramatic impacts on where and what we consume.
There won't be the same need for corporate clothes or luxury goods and according to a KPMG study, people will increasingly seek out larger homes with space for work and home offices, while the demand for smaller central city dwellings will decline.
More white-collar workers spending more time – and money – close to home will also see services popping up in suburban areas that previously would have been previously clustered around office buildings.
As people become accustomed to spending more time at home they are also more likely to cook and eat at home which is not good news for the already struggling restaurant industry.
Embracing a simpler life
Unlike basic necessities such as groceries, many people are delaying making big purchases. Luxury brands and products are also suffering a big hit, with the Boston Consulting Group survey suggesting 64 percent of consumers will continue to avoid premium or luxury products in favour of basic or simple alternatives. However will there be a long term move towards a more frugal existence?
Whether this is a trend that continues will ultimately depend on wage growth and security. Past recessions have shown that there tends to be long term downward pressure on wages long after the recession has technically passed so these purchases could be depressed for some time. As was seen in New Zealand after the Global Financial Crisis wages continued to rise during the recession (particularly in the public sector), but fell away and stagnated in the years that followed: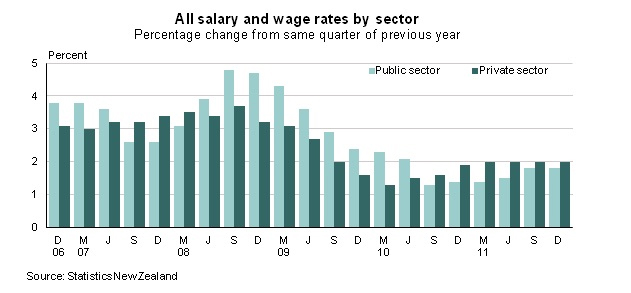 As Utpal Dholakia points out in Psychology Today there were similar predictions after the GFC that consumers would continue to buy cheaper brands and pursue a more minimalist lifestyle indefinitely. However, purchasing habits and tastes are ultimately very hard to break and people tend to revert back to normal when they can "once the economic and social conditions in which they thrive return".
---
*Alison Brook is from the Knowledge Exchange Hub at the Massey University campus at Albany, Auckland. She is on the GDPLive team. This article is a post from the GDPLive blog, and is here with permission. The New Zealand GDPLive resource can also be accessed here.