Zuru's Anna Mowbray on how her business has thrived in South China, and how other New Zealanders can leverage the rapidly growing talent and innovation of our largest trading partner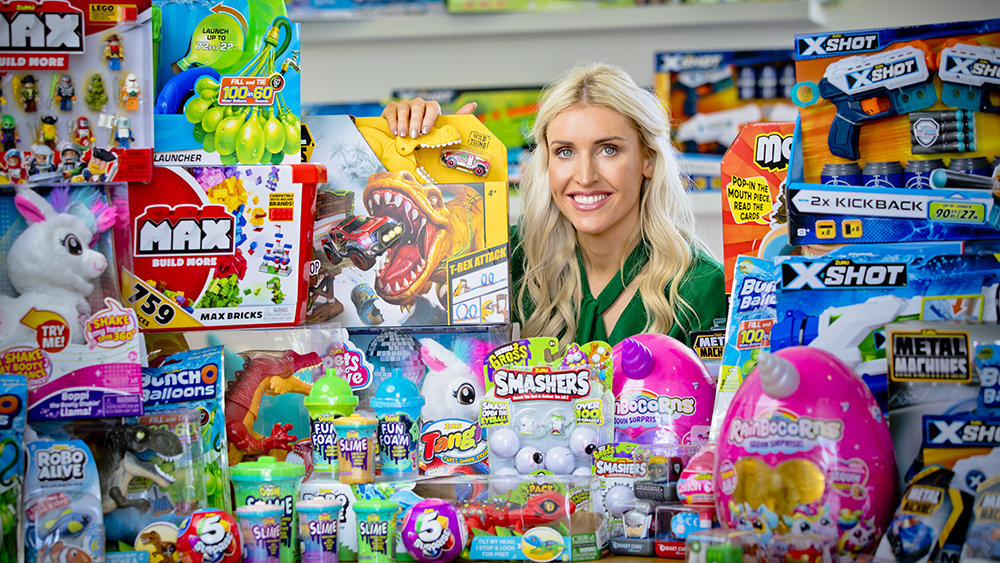 The New Zealand China Council has a podcast series featuring New Zealanders and their businesses in China. It will be a regular series.
---
The first interactions Kiwi business people have with China are often arm's length, working with distributors, government agencies or other intermediaries. 
Not so for Anna Mowbray, Chief Operations Officer of Zuru.  With no language skills and little knowledge of Chinese culture, Anna relocated to Southern China in 2005 to work with her brothers turning ideas for innovative children's toys into a business. 
Throwing herself into the deep end came with its challenges, but Anna credits the experience for much for the success that Zuru, now the world's third-largest privately-owned toymaker, has since enjoyed. 
"We were living hand-to-mouth.  I had a mattress in a tiny room above the factory floor.  I had no air conditioning.  The shower was above the toilet.  It was full of mosquitos.  We were eating noodles that cost about 45 cents a plate, and that was our staple meal twice a day."
The economic reality even meant taking back salaries from their local employees to forward fund production, but Anna says her naivete was a blessing, giving her a 'barrierless' approach to starting and operating a business in China.
"It was a time we were so passionate we didn't care about the conditions.  That didn't matter or factor into the conversations at the time.  We were living with what we had to make sure we could fast track the business."
Anna says the decision to base the company in Guangzhou ultimately came down to their desire for Zuru to become an outstanding leader in its category.
"When you look at the global economy and where the manufacturing hub is, it's China.  So it was about positioning ourselves in the best location for success.  It's the supply chain, the manufacturing know-how, and China's undying urge and desire as a nation to be moving forward and growing."
Anna says her brother Mat was keen to ensure they had complete vertical integration from day one, so understanding the manufacturing piece of the puzzle was critical.  This sets Zuru apart from industry players like Hasbro and Mattel, which continue to outsource much of their China operations. 
"A huge advantage is being there, on the ground, setting up and running all the operations.  I understood the cost of everything, taxation, government regulations.  We cut out all the middle man costs and extra layers that other businesses have.
"Also the process of designing and implementing tooling, and how to implement this into online production.  It's given us huge leverage and capability and a skill set that makes us a powerhouse in the industry."
"The energy the city has … tapping into it is so powerful"
Shifting operations to the city of Shenzhen was another pivotal decision that drove the early success of Mowbray and her brothers, with access to a highly educated and motivated talent pool and excellent proximity to buyers in Hong Kong.
Anna says Shenzhen is unparalleled for its young, educated workforce, as well as its energy and forward-momentum, which have helped the city become a magnet for start-ups and entrepreneurs from around the world. 
Zuru's core team from Guangzhou relocated with the company to Shenzhen, giving Anna what she calls her 'voices of China'.  This team was trusted to make decisions on local employment and to instil the mentality the Mowbray's had built up into their growing Shenzhen team.
"One of the key things for us is that we already had this great established team.  Back in day 20 when we took their salaries back, they trusted us.  They ensured we were positioned best and were doing everything they could to ensure the success of Zuru."
Anna says contrary to how much of the world views China's workforce, there has been a 'huge switch in the dial', and now, creativity and innovation are everywhere.
"There was almost a belief in China that they couldn't innovate.  You saw that breaking out over the last ten years in China, you saw the flourishing of companies like DJI and a new silicon valley popping up, that has really transitioned things into a country that could develop new, innovative products."
This belief in innovative and fresh thinking dominates Zuru's approach to hiring, both in China and back home in New Zealand, where Zuru is currently in expansion mode. 
"We've always really believed in and embodied meritocracy.  It doesn't matter about your age or experience, it's your attitude and your ability to challenge the norms, push through and rise up and allows you to succeed in life.
"We love the young, fresh, impressionable person who is able to do things differently and pave a new path."
Zuru is currently developing Zuru Edge, it's FMCG business which will leverage China's consumption-led growth and also assist New Zealand brands to enter the Chinese market.
"We're opening doors for our FMCG items to be marketed in China...there are lots of synergies we can do with New Zealand and New Zealand brands to help them move into China in an easier fashion."
"Invest on the ground"
Anna has one strong piece of advice for Kiwi businesses starting out on their China journey or considering setting up operations in China.
"Invest on the ground, in China, in your people, because they are your doors to success. Investing there means you're seeking to understand, that you're observing, you're learning, you're adapting and you're understanding how to get the best out of China.
So invest your time there on the ground to be informed, and get the best people around you."
This is the first in a two-part podcast with Anna Mowbray. Part Two will focus on how the Zuru team responded to the Covid-19 pandemic, and how Anna raced during lockdown to secure PPE from China for New Zealand.
---
*Rachel Maidment is executive director of the NZ China Council, and a former diplomat and entrepreneur who served as New Zealand Consul General in Guangzhou from 2016 to 2019.  She is a host of the NZ China Council Podcast which can be accessed here.