Ohmio's Mohammed Hikmet on our driverless future, when it could arrive, why China is ahead and where New Zealand's advantage lies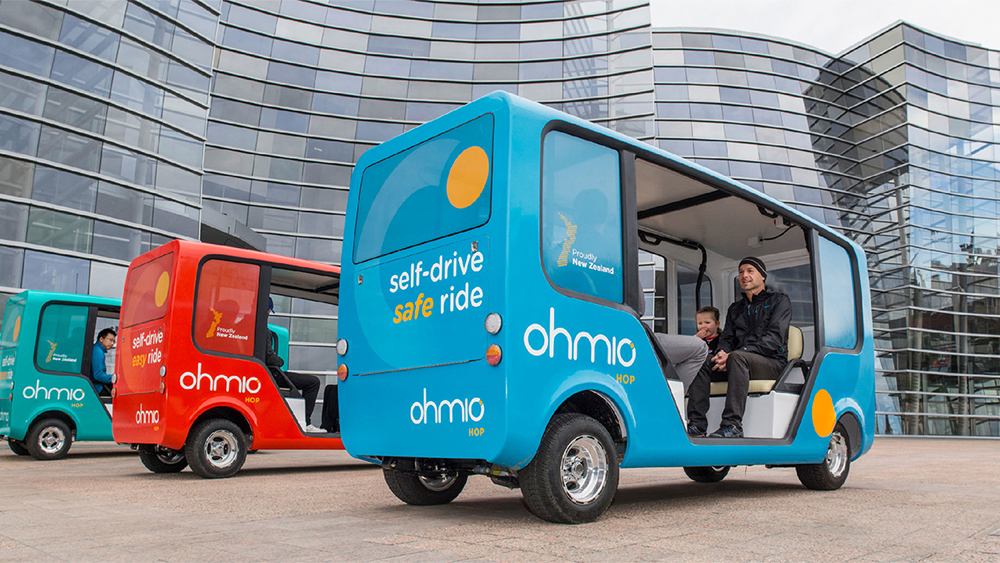 The New Zealand China Council has a podcast series featuring New Zealanders and their businesses in China. It is a regular series.
---
From his office in the Auckland suburb of Pakuranga, Mohammed Hikmet is carving out a slice of the future for New Zealand.  Named the EY Entrepreneur Of The Year in 2019, Iraq-born Hikmet started intelligent transport company HMI Technologies in 2002 but while running that business, Hikmet believed there was a much bigger opportunity in autonomous vehicles.
This led Hikmet to form Ohmio Automotion.  Since 2017, Ohmio has been developing autonomous vehicles, not to compete with the likes of Tesla, but as a critical link in transport infrastructure where autonomous vehicles enable mass transit systems to operate efficiently at scale. 
While New Zealand has already been touted as an ideal test environment for autonomous vehicles due to our relatively simple regulatory, geographic and industry conditions, Hikmet is convinced we have additional strengths that will help New Zealand take advantage of what some have called the most significant transformation of transport since the internal combustion engine.
A technology ecosystem centred in New Zealand
Most of Ohmio's R&D and innovation takes place in New Zealand, with a small number of staffers based in Australia and manufacturing located in the Southern Chinese city of Heshan in Guangdong province.  
HMI Technologies had given Hikmet a depth of experience in China but he says manufacturing in China wasn't on Ohmio's radar until he attended the Tripartite Economic Alliance in Los Angeles with CEO Dean Zabrieszach and ATEED in 2018.  At the conference, he happened to meet a delegate from Guangzhou, and within two short weeks, he had signed an MOU with Heshan City. 
"We were impressed by how easy it was to establish that connection, how easy it was and how China was so open to having this facility there." 
Hikmet says he was attracted by the regulations and optimistic vision for autonomous vehicles in China, where there is prestige in owning an electric vehicle, using AI and green technologies.  For Ohmio, he says a big drawcard was China's advanced automobile manufacturing base, and in particular, it's hardware knowledge in automation technology. 
"If you want a specific hardware piece in China, you get 20 different options. In Europe, you get maybe three, and you'll be lucky even to get one in New Zealand." 
Shifting manufacturing to China has been a positive move for the autonomous vehicle sector in New Zealand. Hikmet says manufacturing in China is 'growing the cake' and enabling further growth of the company in New Zealand as a centre for innovation and R&D.  
"If you come with a problem…., you'll find New Zealand can come up with an answer so quickly and understand how to address the problem in a very efficient manner.
"Every partner joins to make the cake bigger, and that's the beauty about this, there is no need for us to compete or to take things from each other.  We can't continue without the knowledge we are getting from China in terms of the hardware of the vehicle." 
Hikmet believes we can expect to see fully autonomous vehicles rolling off the production line within the next two to three years that complement public transport by completing 'last mile' trips from your front door to a bus, train or ferry.  He says this will also reduce the need for large transport hubs in urban centres, helping to reduce traffic congestion. 
"It's not about whether it's going to happen or not. It's about when it is happening. It's like a threshold, once you just go over it, everyone will go for autonomous vehicles, and it will change the world."  
New Zealand's autonomous advantage
Hikmet believes New Zealand's advantage lies in its close cooperation and teamwork between industry and government, alongside its global reputation for innovation and being a good business partner.  
He says this teamwork was evident during the launch of a vehicle in Korea earlier this year when Covid-19 restrictions made international travel all but impossible.  In place of Ohmio staff, the New Zealand Ambassador attended the launch, as well as Korea-based NZTE staff.  
"The way they could help organisations like us, to the point where they said our staff in Korea can be considered your staff. That by itself shows us as a team, and after that, there's no excuse, you need to win." 
Hikmet acknowledges the challenge of New Zealand's geographic isolation but also believes that our strong connections and relationships more than make up for them.  
"The neutral or friendly position that New Zealand has around the world allows us exporters and manufacturers and innovators to be in a very advantageous position.  So I consider ourselves lucky to be from New Zealand." 
Ohmio now has plans to establish its own 8,000 square meter factory in Heshan, with production of 50 vehicles in a year and the capability to ramp up to around 500 vehicles a year as demand grows.  Hikmet encourages other New Zealand entrepreneurs to see China as an important part of getting their products to the level where mass production is possible and global market reach can be achieved.  
"In New Zealand, we can make a lot of innovations, we can make a lot of really great ideas. But these ideas need to be implemented in a supply chain.  You need China to be there. So China for me, at least for my experience was an enabler for the business to grow internationally."
---
*Colum Rice is a senior Partner with PwC in New Zealand.  In 2009, he established and undertook the leadership of the PwC China Markets Team. He has been involved with the New Zealand China Council since its inception and has represented the Council as an investment specialist at the 2015 Partnership Forum in Beijing, and as part of the New Zealand Prime Minister business delegation to China in 2016.  He is a host of the NZ China Council Podcast which can be accessed here.