Kiwi's succeeding in Australia: Terry Leckie leads way to drought-proofing Australia's water supply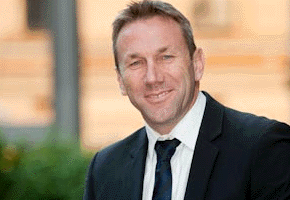 By Denise McNabb
When Terry Leckie was transferred to Sydney in 2001 Australia was not on his long-term radar.
He and his wife had ideas of spending time in Britain and the United States before returning home to New Zealand.
But two years into his job as country manager for water infrastructure company MWS, Australia was hit by what would become the worst drought on record, lasting seven years.
For Dunedin born and raised Leckie, it turned his career path upside down.
The Otago University graduate in civil engineering had already earned himself a reputation in the water sector for pioneering water and sewage recycling plants when working in New Zealand.
But experiencing water rationing, dirty cars and parched lawns because of the drought  not only reaffirmed to him how precious a commodity water was, but it sowed  the seeds in his mind for development of a large-scale water business that could future-proof supply through decentralised, sustainable water systems.
Residential property developers were hungry for water solutions. By the end of the drought new federal government regulations demanded a minimum of six stars in new energy efficiency standards with water, pivotal to that equation.
Leckie envisaged self-contained water service for new urban and commercial parks, and recreational and industrial developments, using remote smart meter technology, charging consumers on a user pay basis so they could monitor daily use and save money.
But there was a major hurdle. Public utilities had the legislated monopoly on water supply.
Undeterred, Leckie quit MWS in 2003 and set up Blue Sky Consulting, advising big companies like Transfield and Australand/Landcom on water and sewage projects. He founded an industry working group with Sydney Water to improve the integration of decentralised water systems with existing centralised systems and joined water conservationists lobbying the New South Wales government to break the public monopoly on water.
Along the way he wrote a critical submission to the Productivity Commission's 2010 study of urban water, charging it with being negative and off the mark with its focus on water supply.
In a relatively short time Leckie built himself a reputation, not only in Australia but globally as a "go to" expert for anything on decentralised, smart  water and sewage  recycling.
In 2006 he got the breakthrough to bring his plans to fruition when NSW's state government passed the Water Industry Competition Act 2006 to encourage competition in water and sewage supply and infrastructure development for reticulating recycled water.
Leckie wasted no time setting up The Water Factory Company three years ago, getting the first operator licenses required under the act. He works with a small staff of six, including two Kiwis, chief operating officer, Stephen McKewen and retail manager Candice Rea.
Last year the company turned over AU$5 million (NZ$6.4 mln). Leckie plans to lift that figures to AU$100 mln in a few years
"We will start making a buck when we have 20 utility schemes generating income in the next five years," he says.
He doesn't discount listing the company on the ASX, but for now he has the security of funding from a group of wealthy Australians and a private Dunedin rich lister.
"They're in it for the long term," says Leckie, who also has invested his own money.
"The concept of drought-proofing and cheaper costs will be the key drivers for growth in our smart water systems," he says.
Leckie's company has been propelled into the limelight after securing a partnership with Frasers Property, developers of Central Park, a AU$2 billion futuristic high-rise residential and retail development parkland on 5.8 hectares in Sydney's city precinct.
It  is building the world's largest underground water recycling plant in the basement of one of the apartment buildings. At full capacity it will produce one megalitre (1,000 kilolitres) of recycled water every day for use in toilets, washing machines, irrigation and cooling systems in an energy plant. The company will manage all water services, including drinking water, for an estimated 5,000 residents in 1,800 apartments and 15,000 daily workers and visitors to the commercial/retail precinct.
"Smart water networks turn communities from water users to water producers through their capture  of changes in energy, heating and cooling systems, climate, information technology and customer requirements," says Leckie.
"Technologies we use were not available to us five years ago."
Would he bring the concept to New Zealand then?
"The inquiries I get from New Zealand are mainly about the technologies we use," he says. "New Zealand's water system is owned co-operatively with a government backbone. You would have to break down that traditional model."
"But when my business is up and running and self-sustaining without me, I would be happy to return home and work with developers and advise councils."
Leckie has one small New Zealand project on his books, working with Australian property developers Geoff and Diane Ford, of Fordlands. They plan to their coastal farm at Te Tumu, near Papamoa into a sustainable community.
For now, while New South Wales is the only state with legislation allowing private water services operators, Leckie has no time to sit still. Opportunities will only increase as other states look to follow suit with water legislation.
---------------------------------------------------
To subscribe to our weekly business newsletter, enter your email address here.