Successful Kiwis in Australia: Denise McNabb finds a wildly successful recruiting website grown by a Kiwi TV marketing manager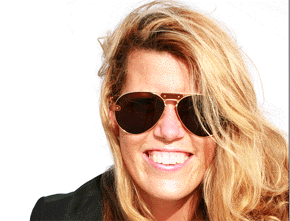 By Denise McNabb
Setting up an online recruitment website in competition with job search sites run by publishing giants might sound like economic suicide.
Not for Pip Jamieson and business partner Matt Fayle who, based on their own work experience, had spotted a gap in the market for a specialised employment website for creative industry professionals.
In December 2009 they launched www.theloop.com.au, achieving critical mass such a short a short time that this year one of Australia's big media players came knocking to see if they would sell.
Jamieson happily declined. She knows theloop.com.au is actively taking business off this company.
The site has 120,000 unique visitors a month with traffic growing by 45 per cent a week; 35,000 professionals have signed up as members, and  more than 5,000 client in television, publishing, digital media, animation, film, music, marketing, public relations, sales, entertainment and other creative fields are using it to headhunt talent.
Jamieson says some of those clients use the site exclusively because it avoids having to sift through a flood of job applicants who don't have the right skills.
Fayle was director of digital networks for Australasia at MTV when he proposed the idea of the website to Jamieson late in 2008 when she was marketing manager for MTV in New Zealand. She had already clocked up milestones, spearheading the introduction of the MTV and Nickelodeon channels and receiving an industry award for organising the MTV Mile High music gig on a trans-Tasman Air New Zealand flight.
Jamieson says it was always hard finding the right talent at MTV.
"You put a position up on a job board and it's like 'spamville' with 1,000 people applying just because they want to be in television." And though 94 per cent of her hires were through word of mouth she says this didn't necessarily mean the best people were getting the job.
Jamieson was so enamoured with Fayle's web idea she quit her job in the middle of the global financial crisis in February 2009, moved to Sydney with her husband and joined Fayle to create the website.
They were shrewd enough to know their timing was good as companies facing tough times were looking for new recruitment strategies and cost-effective ways to employ quality staff.
Nine months after sinking their savings into the venture and working in a  cavernous top floor of a building in the back-blocks of Surry Hills,  theloop.com.au went live, originally as "looped" but Jamieson says it was too hard to say on the phone so they changed the name.
Trying to convince well-known brands to link with an unknown web recruiter was not easy. It involved lot of cold-calling, viral marketing through social media and word of mouth to get the critical mass.
In 2010 the company hired its first employee and since then, has raised $2.39 million in two capital-raising rounds in Australia. A new potential investor must remain secret because he is the head of a media company in competition with the loop.com.au but wants to invest in a private capacity.
"We broke even before our last round of investment but as we scale up again we are burning through the cash," says Jamieson.
They have eight staff in Sydney, seven developers in Sri Lanka and a further four will join the team there.
Jamieson says they hired an Australian-educated Sri Lankan through a digital agency to develop theloop.com.au. Their professional relationship was so strong that when he went back to Sri Lanka with his family they hired him in-house to oversee a Sri Lankan team.
Last year theloop.com.au won the best enterprise category in the AIMIA (Australian Interactive Media Association) awards.
Jamieson says the UN estimates 8 per cent of the world's population work in the creative arena.
She says the key objective of theloop.com.au is to help creative people commercialise their skills promote themselves, collaborate, network and be connected with employers.
"An algorithm at the back end of the system detects if someone is being followed by a lot of people on the site," says Jamieson.
"You go higher up on the search results depending on the quality of people following you. That is reflected in the calibre of your CV and recommendations from previous employers."
"If you are a junior followed by 100 of your mates you will not feature as strongly in the results as a senior being followed by Google, BBC or Saatchi and Saatchi, for instance."
"The crowd curates the platform so when companies search for people the best will always come to the top."
Jamieson describes the site as a fuller, more tailored version of LinkedIn where you don't need to have a prior connection to find other people, and where you can showcase work and create a community.
The site earns money through clients paying to use it to headhunt and advertise for full-time staff, through universities paying to list courses and educational opportunities through the advertisement of creative workspaces.
Jamieson says 56 per cent of the site's members are in full-time work but 95 per cent of those are freelancers. Next step for freelancers is a calendar to let employers know when they have down time.
An only child, she was born and raised in Wellington while her London-born father was running the New Zealand arm of music giant EMI. Today she calls herself a Bondi-based "Kiwi-Pom".
After achieving a first class masters degree in Economics at Edinburgh University in 2002 Jamieson became an economist, advising on drug and prostitution legislation in the British public service.
But she soon tired of "tweaking" spreadsheets so left to work with the organisers of the Brit Awards, the equivalent of the NZ Music Awards.
After a year in London she moved to Australia to become strategy and development manager at MTV before moving with the broadcaster to New Zealand.
"It has just been magic watching all this explode."
She will head off soon to the UK for six months to launch a British version of the site.
Would she and Fayle bring the business to New Zealand?
"My life is about to become short bursts with London for six months -   maybe New Zealand after that for a while, but I am going to be a rolling stone for a few years".