'I want to turn Posse into a billion dollar company', says a Kiwi in Australia with eyes on Facebook and with heavy-hitter backers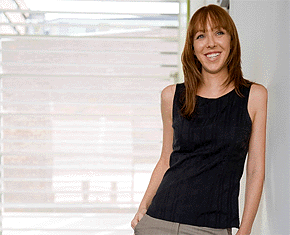 By Denise McNabb
By her own admission Rebekah Campbell doesn't do things by half measures.
The Sydney-based New Zealander will launch her "social search" start-up www.posse.com in the UK later this month, then New York in October.
If Campbell's dogged determination is any indication, her site will become the next evolution of the Facebook juggernaut.
Leveraging off Facebook, it enables friends to recommend their favourite retailer, restaurant, gym, beauty clinic and the like, in return for rewards.
Since its Sydney debut in June more than 3,000 stores have been listed around the world by its members and the number is growing by 250 a day.
Campbell, 35, describes posse.com as a social media game that makes people's real world better; social commerce with fun; gamifying retail.
Bringing her start-up to fruition has not come, she says, without highs and lows. Mistakes been made and lessons learned but now she can't wait for people to sign up.
Campbell secured A$3.5 million in seed funding from more than 50 angel investors and friends in Australia, New Zealand, the US and the UK, plus a $A758,900 grant from Australia's Federal Government entrepreneur arm, Commercialisation Australia.
She has a 20 per cent stake with $100,000 of her own funds invested and she is accountable to a board.
In 2008 Campbell also diverted $28,000, saved for a deposit on a house, to an auction to secure the posse.com name, much to the consternation of her mother who had found a place in Wellington for her to buy.
"I want to turn Posse into a billion dollar company," she says.
The caliber of her investors would suggest they see this revenue potential. Heavy hitting tech backers include Sydney-based Google Maps founder and now Facebook executive, Lars Rasmussen, Google Wave developer Alex North, who has joined Posse's staff as an engineer, Silicon Valley venture capitalist Bill Tai, an investor in Twitter, Tango and Scribd, Wotif chief executive Robbie Cooke, eBay Motors founder Simon Rothman and ihug founder Tim Wood. Other funders include EMI Music and Australian superannuation fund MLC, industry leaders from Sony, EMI Music and MTVand musicians.
Campbell has had no time for house hunting with her all-consuming project taking her to Australian and overseas fund-source gatherings, to TED (technology, entertainment and design) conferences in the US, and overseeing her team of 13 programmers, engineers and marketers in the Surry Hills engine room.
Revenue earner
The posse concept piggybacks off Facebook with users signing in with a Facebook password, then putting their favourite bar, restaurant, shop,  gym or other retailers they like in the real world into a posse.com virtual street then growing it into a virtual global town or city by adding recommendations of friends and friends of their friends.
The places recommended have virtual shopfronts on the street that friends can find through a search engine or by putting in the name of their friends.
Campbell says her team will soon add landmarks such as the Eiffel Tower for a French cafe, parks, museums and galleries.
She also plans to add at a later date, sports, movies, travel, e-commerce and anything else friends might be passionate about.
"Think how many times you ask friends for their opinion on where good restaurants are or the best places to shop," she says.
"They are far more likely to recommend places you like than ones you find on a review site written by people you don't know."
 "Social commerce is one of the hottest areas in technology innovation because social media accelerates word of mouth promotions.
"It's about spreading the love where everyone wins because good service is rewarded."
"The store wins, because it gets highly targeted, quality customers through referrals."
Posse makes money by providing incentives for both the street creators and the retailers. More than 50 retailers and businesses were initially targeted in East Sydney to be part of the reward scheme. They pay a $30 monthly fee, giving them access to the application and management of their "posse".
When a member adds a store that store is notified.  It may thank the customer by offering a discount or gift card. Posse.com will make the connection for the store to a referred member via email, SMS or Facebook message with a QR (Quick Response) code up to 10 times before charging the store a monthly fee to stay in this network.
Each referral generates a certain number of points for the referrer, which can be cashed in for discounted or free goods and services.
"Retailers are more likely to get business this way that from deals sites that might draw 1,000 customers only once  because something is being offered cheap and loss-leading," says Campbell.
She says more than 3,000 stores around the world have already been listed by members and the number is growing by around 250 a day; most are in Australia but she expects numbers to  grow exponentially after the UK and US launch.
Music origins
Campbell came up with the idea for posse.com in 2008 when tickets sales for a Perth concert for Evermore, the Kiwi band she was managing at the time, were not selling well.
She got all 2,000 seats sold by using her website to reward fans with a $A3 commission for each ticket they sold to their friends via social media networks The crowd-pulling concept, which eliminates marketing and advertising costs, was expanded to other events, music downloads and merchandise. It attracted more than 8,000 active fans in a few short months and has been developed into a customised self-service version so artist managers, event promoters and venues and music marketers can use it.
Though the site sold more than $A2 million worth of tickets in 16 months Campbell saw much greater potential for her website than connecting fans with concert organisers.
In February this year she "pivoted" Posse into its present incarnation connecting retailers to customers and their friends, rewarding them and giving them status in a community that knows each other.
Unemployable
Born in Scotland, Campbell's parents immigrated to New Zealand when she was three, settling first in Whangarei, then Wellington, where she attended Wellington Girls' College.
Campbell reckons her entrepreneurial genes kicked in at the age of seven when she put balloons on her flower stall to attract passing motorists on a main drag.
In 1998, when studying for her degree in politics and Maori language at Victoria University she was alarmed to read that New Zealand's youth suicide rate was second only in the world to Finland and Wellington had the highest city rate.
To increase awareness of this epidemic and support groups available, she raised $100,000, called New Zealand music icon Neil Finn and a cluster of bands that agreed to perform, creating the Levi's Life Festival, More than15,000 turned up. Campbell is justifiably proud of her effort, particularly as youth suicide became a political issue as a result and youth suicide numbers dropped after that.
The concert led her down the music path, managing bands for a decade, and at one point, creating the station 96.1 for the Radio Network in Auckland.
"I think I realised at the age of 22 that I was well and truly unemployable," she laughs.
She is still passionate about causes and is today a mentor to Australia's largest youth-run aid and development organisation Oaktree Foundation. She travelled to South Africa in 2008 to visit some of their projects.
She finds it frustrating that money is such a consideration for people deciding what to do with their lives.
During her band days on both sides Tasman she says she earned next to nothing some years while making more than $500,000 in others.
 
"My advice is to do what you're passionate about, challenge yourself every day, and make sure you're surrounded with a team of people you respect and love. Money is incidental to happiness," she says
While Campbell comes across as level-headed and ambitious she admits to sleepless nights worrying about making her investors' money work for them. She says she is terrified by lots of things and has a fear of failure but credits her drive with overriding the negatives.
As she sums it up on her blog www.rebekahcampbell.com : "I'm constantly surprised at how I manage to bounce back when times get tough and how, despite the sense of not knowing I can cross the next mountain. I always do. These moments of self-doubt and stress are charged with pure magic. At least you know you're alive."
Would she ever move back to New Zealand?
She says she is already a commuter, travelling back and forth every six weeks to visit her family in Wellington. She would like to live for a while in New York before thinking about her next move. Her life is a rolling stone.