Kiwi dynamo making big moves on Australia's east coast, using high-energy entrepreneurship and outsourcing to build a high-profile presence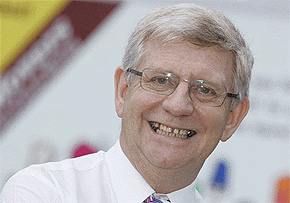 By Denise McNabb
Mike O'Hagan's life story gets a frequent airing in Australia because of his popularity on the speaking circuit.
He entertains audiences up to four times a week with his tale of how he built Queensland-based short-haul furniture removal empire MiniMovers 26 years ago with one ute and $200.
New Zealand born and raised O'Hagan saw a gap in the market for household goods removals at a time when firms were focused on long-haul contracts.
Today his company turns over $A30 million annually, employs 440 staff and has a $7 million fleet of vans in south-east Queensland, Melbourne and Sydney. 
O'Hagan, 57, says he has New Zealand in his sights for his first 'international' foray.
"It is a small market; there are still opportunities in Australia and some of my kiwi staff have gone home and started up similar businesses so I have been hesitating but I will do it," he says.
He is disarmingly frank about the reason he set up the business in the first place – to create wealth so he could indulge in his passion for fast cars, have a nice house, a boat and travel all over the world to dabble in new ventures, mainly online.
O'Hagan describes himself as a serial entrepreneur, a systemiser, a duplicator. He- self published an e-book on Smashbox giving tips that are a quantum leap from conventional thinking about business building. His hero company is McDonalds.
He recently completed a three-year Masters of Entrepreneurship programme at the renowned MIT faculty in Boston in the US but does not believe qualifications have anything to do with business success. The course provided him with a global network of like-minded thinkers to bounce ideas off and to use for crowd sourcing.
"The education system is all about compliance and creating business minders, not business creation," he says.
"Academics can't teach entrepreneurship because entrepreneurs find opportunities, they don't create them."
"Entrepreneurs should not be about developing business plans, finding capital, getting a return on investment then selling out."
"They operate on gut-feel and instinct and are continually looking for opportunity, not creativity, innovation, reinvention and taking big risks."
"Once they get a good idea, they have to make sure it works, put a structure around it, protect it then repeat it over and over until there is scale."
"If it doesn't work then they get out quickly and move on."
O'Hagan has mentored hundreds of start-ups and small businesses over the years.
He says the majority of people who start businesses end up owning a job they have to work for to return a living instead of a business that works for them.
"I firmly believe the future of our planet is dependent on the entrepreneurs we create."
Early leaver
Born into a dairy farming family near Palmerston North, O'Hagan couldn't wait to leave Dannevirke High School at 15 without sitting School Certificate.
He jumped on a cruise ship to Australia at 17 and spent 10 years hitch-hiking around the country doing 35 jobs ranging  from scrubbing toilets at camping grounds in return for a an overnight site to working on prawn trawlers and "fast-tracking" his electrician's ticket in the Northern Territory.
In his first six years in Brisbane he worked 90 hour weeks building up three second hand stores, all the while questioning why he was doing such long hours and earning the same money as his staff who worked less.
That changed the day a regular customer came and asked if he could help her shift some furniture because she had been stood up by a company that was going to charge $1,000 for the move.
"I did it for $200 but then I thought if I could make a profit at the price, imagine what I could make at $1000, so I created MiniMovers."
His beat today is the global marketplace, seeking opportunities in countries where skills are high and wages, low.
Outsourcing
O'Hagan says knowledge process outsourcing (KPO) is the next big thing to follow business process outsourcing (BPO) that contracts back office work such as marketing, sales, and accounting from centres in India and other Asian countries.
KPOs, says O'Hagan, will use highly intelligent people, for example, to develop technology solutions for a business. They will look at how the process and wire framing will work with the graphics people then the last but cheap and easy bit is to get a coding.
KPO is about making decisions on everything from intellectual property to research and development.
O'Hagan hires highly educated English-speaking staff in the Philippines and elsewhere.
His Filipino executive assistant manages his daily diary on a salary of $A200 a week. His researcher in India spent a week scouring the internet for a roster system for his company for an $80 fee.
O'Hagan says governments in the Philippines and other Asian countries are providing attractive incentives to foreign companies to bring business to their door. He says growth opportunities are enormous.
He has invested in seven start-ups in Australia and Asia in the education, business marketing and property sectors as well as a call centre in the Philippines
 
By keeping his costs down on the administrative side of MiniMovers he says the company remains profitable and the business can expand. He can then hire more Australian staff and pay them a decent wage.
He puts the key to the company's success down to well trained staff, having the right people to manage the business, providing creative customer service and good leadership, systems, marketing and workplace culture.
He expects earnings this year will fall by about $A6 million because of a softening housing market causing more people to stay put but he says it is the nature of the business for markets to go up and down.
He says he's made plenty of mistakes such as forming a board and recruiting outside directors before the company was big enough. Not only did it change the culture of a company but costs went up. His board today is made up of insiders.
But the outsourcing for the back and front office is a different story.
"Like it or not it is the way of the future," he says.
"Technology means people can work anywhere in the world," he says pointing to the success of the New Zealand invented Xero accounting system.
"Everywhere I went I heard about this system so I put it in to my company and I am sure it will soon overtake MYOB as the best accounting system on earth."
"These guys might have a base in New Zealand but they are global players."
O'Hagan sits on the Duke of Edinburgh Award board, is deputy chair of the Queensland and Northern Territory branch of the Australian Institute of Management, a member of the international Entrepreneurs Organisation, and was a commissioner for three years at the Fair Pay Commission and on a small business advisory panel for the Governor of the Reserve Bank of Australia.
He has also won a slew of business awards and was a finalist in the Ernst & Young Entrepreneur of the Year award in 2004.
Though he might be a rich baby boomer he says retirement is furthest from his mind, even if he has had heart attacks and bypass surgery – a genetic inheritance kept in check by a strict non-fat diet.
He doesn't have an exit strategy for his businesses.
"Owners keep successful businesses for decades," he says, challenging those who suggest companies should be built to a level where wealth is extracted at the point of sale.
Queensland is home now so he wouldn't contemplate returning to New Zealand but he will cement plans to have his New Zealand branch of MiniMovers operational in the next year or two.
"Those good and bad employers in the early day might have shaped me to do things differently but I am a kiwi, through and through," he says.