By David Jenkins*

Businesses may be affected by disasters directly and indirectly. For instance, businesses may not be directly caught in a disaster, but the resultant decline in trade will affect the business.
This toolkit provides information to assist businesses that are both directly and indirectly affected by disasters.
Getting back to business
Following a disaster, it is anything but 'business as usual' for you, your employees and customers.
The faster you can return your business to some level of normal operations, the quicker you can restore your income, jobs and the goods and services you supply to your customers.
However, research from the US estimates that up to 40% of businesses affected by a disaster may never reopen.
The time it takes for a business to return to something like normal operating levels depends on a number of key issues:
• Overall damage assessment – can you trade from your existing premises and what stock, supplies, equipment and other key assets are recoverable and what is not recoverable
• Your insurance coverage and how quickly your claim can be processed
• Any government assistance you can access
• Communication with employees, customers and suppliers
• An assessment of the business's fnancial position
• Developing a plan to reopen your business.
Evaluating your fnancial position
Businesses affected by a disaster should take the time to evaluate their financial position before making decisions on whether to reopen their business and if so, how they should operate in the new environment.
Evaluation of the financial position of your business is important as:
• the business may have substantial outgoings before they can restart (and therefore the business needs to know how they are going to pay for such outgoings and if they can afford such outgoings)
• there may be a significant period before the business can restart trading (and therefore the business may have to rely on existing sources of cash and other assistance until that time)
• it can assist the business make claims for insurance such as business interruption insurance, and
• the assessment will help you decide which direction you want to take your business.
To evaluate the financial position, the first step is to attempt to reconstruct your financial records (see Reconstructing financial records after a disaster).
The initial focus of reconstructing accounts is to determine the cash position of the business including cash at bank plus any cash inflows (from existing debtors that are recoverable, insurance payouts, government assistance and other sources) less any cash outflows (such as payments to suppliers, loan repayments and other payments).
Recovery planning
Once a business has established their financial position, the business is better placed to re-open. The next step in re-opening your business is to develop a recovery plan.
A recovery plan should state what the business needs to re-open, such as processes and resources that are critical to reopening and your recovery objectives, including actions to achieve those objectives and who is responsible for those actions.
A recovery plan template is below. Such a plan, together with cashflow forecasts and profit and loss forecasts will help a business determine whether it is viable to re-open and how the business is going to finance the reopening.
In developing such a plan, it may be very difficult to make assumptions in a post-disaster environment – past experiences may no longer be relevant and the market may have changed significantly, at least in the short term.
Therefore it is important to analyse your market again. If it is difficult to finance the planned reopening, the plan may have to be modified or the business owner may have to consider exiting the business.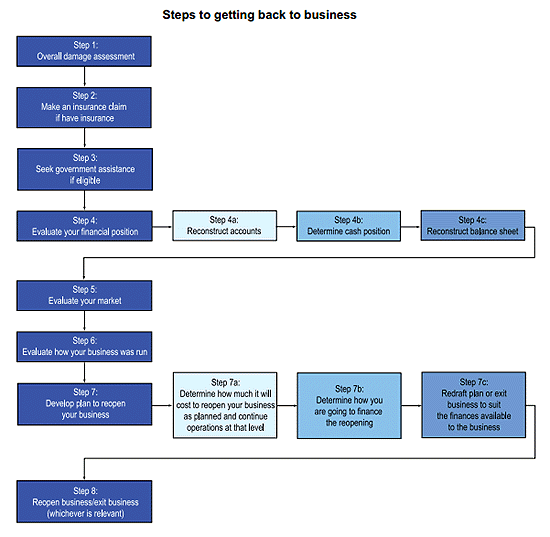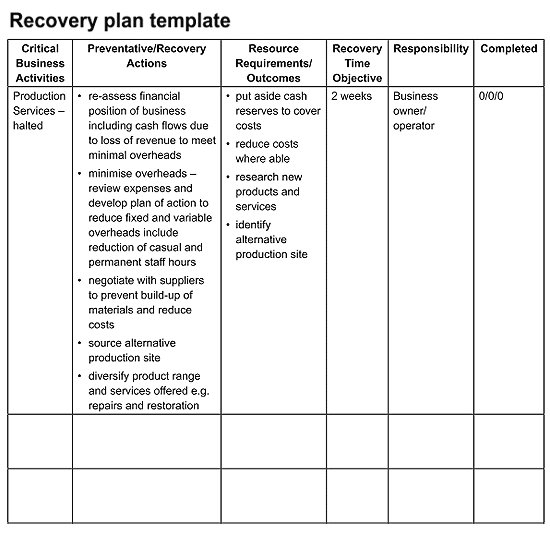 ------------------------------------------------------------------------------------------------------
David Jenkins is the New Zealand-based manager of the global professional accounting body, CPA Australia. You can contact him directly here »
This is the first of a series on disaster recovery. Next week will focus on a checklist for reopening after a disaster.