Stuart Bilbrough explains how you can use the new book Bean Soup to get finance function performance raised many levels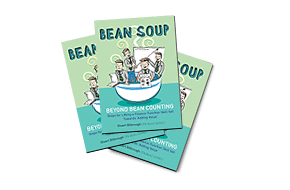 By Stuart Bilbrough*

The book Bean Soup – Beyond Bean Counting has a wide target audience.
It includes not only CFO's and their Finance team members but Boards of Directors, CEO/MD's, and senior managers of non-finance departments.
Yes, selling as many books as possible is a reason but also to help those outside of Finance understand what they should be expecting from their in-house financial advisors.
The profession and especially Finance teams (or Accounts as they may be called in an organisation not getting the support they should) have for long enough been the protectors of the numbers or scorekeepers.
This is no longer enough.
During a short stint working for an international investment bank in Singapore the finance team I was a member were called 'Controllership' – not a title that associates well with providing financial decision support. This had been recognised and they were tackling a multi-year finance transformation.
A Finance function, whether in a large corporate or small to medium sized organisation, publically listed or private, Government funded and not for profit should be considered the positive provider of insightful and authoritative financial advice.
This is why the target for Bean Soup extends beyond Finance and helps with the understanding of what should be expected.
Part One of the book looks to identify the gaps in value provided by a Finance team. The following diagram may be helpful for quickly getting a feel for how your Finance team (even public accountant if Finance is not in-house) is supporting the organisation. The diagram is from Bean Soup and is a pyramid that shows the levels of value, or "products," that Finance needs to provide.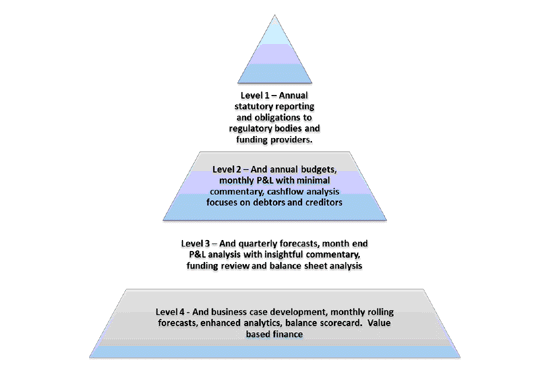 That product provided by Finance at level 1 is the basics and for a growing SME insufficient to navigate a company.
In fact at this level there is a high level of financial risk. Level 2 would still be basic financial support and not until level 3 that an acceptable level is reached and resulting improvement in the ability to identify, comment on and fix financial risks and seize opportunities as they come up.
The target audience of Bean Soup even includes recruitment companies that fill Finance roles. For example the distinction between a CFO and a Financial Controller is sometimes misunderstood. Finance & Accounting recruiters can provide valuable guidance to SME's on what they need and in particular clarifying the difference between these important roles. Bean Soup covers this in-depth.
I am grateful to David Chaston inviting me to talk about Bean Soup on interest.co.nz. When we met to discuss the interview that went on the site a few weeks back David diplomatically highlighted that when flicking through pages of the book it looked like a text book. I replied, "Yes that's correct." "But isn't it a novel?" David queried, at which I replied, "Yes, correct again."
The book is written as a fiction novel about a new CFO joining the fictitious Haven Hotel Group. This was done to provide context to the issues and evolution in the improvements in value provided that can be visualised by the reader through the various chapters of the book. This includes the training sessions that were presented, and can be used in any sized organisation, to lift the Finance function skill set towards adding value.
Examples of this genre include Spencer Johnson's Who Moved My Cheese, Stephen Lundin, Harry Paul and John Christensen's Fish – A Remarkable Way to Boost Morale and Improve Results and Eliyahu Goldratt's The Goal – A Process of On-going Improvement.
Goldratt's book is on the Theory of Constraints which in itself could be a dull subject to learn had it not been bought to life by the story.
With Bean Soup – Beyond Bean Counting I've simply endeavoured to do the same from an accounting and finance perspective.
--------------------------------------------------------------------------------------------------------
Stuart Bilbrough is the author of the book, Bean Soup – Beyond Bean Counting. You can read a review of the book here. You can buy it here.