Illegal activity by NZ registered firms overseas appears to have slowed down, Commerce Minister says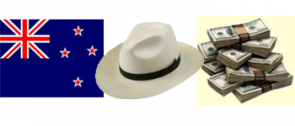 By Gareth Vaughan
Commerce Minister Craig Foss says the Government moving to force New Zealand registered companies operating overseas to have a New Zealand resident director appears to be having the desired effect on illegal activities by some of these companies.
Criminal activity by New Zealand registered companies overseas that has come to light in recent years includes chartering a plane to fly North Korean weapons to Iran, allegedly laundering US$680 million a year through a Latvian bank account, committing tax fraud in Britain, and pilfering about US$31 million from US investors via a Ponzi scheme. See all our stories on offshore finance companies here.
Foss told interest.co.nz in a Double Shot interview he hopes to progress the Companies and Limited Partnerships Amendment Bill, which had its second reading in the House in July, by year's end. It aims to tackle the misuse of New Zealand's simple companies registration system by overseas entities.
"It (criminal behaviour by New Zealand registered companies overseas) looks like it has slowed down," Foss said. "I certainly hope they've slowed down. Every time that happens the premium on New Zealand can be slightly increased because someone's arbitraging or abusing our regulatory system for other gains somewhere else."
Foss said he had made a "deliberate change" to the Bill so companies must have New Zealand resident directors, rather than merely agent directors.
"And publicity from media, and some of the stories (of) how the Companies Office has actually succeeded in closing down some of these organisations, has all been helpful," Foss said.
"And interestingly long before the Bill is even passed behaviour's improving."
"The signals we are sending are picked up by the sector all the time. And I'm more than comfortable sending pretty fierce shots over the bows of some of those that exploit our regulatory system because I easily translate that into a higher mortgage for a kiwi family and that's unacceptable to me," Foss added.
This article was first published in our email for paid subscribers. See here for more details and to subscribe.