Reconstruction underway on just 7 of 154 'complex' multi-unit Canterbury buildings 4 years after biggest earthquake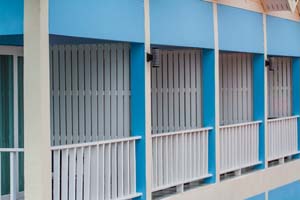 By Jenée Tibshraeny
The queue of Cantabrians waiting to have their 2010-11 earthquake claims settled is getting shorter, but not quickly.
Claims involving townhouses, apartments, retirement villages and blocks of units have been put in the "too hard basket", and property owners sent to the back of the line a number of times over the last four years.
Competing insurance companies have worked together to come up with a solution to deal with these intricate claims, involving multiple property owners and insurers.
Yet the end of the queue is still out of sight for many.
The issue:
You live in a block of four flats. The quakes damaged the structure of the entire building, the retaining wall you share with one of your neighbours, and a part of the roof over your flat, but not your neighbours'.
You have comprehensive cover through State, two of your neighbours have minimal cover through Tower, and the fourth neighbour is uninsured.
Repair costs of your flat are over the Earthquake Commission's (EQC) $100,000 cap, while your neighbours' are under.
Where does this leave you?
The Insurance Council of New Zealand (ICNZ) launched the Shared Property Programme to handle these sorts of situations, after running a pilot in April 2013.
The idea is that insurers deal with the site as a whole, rather than individual units.
Only 'complex' multi-unit buildings (MUB), consisting of at least three units with different owners and private insurers, or buildings with other ownership or structural complexities are included in the programme. Body corporates are dealt with separately, as they have one insurer.
A lead insurer is appointed to negotiate on behalf of the other insurers involved, and report back to them with quotes of how much they're liable for.
The lead insurer is most likely the one with the most exposure, or with the most at stake.
All insurers have signed a memorandum of understanding to partake in the programme.
A loss adjuster is also appointed to each site to coordinate its repair/rebuild, and work with property owners, engineers, designers, and so on.
Only seven of the 154 complex MUBs in construction
Nearly two years on from the time the pilot was launched, only about seven of the 154 complex MUBs in ICNZ's Shared Property Programme are under construction.
ICNZ confirms 54 have fully completed plans or are going through the consenting process.
Less than eight sites have an uninsured party involved.
Another 34 sites are being evaluated, to see whether they'll become part of the programme.
A total of 932 individual units are involved in the 188 sites either in the full programme, or being considered for it.
The web of complications
Litigation lawyer, Grant Shand, says there are a raft of problems trying to mash a range of insurers' attitudes and contractual agreements, to reach a solution that leaves everyone happy.
Shand, who has the highest number of quake-related cases going through the High Court, says the likes of Southern Response and Tower have been much less flexible than IAG.
He says the former are driven by their finances, while the latter has more concern for its commercial reputation.
He admits different types of outcomes may be reached depending on who the lead insurer is.
Saunders and Co lawyer, Ben Frampton, agrees Southern Response is particularly inflexible.
He says it has its restrictions, being a state-owned company responsible for settling claims by AMI policyholders for quake damage, which occurred before AMI was sold to IAG in 2012.
IAG on the other hand is the biggest player in the field, so tackles the issue from a different position.
Frampton points out that not only are there are different claims management processes between companies, but also within them.
Shand suggests people make sure they're aware of their individual policy rights, before embarking on a global solution.
He suggests they exercise their rights under their individual contracts.
Insurers doing their best working within an imperfect system?
An ICNZ spokesperson admits, "It would certainly be more straightforward if multi-unit properties had a single insurer or a majority of homeowners was able to make a decision on behalf of the collective."
He says competing insurers have come up with a solution, despite the sorts of issues they're facing not being legislated for in the Earthquake Commission Act.
He says the additional cost of the Shared Property Programme is absorbed into the insurer's repair costs.
Speaking more generally (not just about complex MUBs), Frampton has noticed more insurers proposing to settle claims by paying cash over the last six months.
The ICNZ spokesperson says, "Insurers look to complete the rebuild or repair in all circumstances but if all the property owners can't agree on the rebuild or repair proposal, insurers will be required to cash settle.
"This may include cases where property owners are uninsured or under-insured, absentee homeowners can't be found, homeowners refuse to participate in the rebuild project, there is disagreement on plans, or indeed when home owners request a cash settlement."
He says, "There is good ongoing dialogue with various agencies, including the Department of Prime Minister and Cabinet, the Canterbury Earthquake Recovery Authority, the Christchurch City Council and the Earthquake Commission, to find solutions to the sticky issues.
"Insurers have also been working with the Residential Advisory Service and social service agencies in Christchurch who may be able to provide advisory and social support to customers struggling to make collective decisions about how to move forward."