Deloitte reveals incidents of bribery and corruption on the rise - Bill going through Parliament to help crack down on offenders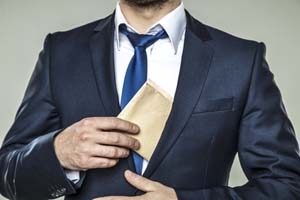 A Deloitte report released today suggests New Zealand isn't as squeaky clean as many would think when it comes to bribery and corruption.
Our awareness of bribery and corruption is growing, as we become more exposed to high risk international jurisdictions. But there's still a big gap between the two, which has caused bribery and corruption to spike in recently years.
Deloitte has canvassed the views of 269 public and private sector organisations in New Zealand and Australia in its second Bribery and Corruption Survey. The first was done in 2012. Respondents include ASX 200 and NZX 50 companies, Australian subsidiaries of foreign companies, public sector organisations and other listed and private companies.
It found that 23% of respondents reported experiencing one or more known instances of domestic corruption in the last five years. Of these more than half occurred in the last 12 months.
The most common types of domestic corruption cited include undisclosed conflicts of interest (16%), supplier kickbacks (15%), personal favours (14%), inappropriate gifts and hospitality (13%) and providing confidential organisational information to a third party (11%).
Sixty-eight percent of incidents involved private/business individuals, 16% public officials and 16% both public and private individuals.
The report says all industry sectors experienced incidents in the last five years, with the highest number reported in energy/resources, the government/public sector, and financial services.
Deloitte Forensic associate director, Lorinda Kelly, notes that more reported incidents doesn't necessarily mean bribery and corruption are most rife in these industries. It is possible these sectors simply have more robust reporting processes in place.
The survey also found more than a quarter (26%) of reported incidents were from organisations with more than 5000 employees.
The risks of operating in the big wide world
Since 2012, the portion of respondents with offshore operations that experienced a known incident of bribery or corruption, increased. The portion that experienced an unknown incident decreased, indicating there's more awareness of the issue.
Of the 48% of respondents with offshore operations, 31% have experienced a known bribery and corruption incident in the last five years, while 69% have experienced an unknown incident.
Forty percent of respondents reported having operations in high risk jurisdictions, of which 35% experienced a bribery and corruption incident in the last five years.
The report notes, "Some of Australia's and New Zealand's biggest trading partners are considered higher risk countries , and a number of these, particularly China, India and Indonesia, have begun to prioritise and increase their corruption enforcement efforts.
"Corruption risk should not be a barrier to growth and new markets, but it does need to be properly managed. Organisations operating offshore need to fully understand the risks they face, and be confident that their processes and controls are satisfactory to mitigate the risk."
It says, "Of the organisations that reported having experienced bribery and corruption incidents in the last five years, office locations, subsidiaries and joint ventures are the most common type of business relationships.
"While this is consistent with the 2012 results, the 2015 results report a wider range of business operations by organisations that have experienced a known instance(s) of bribery and corruption in the last five years.
"Largely consistent with the 2012 results, business activities that involve third parties (whether suppliers, joint venture or alliance partners), or operations that may enjoy a degree of autonomy such as subsidiaries, carry a greater risk of being the source of bribery or corruption events."
What the Government's doing 
A Bill to help crack down on bribery and corruption is going through Parliament at the moment.
The Government has received submissions on the Organised Crime and Anti-corruption Legislation Bill, and is due to publish a report on it on May 4.
Chapman Tripp says the Bill affirms New Zealand's commitment to international best practice.
"An example is the proposed clarification in the Crimes Act that body corporates can be held liable for the foreign public official bribery offence. Until now this has arguably been a grey area, as was highlighted by the OECD Working Group on Bribery in October 2013," it says.
"Changes to the anti-money laundering rules have been well signalled and will give Police more direct oversight of potentially suspicious transactions. Financial institutions have already been preparing for these changes.
"With the exception of the proposed requirement for companies to record facilitation payments in their accounts, the Bill shouldn't materially affect the substance of compliance programmes already in place. But it should act as a prompt for businesses to ensure that their compliance frameworks reflect best practice, and to remind staff of applicable anti-bribery and corruption policies."
Deloitte's Lorinda Kelly says the Bill follows the UK Bribery Act 2010, and closing a few loopholes in regards to facilitation payments is an area that's being cracked down on globally.
The Deloitte report explains, "Facilitation payments, also referred to as 'grease' payments, are minor payments for the purposes of expediting or securing the performance of a 'routine government action'.
"According to the Australian Criminal Code, examples include actions such as the granting or processing of permits, licenses and visas.
"For some organisations, making facilitation payments in relation to offshore operations has been seen as a necessary cultural evil, and the price of doing business in offshore locations where corrupt behaviour is considered the norm."
How bribery and corruption is uncovered
The Deloitte report says the top three ways instances of domestic corruption were discovered was through management reviews (19%), internal controls (15%), and tip-offs from employees (14%).
The report states, "Some of the most effective bribery and corruption detection devices are employees, customers, suppliers and third parties with whom an organisation interacts. The key is to establish effective mechanisms that individuals have confidence in, and encourages those with information to make it known to management in the knowledge that they will not, as a result, be subjected to any detrimental action."
Accordingly, respondents said the top three factors that can prevent bribery and corruption are organisational culture, 'tone from the top' and codes of conduct.
Yet the number of organisations protecting themselves from bribery and corruption is low. Only 31% of organisations with offshore operations reported having a 'comprehensive' understanding of relevant bribery laws. This percentage sat at 25% in 2012.
Of the organisations with offshore operations, 77% have never conducted a bribery and corruption assessment.
Nineteen percent do not discuss corruption risk at management or board room level, compared to 21% in 2012.
Deloitte Lead Forensics Partner Barry Jordan says, "While there are encouraging signs pointing to an improvement in comprehensive understanding from the 2012 results, we still have a way to go. There remains a concerning number of organisations that don't have formal compliance programmes or don't discuss corruption risk at their highest levels."