Chartered Accountants research shows "massive under reporting" of business corruption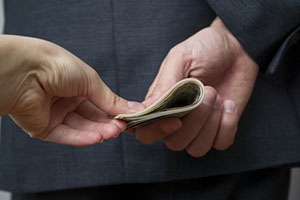 Content supplied by CAANZ
Only half of New Zealand businesses would report an illegal demand from customers or suppliers, according to a Chartered Accountants Australia and New Zealand (CA ANZ) survey looking at corruption faced by Kiwi businesses.
CA ANZ New Zealand Country Head Kirsten Patterson said this represents a "massive level of under reporting".
The survey, involving 1000 New Zealand businesses of different sizes across industries countrywide, shows that only 51% of businesses would definitely report an illegal demand with larger firms more likely to do so than smaller ones.
Overall, 6% reported having had illegal demands or bribes made by customers or suppliers.
Patterson said "The survey highlights our concerns that New Zealand's small-to-medium businesses are unaware of the dangers of bribery and corruption.
"We need urgent education and action to ensure our businesses understand the risks and are implementing measures to help stamp out any corruption they encounter.
"Organisations such as ourselves recognise the importance of codes of ethics, and compulsory training on ethics, but still more could be done."
In Transparency International's latest Corruption Perceptions Index, released last week, New Zealand's public sector slipped from second to fourth place - its second consecutive drop - as one of the world's least corrupt.
"Real or perceived corruption," Patterson said "is a real issue for private sector businesses as a strong reputation means lower costs of doing business, lower costs of capital and easier access to markets.
"Relying on our good reputation is no longer enough."
Construction and manufacturing sector businesses taking part in the CA ANZ survey reported the highest levels of illegal demands at 11.1% and 7.7% respectively. By region, Auckland businesses faced the highest level of illegal demands (7.4%) with Wellington businesses the lowest at 2.3%.
A further 16% of businesses reported having suffered from fraud, with manufacturing reporting highest levels at 23.5% compared to construction and professional services the least at 8.7% and 9.9% respectively.
The survey follows CA ANZ's September 2015 report "Are Australia and New Zealand Corrupt?" which shows that bribery and corruption rates have risen significantly nationally and regionally.
The report recommends adopting additional anti-corruption measures such as rewarding whistle-blowers and ensuring companies have anti-corruption policies.
However, only 16% of businesses surveyed had a formal anti-bribery/corruption policy in place – Wellington businesses were most likely to at 21.8% and Auckland least likely at 11.6%.
And, only 20% knew about the Protected Disclosures Act which provides protection for whistle-blowers who are one of the most common sources of bribery/corruption disclosures.
Only 18% of respondents think whistle-blowers should be rewarded, as happens in some countries which offer rewards for whistle-blowing on tax issues.
Patterson said more regulation wasn't a solution, "but we do need more education around this issue, penalty regimes in place and a proactive response from Government and business.
"We have our global reputation to protect. Losing this poses a significant risk as we do more business in markets with different ethical frameworks to our own."