Spotcap brings its 'unique credit algorithm' to NZ, and secures A$20 mln of funding for Australia from Heartland Bank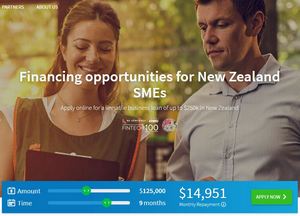 Berlin headquartered online lender Spotcap is launching in New Zealand and unveiling a partnership with Heartland Bank.
Kicking-off today (Tuesday), Spotcap says it's offering unsecured credit lines and business loans of up to $250,000 to small and medium-sized New Zealand businesses. Meanwhile, Heartland is providing Spotcap's Australian business with A$20 million of funding.
Spotcap says it'll offer NZ borrowers risk-based pricing meaning the rate each business pays is determined by the credit scoring process Spotcap applies to them. Spotcap Australia and New Zealand managing director Lachlan Heussler says interest rates will start at 0.5% per month for NZ businesses, which works out at 6% per annum. The top of the interest rate range is 3% per month. There's a 2% management fee.
Loans are offered for a maximum of 12 month terms, with Heussler describing Spotcap as experts in providing short-term working capital finance for small businesses. In Australia Spotcap's interest rates average about 1.8% per month, with the company having issued more than A$35 million of credit to small businesses over two years, says Heussler.
Spotcap says it will consider loan applicants whose business is registered and operates in NZ, whose turnover was at least $200,000 in the last year, those who've been trading for at least 18 months, and those who have a NZ online bank account. On offer are business lines of credit, working capital, unsecured business loans, short term business loans, small business loans and alternative finance.
In NZ Spotcap says it'll lend from its own loan book having completed five funding rounds to date. The company says it has raised the equivalent of NZ$115 million in debt and equity since launching in 2014. NZ's the fifth country Spotcap has launched in following Britain, Spain, The Netherlands and Australia. The company says it has lent out the equivalent of about NZ$95 million in its first four markets to date.
First part of a partnership with Heartland Bank
Spotcap says that rather than basing credit decisions on historical financials, it has developed a unique, proprietary credit algorithm that provides "deep insight" into the financial condition of a business, enabling quick and sound credit decisions.
A press release from Spotcap quotes Heartland CEO Jeff Greenslade saying: "Our partnership with Spotcap highlights Heartland Bank's commitment to fintech and digital banking, in line with both our own internal offerings and our investments in the sector. We are delighted to gain further exposure to online SME lending and look forward to working with Spotcap to grow its Australian operations."
Heussler says the Australian funding from Heartland is just the first part of a partnership between the NZ bank and Spotcap.
"We've been having discussions with Heartland for over a year now and this is the first piece of the execution puzzle that we've managed to work out. The discussions we're having with the bank are multi-faceted and cover multiple markets including New Zealand and all sorts of different funding arrangements as well," says Heussler.
Spotcap launches in NZ with an Auckland office and two sales staff. It plans to work with the likes of brokers, accountants and financial planners to source borrowers. A lot of the NZ client service and risk work will be done out of Spotcap's Sydney office, Heussler says.
Companies Office records show Spotcap New Zealand Limited's parent company is Spotcap New Zealand S.C.Sp. of Luxembourg. Spotcap says its investors include Rocket Internet, Finstar Financial Group, Access Industries, Holtzbrinck Ventures, Kreos Capital and Heartland.