Peter Zámborský looks at the opportunities for foreign businesses presented by partnering in joint ventures in China's less developed provinces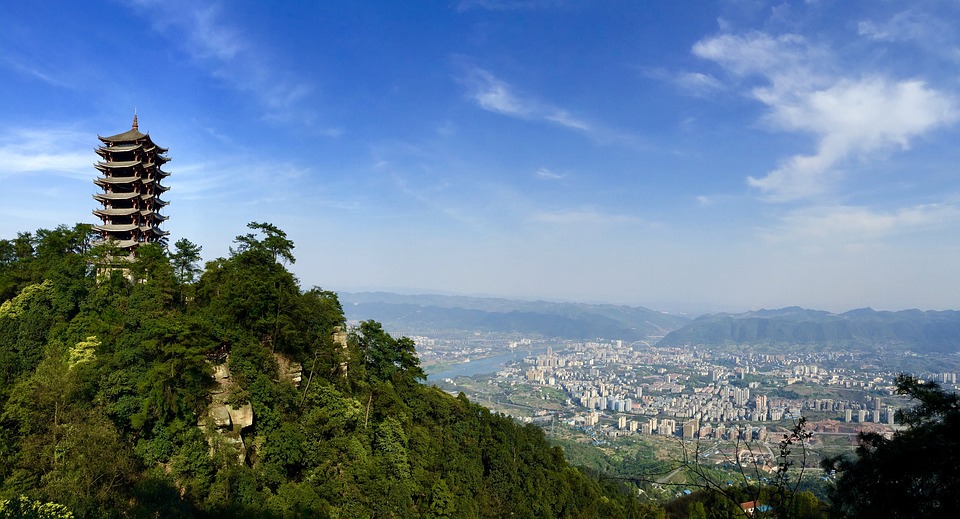 By Peter Zámborský*

How many Chinese provinces can you name? Compare that to the number of US states or EU members you know.
While the importance of China in the world economy is established (it accounts for 18% of world GDP), relatively few multinationals have invested beyond China's more developed eastern shores.
This is changing though.
China's eastern regions' share of inward foreign direct investment (FDI) fell from about 90% in 1992-2002 to about 70% in 2012. Moreover, the McKinsey consultancy predicts about 40% of China's middle class will come from these provinces by 2022. More than 100 Chinese cities now have over a million people, and by 2025 there should be over 200 of them, says McKinsey.
While the rise of eastern and northern Chinese provinces presents an opportunity for foreign investors, it is not without its challenges including managerial, organisational and cultural.
Our recently published Journal of Management and Organisation article (Subnational differences and entry mode performance: Multinationals in east and West China) analyses subsidiary performance in two developmentally-differentiated provinces, Shandong in east China and Gansu in west China.
We find that wholly owned subsidiaries outperform joint ventures (JVs) in the more developed region, whereas JVs outperform wholly owned subsidiaries in the less developed region.
We argue that in China, the advantages of JVs (such as access to local knowledge, resources and enterprise networks) may be better developed for foreign subsidiaries in less developed provinces. Less developed subnational regions increase subsidiaries' high perceived uncertainty, limit their access to local knowledge and resources and may have small market size and potential.
Subsidiaries partnering with local firms can tap into local resources, gain legitimacy and overcome uncertainty. Local partners can also assist foreign subsidiaries to familiarise them with local conditions, such as suppliers' distribution channels, functioning of government policies and consumers' preferences.
General Motors (GM), for example, has 10 joint ventures and two wholly owned subsidiaries with operations across China. The country accounts for over a third of its global sales and GM employs over 50,000 staff there. Profits from GM's China operations were about US$2 billion of its US$9 billion global profit.
In an analysis of Chinese provinces of the future, fdiintelligence.com asserts eastern provinces are likely to remain important, but some western provinces (e.g. Chongqing) are likely to rise in potential.
The table below ranks the attractiveness to FDI of Chinese provinces evaluated by their potential in economic, human, cost, connectivity and business friendliness factors.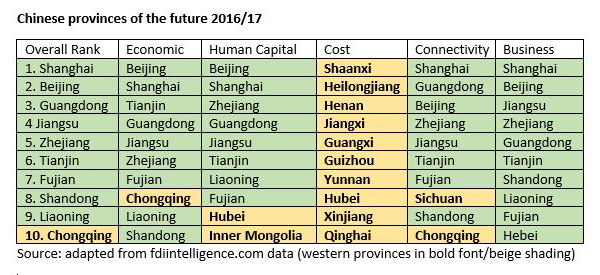 ---
Dr Peter Zámborský is a Senior Lecturer in International Business and Strategy at the University of Auckland Business School in New Zealand. He is also the Director of Featherlight Enterprises, a company providing solutions for understanding global business. He is an author of eBook International Business and Global Strategy (50,000+ downloads) and co-author of forthcoming Cambridge University Press textbook Understanding International Business in Asia Pacific Today. The Journal of Management & Organization article on multinationals in east and west China was co-authored with Anran Li (Hong Kong University of Science and Technology) and Dr Brent Burmester (University of Auckland Business School). It is available at: https://doi.org/10.1017/jmo.2017.59