Insurance: How Tower would settle a major burglary claim
By John Grant
We asked some high-profile New Zealand insurers, including Tower Insurance to look at a fictitious burglary claim and indicate how they would proceed to settle the loss. You can find the overall results of this comparison here.
With a burglary ocurring around every 8 minutes in New Zealand it seemed a good test of our insurers to see how they would respond to a claim. We compared five insurers and the following is the detailed response we received from Tower. The claim involved the loss of 15 items that had been stolen during the burglary of their customer's residential property.
This is the summary of the items stolen: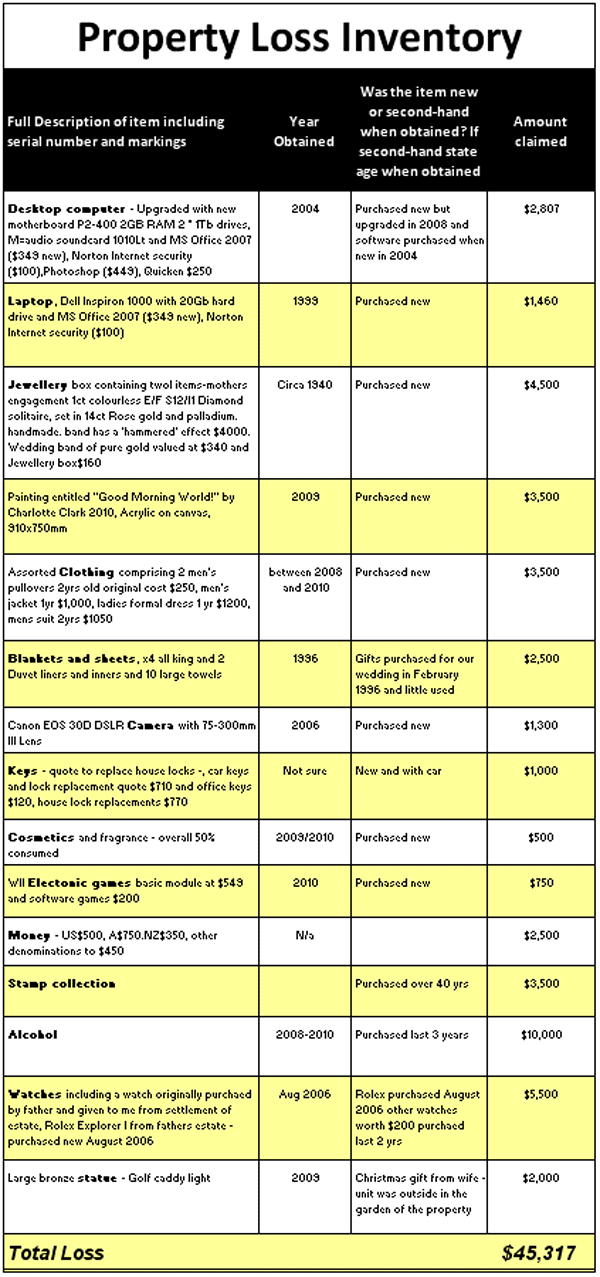 We didn't initially get a response from Tower but on sending through a follow-up request we were contacted by James Douglas, a very senior manager at Tower who explained that our original request had ended up in their junk email folder.
Once this was identified they were prompt and very helpful.
Tower's initial response was to indicate that this claimant appeared to be (by the items claimed for) a customer who may have been better suited for their top end product, Super Maxi. He said that this would have been offered if a call had been made to their call centre for advice. The sum insured for Super Maxi contents starts at $200,000. The benefit of that product is the overall item limits are much higher. For example jewellery and watches have an item limit of $20,000. Clearly this would have had a significant impact on the settlement of this particular claim.
However as requested, they assessed the claim under the Maxi Protection contents insurance.
That assessment in detail follows;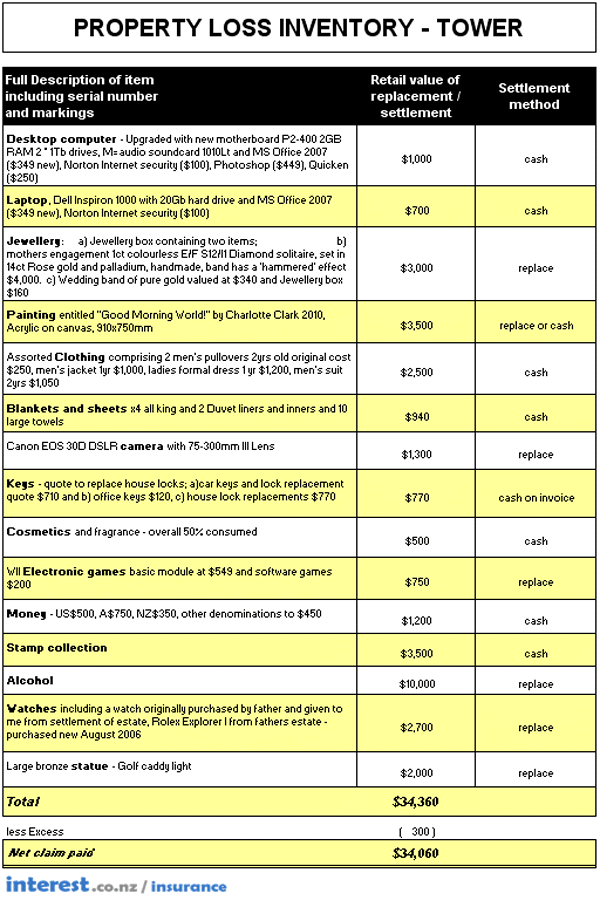 Overall the amount of the settlement, $34,060 was the second highest and reflects the higher policy limits for jewellery and watches of $2,500. However this was half the limit of Ansvar and is one of the main reasons why they are more than $5,000 lower. Two items, the engagement ring and the Rolex watch, make up the difference.
Positives for Tower
Tower's pricing was the lowest of the nine companies in the scenario we selected (Browns Bay - Family). You can link to this here. They do not have a large number of policy limits (second lowest) and the higher sub limits gave an overall very good result. The limit for money lost was good.
Negatives for Tower
The depreciation rates were high and the five year age limit on replacement for computers had a major impact on the settlement amount.