We update our comparisons with Tower's new Cover4Car policy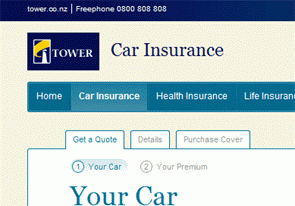 By John Grant
We've updated our car insurance rates to include the Tower Insurance Cover4Car policy.
Tower have recently launched an on-line quote facility for their new motor product Cover4Car. You can go here to see the premium comparisons and here to see how the product stacks up against the competitors for features.
Tower is one of the most competitive insurers and this product is very competitive, certainly for some of the cars we compare.
A Toyota Corolla for someone 65 year old shows Cover4Car to be one of the lower cost providers, and the cheapest in three of the twelve regions we monitor.
However on a Subaru parked in the street and driven by teenage members of the family, Tower are the most expensive in all twelve regions.
The cover on this policy is one of the more restrictive on the market with a score of just 63%.
However this reflects that it is a Market Value policy without an agreed value option.
There are no rental car benefits, and any trailer is only insured for damage it may do to other property.
Glass breakage is optional and extra and excludes headlights.
Overall, it is a good basic policy and is very competitive for certain vehicles.