Insurers gain reasons to raise rates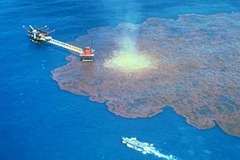 By John Grant
The Gulf of Mexico oil spill and the volcanic-ash disaster may prove relatively light in claims costs but may give insurers justification to raise premiums for some types of coverage.
The cost of cleaning up the Gulf of Mexico oil spill is going to be huge, and is likely to flow through to insurance premiums you pay here in New Zealand.
President Obama is reported to be seeking US$20 billion from BP for a fund to pay for the clean-up and compensate locals for their losses.
Insurers losses are also starting to mount and one re-insurer - Swiss Re has now estimated losses to be in excess of NZ$5.2b. JP Morgan have estimated losses of more than NZ$2.3b but conditioned this on it being based on oil not coming ashore. The owner of the rig that blew up has already received compensation in excess of NZ$700m.
The impact of the oil spill has already affected many businesses. For example the lucrative Louisiana shrimp industry has been shut down. The overall fishing operations in the Gulf have been significantly curtailed with 19% of the Gulf ruled off limits for fishing and that was back in mid May. Since then we have learned that 1m between 12000 and 15000 barrels a day are flowing into the Gulf and the spill is now covering an area of greater size than New Zealand.
Losses are covered by a variety of insurance policies already in force. Property and business interruption insurance provides coverage for certain losses. Liability insurance, both general liability and pollution liability policies, provide defense and indemnity for lawsuits.
Directors and officers insurance also will provide coverage for derivative lawsuits against directors and officers.
Losses from Liability insurance alone are likely to be very large. In early May over 70 claims had been lodged against the company responsible for damage for things such as businesses impacted and closed by the oil spill, clean up costs and a number of claims for those killed and injured in the explosion.
At the end of the day all claims lodged for Property and Business Interruption will end up being recovered from the Liability insurers.
Directors and officers of the companies that caused the damage are in the lawsuit frames as well. Actions have been filed in court against directors and officers. It is also expected that the claims lodged so far are just the tip of the iceberg. Dozens of such lawsuits are likely to follow, and the final cost is difficult to estimate.
Although there is little doubt that the impact of this environmental disaster will be felt by insurers and therefore consumers throughout the world, in fact the insurance industry may avoid most of the high-profile claims - it may be BP who pays the lion's share. The NZ$5 billion insurance estimate for this calamity is way below the NZ$59 billion that insurers had to pay for Hurricane Katrina.
Insurers may see opportunities in this disaster, and the Icelandic volcanic ash event. Some observers see them gaining reasons to raise rates, despite the claims from both events being relatively small.