It will be our largest natural disaster, but it may give a fillip to the economy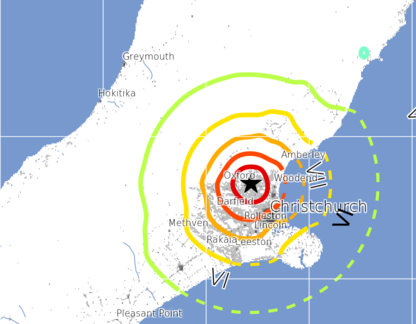 By John Grant
It's been talked about for years and there has been a bucket load of research done on the potential cost of a major earthquake. (Update 2 with the Prime Minister's comment about the overall cost of the damage.)
Most of this research has centered around the potential for an earthquake in Wellington. Christchurch was never a city that was seen as having the potential for a major event; well that was the case until 4.30am this morning.
An earthquake initially thought to have been of 7.4 magnitude and then downgraded to 7.1 on the Ricter scale struck just west of Christchurch city in an outlying rural area of Darfield.
It was estimated to be at a depth of 33 km's and was felt as far noth as the central parts of the North Island. People were woken from their beds in Wellington.
The previous largest eathquake to strike in a modern residential area was in 2007 in Gisborne, an earthquake that measured 6.8. The 1931 Napier earthquake measured 7.8
The damage caused by this event is extensive. Many facades on buildings have collapsed and their is considerable damage to infrastructure with some roads and bridges closed.
Water and raw sewage has been running down some local streets.
But the significant areas of cost will be in the numerous houses that have suffered damage to the structure of the buildings, and to the contents. Many precious items from TV's to antiques have been smashed to pieces during the 1 minute shake.
The Earthquake Commission (EQC) will bear the brunt of the residential losses. They cover the first $100,000 of damage to houses and $20,000 on contents. A 1% excess (minimum of $200) applies to every claim.
Insurers will also be counting the cost. They will foot the bill for all commercial losses including the majority of the infrastructural costs where councils insure this through specialist insurance companies.They will also foot the bill for residential claims in excess of the EQC limits.
Re-insurers will be impacted as catastrophe treaties are triggered.
What will it end up costing?
The cost of the cleanup could run into billions of dollars, Prime Minister John Key said. Treasury has advised him that their estimate is about $2 billion.
It's a real guesstimate at this early stage. However the Gisborne earthquake cost the EQC $28m. Christchurch is around 10 times the size of Gisborne and this earthquake is larger. It is therefore likely that the EQC share of the cost will likely be in the $300  to $500 million mark as a minimum.
The insurer's share of this can be also measured from the Gisborne benchmark. That earlier one cost insurers $31 million and on this basis Christchurch is likely to be something in excess of $750 million.
Uninsured losses (and those covered by insurers that are not part of the Insurance Council of New Zealand) are likely to add to this. This disaster is likely to end up costing something north of $1.5 billion.
It is somewhat ironic that this is a similar figure to the estimated initial losses surrounding recently collapsed South Canterbury Finance.
The upcoming remedial projects will however have a positive upside for the economy, as money is transferred from overseas re-insurers accounts to local builders, and others involved in repair work in Canterbury.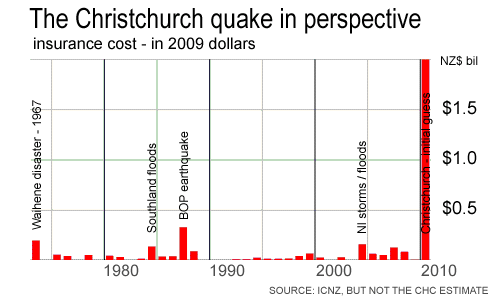 Here are pictures from a reader, ChrisJ.