IAG trying to speed up Canterbury quake claim settlements by dumping customers from its repair/rebuild programme and cash settling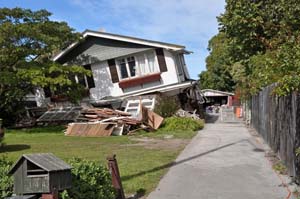 New Zealand's largest general insurer is trying to get on top of Canterbury quake claims by pushing claimants to accept cash settlements, rather than go through its repair/rebuild programme.
Around 2000 Insurance Australia Group (IAG) customers are being affected by its change of tack.
IAG, which sells its products directly through State and AMI, and through intermediaries under the Lumley and NZI brands, is dumping some of the following types of claimants from its repair/rebuild programme:
- New claimants.
- Claimants who entered the repair/rebuild programme late – roughly within the last two years – so are at the back end of the programme.
- Complex or low priority claimants, who haven't jumped straight into repairing or rebuilding due to complications or choosing to wait for whatever reason.

Its new approach comes as the company comes under pressure to reach its target of having all quake claims either settled or in reconstruction by the end of the year.
As at January 31, IAG (excluding its newly acquired Lumley brand) had only completed repair of 258 of the 3952 property repair claims it had received. It had cash settled 1099 claims.
It had completed the rebuild of 435 of the 4299 rebuild claims it had received. It had cash settlement 2085 of these.
IAG's executive general manager of Canterbury Recovery, Dean MacGregor, says "We simply can't ask our customers who have not yet signed a contract to join a construction queue, if we can't guarantee that we can reinstate their property within a reasonable timeframe.
"Any new claims going into the programme will be on a case-by-case basis, and will include vulnerable customers and those we determine needing the support of a reinstatement programme only."
Some Cantabrians fear the company's cost estimations will be below the actual cost of repair or rebuild, leaving them out of pocket.
The company says, "IAG cash settlement offers are based on the full estimated cost of repair or replacement of damaged homes based on a detailed, professional scope of the damage.
"All IAG documentation will be shared with customers who then have the opportunity to discuss their settlement with independent advisors."
It also says it has received overwhelming feedback from its customers that cash settlement has put the power back in their hands and given them freedom to make choices that work best for their particular circumstances.
In its half-year report, ended December 31 2014, IAG reported it paid over $3.9 billion to settle 69% of the total claims it had received. Note this is different to the portion of properties repaired/rebuilt, as there may be a number of claims related to one property.
IAG's total claims cost arising from the 2010 and 2011 Canterbury earthquakes was $950 million more than the company had expected.
This was due to hiked repair/rebuild costs, a number of new claims over the Earthquake Commission's $100,000 cap continuing to trickle in to the company, and a series of adverse court judgments which affected the insurance industry.
The legalities
IAG says insurance policies are generally worded to allow for the 'cost' to reinstate a home. This can be done by either repair/rebuild or cash settlement.  
A partner at Lane Neave Lawyers, Duncan Webb, affirms this, saying most policies include a clause stipulating the insurer can pay the cash equivalent of the cost of the repairs or rebuild.
However, he notes, "If an insurer has previously made a clear and apparently final election to repair or rebuild, then it cannot simply change course, and can usually be held to its original choice.
"The fact that the insurer has its own internal timeline that is self-imposed is not a good reason to force a cash settlement.
"Do not accept pressure from insurers to sign build contracts or the like with the threat that otherwise they will pay cash. That is not in good faith, and if they have elected to repair/rebuild they cannot arbitrarily change their mind."
Insurance lawyer, Andrew Hooker, warns, "If home owners are considering a cash settlement, they should be very careful about signing a discharge releasing the insurer from all liability.
"In most cases the insurer cannot require a complete release, and any discharge agreement should allow the insured to seek further payment if costs increase or undiagnosed damage is discovered. Otherwise the homeowner is taking on the risk.
"If the insurer wants a complete discharge in return for the cash payment, the homeowner should insist on a payment that takes account of that risk."