EQC imposes deadline on home repairs to move forward with complex claims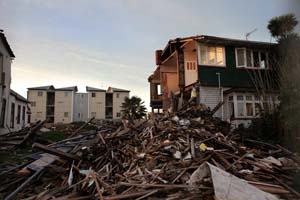 The Earthquake Commission (EQC) has set a deadline for Canterbury home owners wanting the agency to manage and pay for the repair of their quake-damaged properties.
Residential property owners will have until June 1 to confirm whether they want to be part of the Canterbury Home Repair Programme (CHRP).
Fletcher EQR, a division of Fletcher Construction, manages the programme that deals with repairs valued between $15,000 and $100,000.
Repairs costing more than $100,000 need to be taken care of by property owners and their private insurers.
EQC cash settles repairs worth less than $15,000, but gives people in this category wanting the agency to help them manage their repairs, the option of joining the CHRP.
"The issue is we need to close the book at some stage. Our re-insurers want to see the books closed and this finished", says EQC general manager of customer and claims Gail Kettle.
Speaking in Wellington in February, two of EQC's 55 reinsurers, Munich Re and Swiss Re, said the loss they incurred from the 2010 and 2011 quakes was 50% more than they had estimated.
They said they needed the Government to complete its overdue review of EQC and be more decisive about the role the public insurer will play in the future, so they could have more certainty around formulating their models.
Kettle says EQC is 95% the way through completing the CHRP, but needs to finalise plans with about 2000 of its customers.
She says many of these people will still be in negotiations with EQC about the scope of their coverage – what needs to be repaired and how much it's going to cost for example.
Otherwise those still in limbo are the likes of landlords who don't want to disrupt their tenants, and property owners who live overseas.
Kettle says it's essentially the complex cases that need to be worked through.
"We know everyone's situation is different, and we'll be attempting to contact all outstanding customers individually to resolve their queries and help them decide", she says.
The Insurance Council of New Zealand says, "If there is a likelihood that those in dispute may go over cap, then insurers would appreciate knowing sooner rather than later and the deadline will assist in that regard.
"Anything that provides clarity and enables customers to move forward more quickly to settlement will be beneficial to all involved."
EQC says: "The 1 June deadline will have no impact on customers who have confirmed a start date for repairs or whose properties may be at increased risk of flooding (IFV), as IFV claims will be treated separately.
"After EQC has tried to contact customers, if they have not decided or cannot be contacted by 1 June, EQC will assume they do not want to have their property repaired.
"A cash settlement will be one option available to such customers under the Earthquake Commission Act 1993."