Warren Buffett's Berkshire Hathaway enters A$500m partnership with our largest general insurer, IAG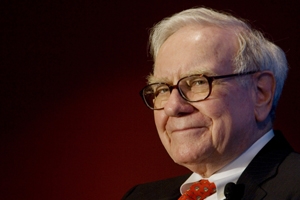 New Zealand's largest general insurer is joining forces with Warren Buffet's Berkshire Hathaway.
Berkshire Hathaway has bought a 3.7% stake in Insurance Group Australia (IAG) for A$500 million.
The US firm has bought 89.8 million new IAG shares at Monday's closing price of A$5.57 per share, and is set to take a 20% quota of IAG's consolidated insurance business over 10 years.
In other words, Berkshire will take 20% of IAG's premiums and pay 20% of its claims.
In New Zealand, IAG owns the State, NZI, Lumley and AMI insurance businesses. IAG underwrites over A$11 billion of premiums per year in New Zealand, Australia, and parts of Asia.
Berkshire Hathaway has investments across a range of industries including general insurance and reinsurance. It is one of the top 10 publicly-listed companies globally, with a market capitalisation of around US$350 billion. It launched its specialty insurance business in Australia earlier this year.
Speaking in a recorded video played during a teleconference today, Berkshire chairman and chief executive Warren Buffett said, "I'm 84-years-old and this is my first investment in an Australian company. I've been very derelict, but it's been worth waiting for.
"We've entered into an area of the world where we've done some business before, but now we're coming in with an ownership position." 
Capital boost
Berkshire and IAG have had a reinsurance relationship since 2000. Now the two companies will work together exclusively.
IAG group managing director and chief executive, Mike Wilkins, says the deal will reduce IAG's capital requirements by about A$700 million by 2020; with A$400 million of this captured in 2016.
"It also further enhances IAG's personal and SME insurance proposition and, importantly, it provides a springboard for future business innovation and development for both companies", he says.
"We look forward to the benefits that will flow from the combination of IAG's underwriting skills, supply chain management expertise and deep customer knowledge, coupled with Berkshire Hathaway's specialty insurance expertise."
IAG reports it will "acquire Berkshire Hathaway's local personal and SME business lines. In return, Berkshire Hathaway will acquire the renewal rights to IAG's large-corporate property and liability insurance business in Australia."
The rights to be transferred by IAG represent less than 1% of its annual Gross Written Premiums. 
Reduced need for reinsurance
IAG says the deal will also reduce its need for more reinsurance – it's currently one of the world's largest purchasers of catastrophe reinsurance cover.
It says, "The quota share arrangement will reduce IAG's exposure to the geographic concentration of insurance risk in Australia and New Zealand, lowering IAG's future catastrophe reinsurance needs and its exposure to potential volatility in reinsurance rates".
Buffett, says, "We have worked with IAG for more than 15 years... they are a natural partner with a strong management team and brand presence. 
He hopes the partnership will help fast-track Berkshire's entry into Australasia.
IAG says it's looking to deepen its reach into Asia, as there's room for greater penetration into a market made up of a growing middle class. The insurer already has operations in Thailand and Vietnam, has interests in general insurance joint ventures in Malaysia, India and China and is eyeing the Indonesian market.
Buffett and Wilkins expect their relationship to continue well beyond the 10-year deal in place.
IAG can place up to a further 5% of IAG's expanded issued capital to Berkshire within 24 months. However Berkshire can't increase its shareholding in IAG above 14.9% for the period of the partnership agreement.
IAG's chief financial officer Nick Hawkins says the partnership won't affect the company's dividend policy.
IAG's share price rose 5% today to A$5.85.